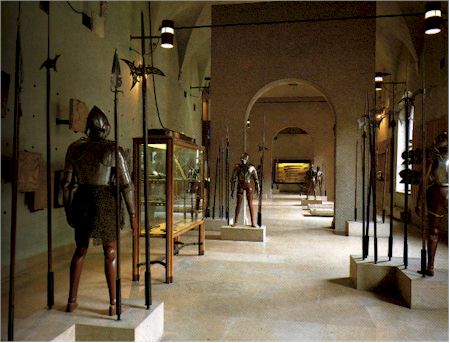 The Castle Art Museums are the pride of the castle and indeed of the whole city. The architects
Barbiano di Belgioioso
,
Peressutti
and
Rogers
set up the permanent exhibition only in 1954-1963. In the 32 rooms of Castle Art Museums we can find: a museum of sculpture, prevalently Lombard, which begins with some examples of late Roman Empire and Byzantine Art; a collection of furniture with examples which range from the late Gothic chests of the 15
th
Century; a picture gallery with its prevalently Lombard works; a collection of pottery, gold, bronzes, ivory, wrought iron and glass; the
Museum of Ancient Musical Instruments
, which is a unique collection in Europe. Among the numerous work of art on exhibit in the Museums, one of the most worthy of note is the
Rondanini Pietà
,
Michelangelo's
last work; he was working on it just before he died. The City of Milan from the private collection of the
Marquis Rondanini
of Rome in 1952 purchased the sculpture, which rests upon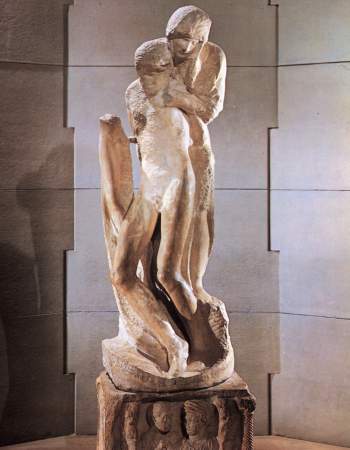 a late Romany funerary slab. There is something medieval and at the same time contemporary about the piece which lifts it from its chronologically Renaissance conception - a timeless masterpiece is born from the conquest of form towards pure spiritual content. The two gaunt figures are as if fused together in a last desperate embrace. Another famous masterpiece on exhibit is the
Funerary Monument of Bernabò Visconti
by
Bonino da Campione
. The Swiss artist, whose work is dated 1357, managed to convey a feeling of contained strength in the sturdy figures of horse and rider. One of the halls houses three very important frescoes cycles of the Lombard school. The loveliest of all illustrates the
Story of Griselda
taken from one of
Boccaccio
's novellas. The frescoes originally came from a room in the
Roccabianca Castle
, south of Milan, and were painted between 1446 and 1460 by an anonymous master close to
Nicolò da Varallo
. They were commissioned by
Pier Maria Rossi
, commander in the
Visconti
army, friend of
Lorenzo the Magnificent
, and nobleman of Parma, in honour of his beloved, the renowned beauty,
Bianca Pellegrini d'Arluno
.