The Ospedale Maggiore (Greater Hospital), known to the Milanese as
Ca' Granda
came into being when the thirty or so hospitals in the area of Corso di Porta Romana were housed in a great unified structure. It was founded by
Francesco Sforza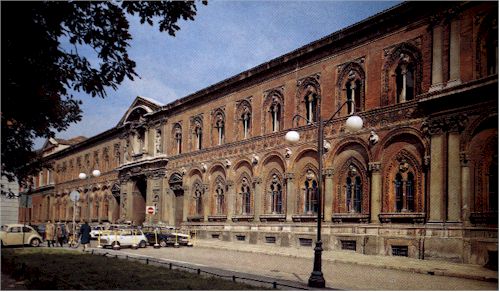 in 1456 and the first bout lasted until 1497 when
Filarete
,
Solari
and
Amadeo
, worked to build the quadrilateral towards San Nazaro; the second from 1624 when the central part of fašade, the courtyard and the church were built, under the direction of the architects
F. M. Richini
,
G. B. Pessina
,
F. Mangone
and
Cerano
; the third from 1794 to 1804 when the internal courtyard of the second cross-section and the third side of the fašade were built by the engineer
P. Castelli
. The building was terribly damaged by the 1943 bombings and then reconstructed. It now houses the Rectors' offices, the Faculties of Letters and Law and the governing body of the University.