The museum, founded at the begin of 20
th
century, actually houses three collections: the
Giulio Sambon Collection
acquired in Paris, the
Verdi Collection
, and the
Theatre Collection
. Set up according to the newest museum criteria, the collections are an invaluable document relating not just to theatre in Milan, but also to the development of theatre in Italy and the world over, from its birth up to our day. Step by step we can trace the history of drama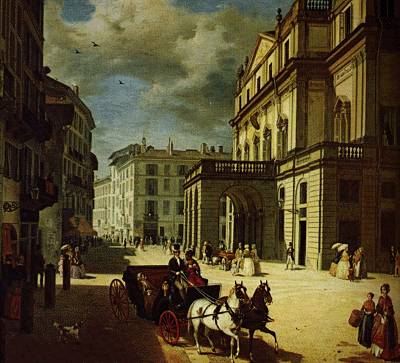 from the Greek statues of Tanagra through Italian vases with portrayals of theatrical scenes, from the masks of Ancient Rome to the relief carved on the sarcophagi of Greek actors. The first room are filled whit portraits of the great from the world of the renowned Commedia dell'Arte, such as
Giuseppe Biancolelli
, know as
Dominque
, comic actor in
Louis XIV
's court and
Scaramuzza
and
Crispin
, both celebrated 17
th
century comedians. Finally, there are portraits of famous opera singers such as
Giuditta Pasta
, the great soprano from Lombardy for whom
Vincenzo Bellini
wrote
Norma
and
La Sonnambula
,
Isabella Angela Colbran
, singer and first wife of
Gioacchino Rossini
, and
Maria Felicita Malibran
, another great Bellini specialist. The
Verdi Collection
, in two rooms, whit a well-documented collection of pictures and drawings relating to Verdi, and autographed scores of his compositions, is particularly interesting. The theatre library includes the private collection of
Renato Simoni
and
Ruggero Ruggeri
. Altogether, it's one of the largest and most complete theatrical collections, with around 80,000 volumes, on Italian and foreign productions, drama, criticism and the history of the theatre.