Italy's best-know theatre La Scala is where world famous composer, singers, and orchestra conductors make their debuts. It's located in
Scala Square
where the church of
St. Maria della Scala
, built in 1381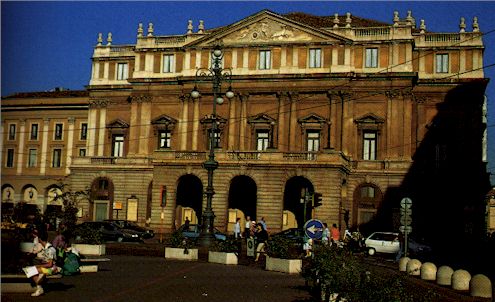 by
Bernabò Visconti
's wife,
Beatrice Regina della Scala
, used to stand. By the time La Scala was officially inaugurated on August 3, 1778 whit
Antonio Salieri
's
Europa Riconosciuta
, Milan already possessed a theatre of its own:
Giandomenico Barbieri
's, built in 1717, was located in awing of the present day
Royal Palace
. Perhaps opera was so slow to catch on in Milan, Compared to other Italian and European cities, on account of the violent attacks on light comedy and theatre in general made by
Carlo Borromeo
towards the end of the 16
th
century. Then too war, famine, plague, and poverty had kept the Milanese from thinking about theatrical amusements for hundreds of years. Finally, after having to make do with plain rooms and temporary theatre, the emperor commissioned Barbieri to fit out a wing of his palace as a theatre. From then on, opera thrived in Milan, but unfortunately, during the night of the Carnival festivities of 1776, the theatre caught fire and nothing but ashes was left of its Baroque stuccoed auditorium. By then, however, theatre had taken hold in Milan and two months later plans were being drawn up for a bigger and better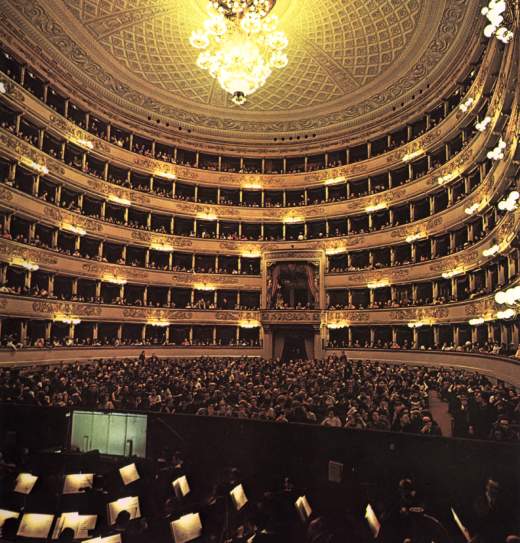 building, even more beautiful than Barbieri's. Though the Archduke Ferdinand approved the design, it was the
Austrian Empress Maria Theresa
who actually financed the construction of the new theatre which was miraculously completed fifteen months later. That the architect,
Giuseppe Piermarini
, was a passionate advocate of the neo-classical school is clearly reflected in the fašade of the building: a jutting structure with the three lower arcades, railing, and windows separated by double columns. The interior stands out for its uncluttered elegance-especially if you compare it to the typical over-stuccoed theatre in vogue in the 18
th
century. Here the simple effect is achieved by four rows of boxes (two galleries were later added) and a stage set off by four huge gold and white Corinthian columns. The theatre faithfully reconstructed after the serious damage suffered during the 1943 bombings, holds 2800 spectators. In the palace with portico to the left of La Scala, we find the
Theatre Museum
. It contains a precious collection of objects and relics relating to the history of La Scala Theatre and to theatrical art from classical antiquity to modern times.