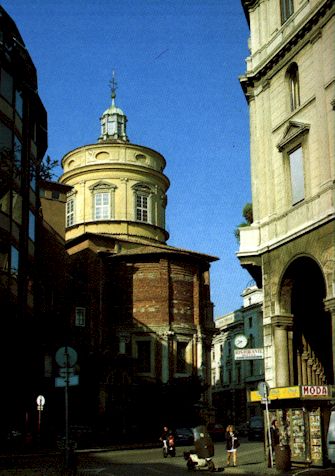 St. Carlo Borromeo
commissioned his favourite architect
Pellegrini
to design this church for the Jesuit order. Pellegrini's fašade reflects the Baroque concept of inspiring religious architecture. Decorative elements such as cornices and columns enhance the splendour of the solid church structure, although the left side with its double row of columns is much plainer and less agitated in comparison. The magnificent interior has not been broken up by aisles, but divided into two sections by arches originating from pilasters against the walls. In the church there are several good paintings including: on the first altar to the right,
Saint Ignatius Glorious
by
Cerano
; the second altar has curiously grouped columns supported by angels and
Four Saints
by
Bernardino Campi
; the first altar to the left,
Deposition
by
Simone Peterzano
. The XVI century engraved confessionals which are very beautiful, are the work of the
Taurinis
, while the wooden inlaid choir-stall near the apse, which comes from the demolished church of
S. Maria della Scala
, is attributed to
Anselmo del Conte
(XVI century). The sacristy (entrance after the second altar to the right) is said to be the most beautiful in Milan with its stupendous carved cupboards.