There is a growing awareness of the need for environmental havens in the city, and of the value and beauty of the indigenous vegetation of the Western Plains.
The extensive damage to Stony Creek is being reversed, enhancing the beauty of this neglected waterway. Litter is being cleaned up, trees and indigenous vegetation planted and return of wildlife is being encouraged. There are new access tracks planned for walking and bike riding. Pollution is being monitored and reduced.
---
Stony Creek drains a distinctive area of western Victoria known as the 'basalt plains'. The basalt plains were formed from volcanic eruptions from approximately 400 individual eruption points between 2 million and 5 million years ago. The basalt rocks have subsequently been weathered to produce overlying clay soils.
In the drainage line of Stony Creek Quaternary sedimentary silt deposits are present from approximately Williamstown Road to the Yarra River. Much of these deposits are now buried beneath areas of landfill at the West Gate Golf Course and the Hyde Street Reserve, apart from directly beneath the current waterline and Stony Creek Backwash.
Increased sedimentation is indicated to have occurred in lower Stony Creek following the construction of the Stony Creek Rail Bridge, the Hyde Street Bridge and the Melbourne Harbour Trust embankment along the eastern edge of the creek. Each of these structures had the effect of causing silt to accumulate behind them. This ultimately restricted boat access to the Creek by the 1880s, particularly by quarrymen.
Geological Map of Lower Stony Creek, 1860. Click on image for complete map.
T
he area surrounding Stony Creek was formerly occupied by a She-Oak forest (predominantly Dropping She-Oak or
Allocasuarina Verticillata) near the mouth of Stony Creek, which turned into an open grassland to the west.
Dense, localised vegetation including
Eucalyptus,
Wattles,
Blackwood and Lightwood were present in the vicnity of the creek itself.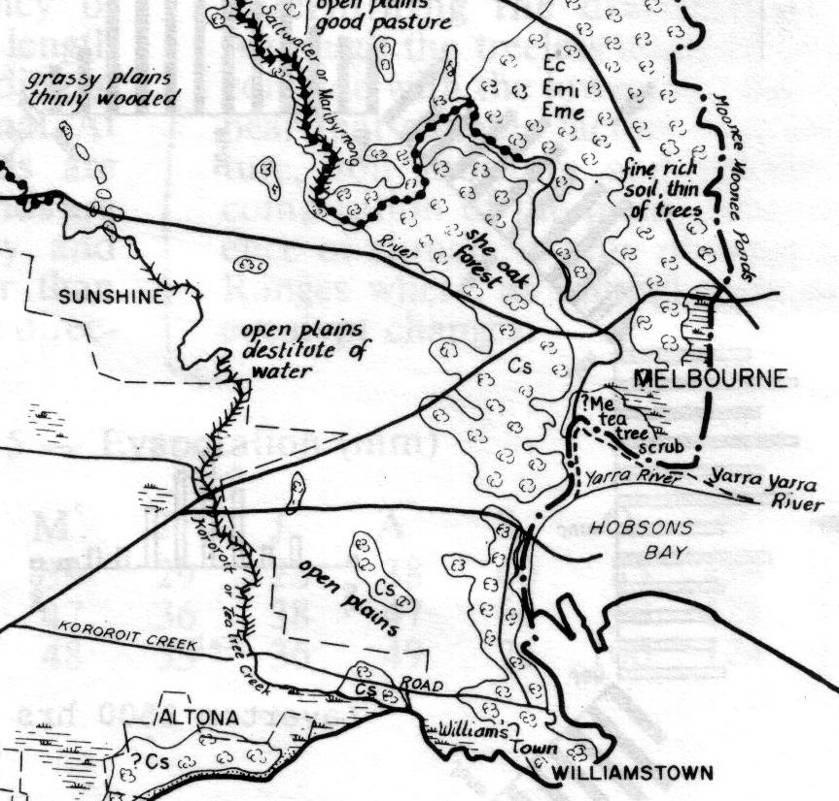 Vegetation of the Stony Creek Region, from'

Sites of Botanical Significance in the Western Region of Melbourne' by Keith Mc Dougall 1987.
She-oaks are shown as "Cs".
Drooping she-oaks have drooping branches and branchlets which are a bit like really long pine needles. Plants grow fairly quickly once established but look a bit sparse and ugly when young. Plants are either male or female, with the female plant bearing spiky cones.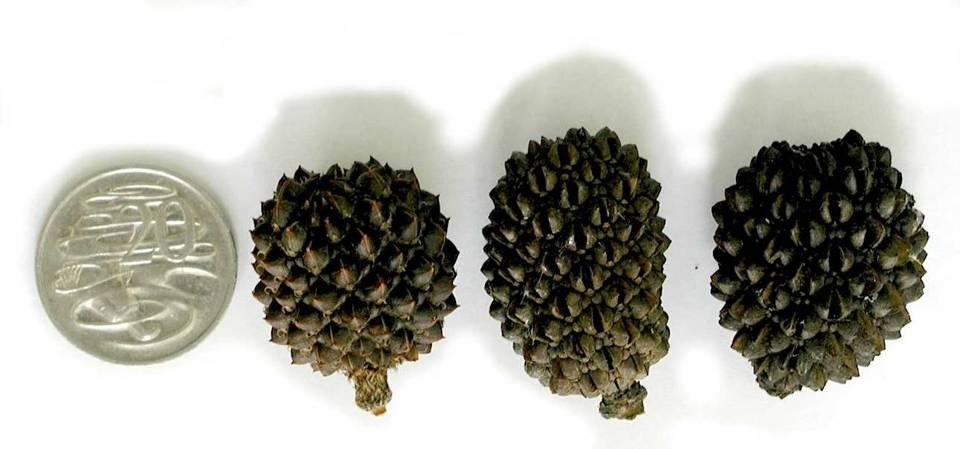 The drooping she-oak is an excellent shade tree and windbreak but allows soft breezes to penetrate. A mature tree is well over 5 metres tall and nearly as wide. Kangaroos probably benefited from the shade and could have a refreshing meal of the foliage. She-oaks fix nitrogen from the air via nodules on the roots to fertilise the soil.
The following native plant species can today be found in the vicinity of Stony Creek:
Trees
Allocasuarina verticillata Drooping She-oak

(also known as Casuarina stricta, C. verticillata)

Eucalyptus camaldulensis River Red Gum
Eucalyptus leucoxylon Yellow Gum
Eucalyptus melliodora Yellow Box
Eucalyptus microcarpa Grey Box
Callitris glauca White Cypress Pine
Acacia melanoxylon Blackwood
Acacia dealbata Silver Wattle
Acacia mearnsii Black Wattle
Acacia pycnantha Golden Wattle
Acacia implexa Lightwood
Shrubs
Bursaria spinosa ssp. spinosa Sweet Bursaria
Clematis microphylla Small-leaved Clematis
Correa glabra var. glabra Rock Correa
Eremophila deserti Turkey-bush
Grevillea rosmarinifolia ssp. rosmarinifolia Rosemary grevillea
Melicytus dentata (formerly Hymenanthera dentata) Tree Violet
Melicytus sp. aff. dentatus (Volcanic Plain variant) Dense Shrub-violet
Meuhlenbeckia florulenta Tangled Lignum
Rhagodia parabolica Mealy Saltbush
Grasses
Themeda triandra Kangaroo Grass
Chloris truncata Windmill Grass
Austrodanthonia duttonia Black Brown Wallaby Grass
Poa labillardierei var. labillardierei (in discrete patches on creek terraces only)
Wildflowers
Arthropodium strictum Chocolate Lily
Arthropodium minus Small Vanilla Lily
Bubine bulbosa Bulbine Lily
Calocephalus citreus Lemon Beauty-heads
Calocephalus lacteus Milky Beauty-heads
Chrysocephalum apiculatum Common Everlasting
Convolvus erubesens Pink Bindweed
Eryngium ovinum Blue Devil
Kennedia prostrate Running Postman
Microseris lancelota Yam Daisy
Myoporum parvifolium Creeping Myoporum
Pycnosorus chrysanthes Golden Billy Buttons
Rushes, sedges, herbs & groundcovers
Acaena novae zelandiae Bidgee widgee
Care appressa Tall Sedge
Carex bichenoviana Plains Sedge
Carex tereticaulis Rush Sedge
Dianella admixta Black-anther Flax-lily
Dianella longifolia Pale Flax-lily
Dichondra repens Kidney Weed
Einadia nutans subsp. nutans Nodding Saltbush
Enchylaena tomentosa Ruby Saltbush
Lomandra longifolia ssp. longifolia Spiny-headed Mat-rush
Isolepis nodosa Knobby Club-rush
Juncus amabilis Hollow Rush
Juncus flavidus Yellow Rush
Mentha australis River Mint
Rubus parvifolius Small-leaf Bramble
Selliera radicans Swampweed
Veronica gracilis Slender Speedwell
Miscellaneous
Stony Creek is home to an increasing number of animals who find refuge in the vicinity of the creek. Following is a list of the birds that can be found in the area:
Litter is a constant problem in Stony Creek. Stormwater drains collecting water from the surrounding industrial and residential streets carry litter into Stony Creek. The litter typically moves down-stream where it flows into the Yarra River beneath the Westgate Bridge, or gets caught amongst the White Mangrove stand in the Stony Creek Backwash. Friends of Stony Creek perform clean-up days to remove much of the litter. Litter prevention is essential to the ongoing protection of Stony Creek.
Stony Creek is unfortunately one of the most polluted waterways in Victoria. The most significant pollutants are heavy metals, e.coli, nitrates and phosphates. In addition, periodic industrial pollution spills have had a significant impact on the ecosystems within Stony Creek. Despite the pollution, Stony Creek is rich with fauna which nevertheless thrive. In addition, slowly seagrass is returning to the backwash and mangroves are colonising further upstream.
The sources of the pollution include stormwater from residential and industrial properties, leaching from former landfills, and leakages from sewers. Restoration of riparian vegetation, improvement to the management of industrial properties due to education and upgrades to sewers are likely to result in progressive improvements to water quality in Stony Creek.
There are a number of areas in the vicinity of Stony Creek that are heavily contaminated due to the previous and existing use of the land for industrial purposes. The contamination is often associated with areas of landfilling, where contaminated soil and industrial wastes have been deposited in former quarry holes, or used to raise the ground level. Areas of filling are evident adjacent to Stony Creek between Paramount Road and Cala Street, in Cruickshank Park, in the West Gate Golf Course (particularly on the northern side of the creek), beneath the Hyde Street Reserve (which is probably the most extensive area of fill) and on the southern embankment of the lower Stony Creek, below the Westgate Bridge. The land contamination needs to be carefully considered and managed to protect Stony Creek and the local community from its potential impacts.
Land contamination is also associated with industrial land in the vicinity of the creek, such as hydrocarbon impacts associated with the storage facilities situated near the mouth of Stony Creek. The current owner of these facilities, Mobil, perform groundwater monitoring in the vicinity of Stony Creek to ensure that environmental impacts due to these facilities is effectively managed.
Friends of Stony Creek 2013