ARTISTS NAME: S L A V E K A M P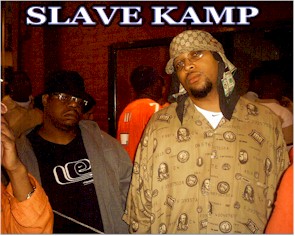 AREA OF ORIGIN: Florence, Alabama
MUSICAL STYLE: Rap, Hip Hop
DESCRIPTION: Alabama's Most Controversial Rap Group
GROUP MEMBERS:
Geoffrey (G-Man) Robinson - Rapper/Producer
Jarvis (JQ) Qualls - Rapper/Producer
Johann (DJ-711) Robinson - Manager
Guest - Tam-Tam, Rudi Deville, BlacPhoak, & Marcus "Spyda" Reeder.
CONTACT: Johann Robinson
Phone: (256)436-2267
Website: www.slavekampmusic.com
email: [email protected]
BACKGROUND INFORMATION: Slave Kamp was created by GMAN (Geoffrey Robinson) in '93 and started off with JQ (Jarvis Qualls), Whyze Up (Sean Alexander), Laylo (Terrance Casey), and D.J. 7-11 (Johann Robinson). This number grew "Wu-Tang style" over the next couple of years as other underground lyricists and producers from Alabama, Tennessee, and Georgia began supporting and performing with group. A family was born, and by 1996, the Kamp's music was being played all over Alabama via mix tapes, demos, and their first full length underground tape, which included the instant underground hit "Us vs. Them".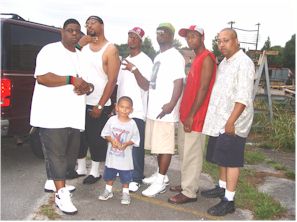 Slave Kamp's sound is southern cooked with a unique flavor. The music and the message speaks for itself. Those who listen primarily to the beats will automatically be hooked to the bass driven tracks complimented by the original (no samples) sounds of southern blues/jazz/soul inspired music. Heads who peep out the lyrics will no doubt be impressed by, not only the skills of these talented poets, but the overall positivism of the group's message. The Kamp has been opening up the minds and nodding the heads of its followers down south for the past 10 years now and they can't help but to continue to do so for many years to come. The time has come for the rest of the world to get ready for the new millennium and the new era of music.....Slave Kamp.
CURRENT INFORMATION: Keeping in close contact with other Kamp members, G-Man, JQ, and DJ 7-11, have journeyed through the Alabama's various clubs, record pool meetings, recording studios, and local festivals creating and developing relationship to make this new album "SATURDAY NITE SPECIAL" hot! The new album is featuring GMan and JQ on the production and vocals also, including production from Ray Green courtesy of Unison Entertainment, Tori "Pimp Tight" King courtesy of Rip of Records, Jason Vorhees & MOB-G of BlacPhoak, and a remix by Dexter "D-Roc" Stanley (producer of FlipMode Squad, Hurricane, and The Calhouns). Guest artist include Marcus "Spyda" Reeder, Shana, Chubb Fresh, & MeechRockSki from Florence "Flo Town" AL, Big Ced from Decatur, Ga, Clay Face from Nashville,TN, Tam-Tam & Big Rudi Deville from Hunstville, AL, and BlacPhoak from Selma,AL.
REVIEWS:
"Muscle Shoals' Modern Masters of soulful sounds are sliding hip-hop out of the ghetto and into the musical mainstream"
by Terry Pace The Times Daily
"Florence, Alabama's Slave Kamp, whose educational style was reminiscent of the Goodie MOB"
by J-Dogg Murder Dog Magazine
"It's not just music for black people or music for black people. "Really it knows no bounds - everyday responds to it. I hear from black, white, young, and old people and they all say, We like what I hear. DON'T STOP"
by Terry Pace The Times Daily
DISCOGRAPHY: Slave Kamp: Volume 1 (1995), Slave Kamp: A Day in the Death of America (1996), GMAN: Realities (1998), Collectors Item (2000), Saturday Nite Special (2004), mixtape appearances in Alabama, Tennessee, and Texas
PERFORMANCES: Opened for TI, 2 Live Crew, Spice 1, Rakim, Goodie Mob, Young Bleed, Cool Breeze and Calhoun's, many shows and festivals throughout the southeast.
Light House Club - 1996 - Huntsville, AL
Select-O-Hits Cross Roads Music Showcase - 1997 - Memphis, TN
StreetNic - May 1999 - Nashville, TN
Studio 42 - Regular Saturday Night performances in 1997 - 2000 - Sheffield, AL
Club 7 Diamonds - November 28, 2002 - Sheffield, AL
TJ's Records - March 2003 - Montgomery, AL
WEUP 103.1 Black Arts Festival - June 28, 2003 - Huntsville, AL