Click above to return home, or click below for more information.
I have many relevant qualifications which include:
BA (Hons) Lighting Design,
City and Guilds 2377 Portable Appliance Testing,
City and Guilds 235 Electrical Installation Engineering,
City and Guilds 236 Part 1 Electrical Installation Theory,
BTEC National Diploma in Engineering,
NVQ Level 2 Foundation in Industrial Wiring.
I have also attended training for:
Vari*lite Series 300,
Wholehog II programming.
Practical Pyrotechnics (Just FX).
I have experience of the following lighting controls:
Avolites Pearl 2000
ETC Express,
LSC Axiom,
Martin LightJockey,
Martin Freekie,
Strand MX,†
Robe DMX Control 512,
Pulsar Masterpeice,
Zero88 Frog 1 Range, and most other Zero88 controls.
Forthcoming Events
In July 2007, I started full time work as a Theatre Technician at Thornden Hall.
This means that I am currently unable to assist with anything that is not based in Thornden Hall.
However, I will still be running the PA for the Senior Citizen's Party and May Fayre.
Past Events
Not all events I am involved in are listed on this website.
May Fayre, May 2008
A rainy start led to a sunny afternoon, and all went very well.
May Fayre, May 2007
This year, the weather was not kind to us, and a very limited system was set up.
However, the events did manage to happen in between the rain.
Fiddler on the Roof, Thornden Hall, February 2007
Thornden Operatic Musical Society (TOMS) latest production.
Candlelit Carol Service, St. John's Church, Rownhams, December 2006
My LED Pars assisted the candles! The string of 400 lights was also used, flown across the Chancel.
21st Scout Group's Senior Citizen's Party, December 2006
Yet another successful party, this was the 10th I have been involved with.
Cystic Fibrosis Trust Charity Auction, June 2006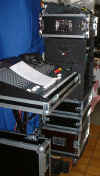 Over £10,000 was raised on the night which is fantastic.
I took along all of my sound system, mixing area shown above, and the LED Pars as stage lighting.
May Fayre, May 2006

This picture shows the EV powered speakers, (SXA100+ and SBA750) under the EZ-up tent.
Star for a Night, Thornden Hall, April 2006

Using the LED Pars and the Mobile Colors, and hiring some Clay Paky Miniscan HPE moving lights and an Avolites Pearl lighting desk from John Maggs, pupils were given the chance to shine on stage for their own version of Pop Idol.
Joseph, Thornden Hall, February 2006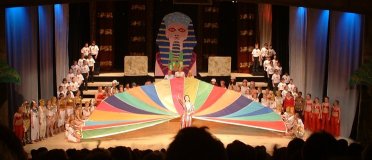 Using over 900 LEDs, I managed to create all of the colours in his coat.
21st Scout Group's Senior Citizen's Party, December 2005
This picture shows the Soundcraft Mixing desk, and control racks, as they would normally be set up.
Morgan Spencerís Big Night Out, December 2005
Hosted in a hotel near Tower Hill in London, full sound system hire. As this was a private event, there are no pictures.
Menorca, Thomson Gold April - October 2005
Working in the Castell Playa for the summer season, as a lighting and sound Technician.