DOWN TO OLDER UPDATES:
7th AUGUST
STUFF:
Not been a great year for comics n stuff as yet... BUT - work has started on: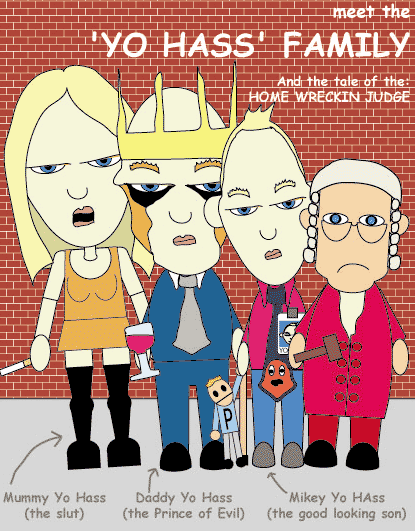 7th FEBRUARY
COMIC NEWS:
Well - I am kinda out of excuses now... I should have put a comic out months ago.
There MUST BE 6+ Germs comics in 2003.
Brother Beanz is now showing me up. He has completed a FAWN LASTROME strip, and now a BIX AND FLOODIE strip as well. If you are on my mailing list, expect new comics soon
Dirty Tommy O has promised his new strip is almost complete.
STUFF:
I have had loads of cool small press comics of late. Not had chance to read them as a certain big IT company and certain big bank have stolen all my time. They look real good though. I will be rejigging my web shite to include a review section soon.
I am also spending any free-time waiting for the next CHIPS events as they rock.... Crack Village were cool
6th JANUARY
COMIC NEWS: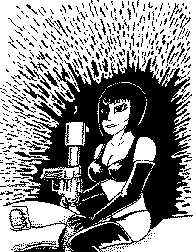 FAWN LASTROME should be ready real soon...
STUFF:
Some git broke into my car on New Years Eve and now I am sulking. Got off lightly really, to a great start to the New Year...
24th DECEMBER
COMIC NEWS:
I have been too ill with 'man flu', again... Must get a new comic out soon.
WORK:
Some of BENS REMEDIAL ARMY (BRA) thought it would be cool to fight at the works Christmas party... Nice. This gets ME in shit as well.
STUFF:
Saw PINK GREASE at CHIPS the other week, and they were real good.... But not as good as at the CHIPS Christmas party - STAZI and FAT TRUCKERS! There was the usual gimp, sleaze amd extra added pie throwing. I got one in my face. It was cool.
Also went to a LITTLE ARTIST exhibition in Manchester, which was kinda cool. Well done Mr. Cake!
And GTA Vice City takes too much time...
18th NOVEMBER
Oops, no updates for quite a while. I had man flu for a while. And work has been real gay.
COMIC NEWS:
Big book of misery doing well. If anyone has Pete Ashtons address, please send it me. He wont for some reason. The dude has started to even look like Bix, so I am sure he will get the 2nd Hand Misery stuff. He knows the misery...
WORK:
Some of my team have adopted the name BENS REMEDIAL ARMY. Nice.
STUFF:
Saw KINGS HAVE LONG ARMS again. They are the best! Also went to see ROGER who were quite good.
And TIMESPLITTERS 2 takes too much time...
20th OCTOBER
Have been looking through BORDERLINE, the comics magazine/PDF t'ing. GERMS have managed to get some real nice reviews in there. Thanks guys.
BIG BOOK OF MISERY is looking good for a December release. Work keeps getting in the way of it. Bloody work!
Just read Murder Mysteries, the Gaiman thing. Very odd. Needed some gay jokes (Kids in the Hall style).
Went to see LORD MONGO again the the other week - and they were real good. Strange to see Spen in a suit.
That's about it...
7th OCTOBER
1st - Is anyone waiting for comics (aside from Colin and SMALLZONE)? If I don't hear from people I guess they aren't interested.
2nd - BRAIN CANDY (Kids in the Hall movie) is real good. Go see - go see...
3rd - Next MISERY strip is taking ages. May be December before it's out... God, I am slow.
4th - Sorry Phil/Beanz, but I am going to jinx you (cos I am in a giddy mood)... GERMS will be proud to present a new FAWN LASTROME comic strip. Its on its way to the drawing board, so don't hold your breath. But I can tell - it's gonna be real good. For those of you 'not in the know' this is red-hot nun with gun action. Will upload some pics of FAWN. She's a babe (in a Danzig sort of way).
5th - Went to another CHIPS event. ATOMISER make me mince like an elephant on speed. And I like it!! Sheep on Drugs can sling their hook...
6th - New one page MISERY gags to be added shortly.
Getting strange feedback on DEMETER AND SHARKY. People seem to like the design/art. No real complaints about the bad spelling - as such. Story seems a bit hardcore for those that dare to tell me what they think. My next story will be 100 times more odd (just for you Howodd). Guess I am about to loose my three readers. Hee hee hee...
17th SEPTEMBER
Comic stuff. GERMS managed to get two (Bruising Pit and Jonny Crucifix) nice plugs in Comics International.
The was a bit of a problem with the Jonny Crucifix review as it made out I 'write and draw this piece of irreverent fun'. OH NO - I have stolen BEANZ credit. This was the work of BEANZ - not me...
I have started to mail out my latest creation, DEMETER AND SHARKY. Too many spelling mistakes - and the cover didn't print very well. Soz.
________________
Anyway - went to see LORD MONGO who are real good. Even though their singer was a giant cardboard demon. Then at the weekend I saw BANE OVERLORD who were kinda like Black Flag meets Revolting Cocks (which can only be a good thing). STAZI, the sleazy German rent boy duo, and I got some (huh huh). Every band should have a gimp. And as if thats not enough, finally managed to see KINGS HAVE LONG ARMS. I still haven't figured them out - they are very complex - in a good way...
8th SEPTEMBER
Last night (CHIPS) I saw some real strange bands:
Someone/thing to do with SONIC MOOK this was Carbonize for the 21st centry. There was: projected Public Enemy videos, chucking paint, burning stuff and a whole load of shouting.
Then JOAN OF ASS. The only way to discribe them is: "new UK trio, Joan of Ass, the filthiest pop group in the world?...In the way they behave, write, and perform, Joan of Ass come on like the cranked-up bastard child of Soft Cell and 2 Live Crew. They're cheeky, visceral, profane and could be just whats needed in a world that persists in stripping the fun and filth from sex and pop music" - sleazenation, may 2002.
Plus JOAN OF ASS toyed with fruit, had roller blades, chucked stuff at the audience and spat milk Everything was done in a real 'uncool' way - but was real 'cool' at the same time.
Their make-up looked like Divine David. Nice.
Didn't get to see KINGS HAVE LONG ARMS. I felt too violated - but in a good way...
7th SEPTEMBER
Have had some fun this week. Went to a mad electro night. Was real good:
Roger were best, in a New Order sort of way. Get in touch with them and buy their records/CDs.
Bynatone promised to tear the fuckin place down - and they did, in a 2 Unlimited kinda way.
Then last night went the pub after work. Had too much fun. And spent too long talking about work. Work sucks. Might have to become a male model Zoolander style. That would be better than computers...
ANYWAY here is a new short story for you read. Feel free submit stories and I will upload the suckers, if they are any good. Sister Jessica by Phil Handford (the guy who wrote Fawn Lastrome) and a rather nice image by Beanz. Nuns in comics/fiction (and filth). Love all that...
2nd SEPTEMBER
Oh so many updates this month!
Anyway, this is the cover for my new 'picture story' (it's not really a comic). Should be ready to mail out early next week.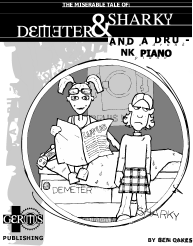 1st SEPTEMBER

Ok - another regular update...

If I still owe you any comics - PLEASE GET IN TOUCH. I must have forgotten you. Soz.

Jonny Crucifix 'Second Coming' got a nice plug on the good old: TRS2.

Demeter and Sharky, my latest work, will be going to press at some point this week (as PDFs don't seem to be working). It has taken all my free time up this month. Will add the cover by way of tease tomorrow...

Also, I will be uploading Sister Jessica soon. This is a short story by Phil Handford (who wrote Fawn Lastrome in 15 Nuns). Fingers crossed, there will be some art to accompany it by Brother Beanz.

If anyone needs any help printing their comics - send me a sample and I will see if I can help.

AND - I have got enough dollars to buy a real domain name - so I must sort my act out...

4th AUGUST

Went to AQUA last weekend. There were loads of cool people there. Gave out copies of the two new comics. If you haven't got yours yet, don't worry they'll be on the way. Best send me an e-mail though just to make sure...

JONNY CRUCIFIX - Second Coming by Beanz. And - BRUISING PIT - Elephant Cemetery by John Cake.

These are both available as PDFs, but are much nicer in print.

For those that don't know, The Lupus is on hold. Will be putting out comics dedicated to one story at a time.

I have spent too much time playing Canons Spike and listening to Skinny Puppy to complete any new strips. I have been trying to play Metal Gear Solid 2, but it's bollocks. May take it back and swap...

Work has also been gay, as usual, and stolen far too much of my time. Thieving swines...

BUT - there will be a new Misery 'book' available by the end of the month. It's very text based and is a cross over with '2nd hand misery'.

It's kinda sick, but it makes me laugh.... It is about Demeter and Sharky (a new character).

14th JULY

Life is good here in the Nunnery... St Chris Askham (one of our fave small press comics dudes) wrote me a real nice review - thus securing him a place in heaven...

...a bunch of slackers stumble from one adventure to another often with bizarre, totally surreal consequences. With seemingly no real direction, The Lupus is highly enjoyable, and created with a nice sense of design and highly stylised artwork. Has to be read to be believed.

GERMS should, God willing, have two (yes 2) new comics ready for the AQUA thing at the end of the month. Assuming I can get out of my pit and crack the whip to keep the worker Nuns in order...

Once they are boxed off - there will be more SECONDHAND MISERY.

Also - it is written thou shall check out this Noodoll wedsite. Oh - and this record lable is like well sleezy

13th JULY

Re my webshite: The bloody PDFs don't always work... Not good.

Also - just can't get out of my pit. Spending too much time on my GBA.

Battle of the Planets comic rocks...

Noodoll site may mean a re-think for my webshite...

AND - spending too much time surfing for Yuki Terai stuff. Will never get anything done...

25th JUNE

Website still under construction...

Have made a few changes to the screen where you download comics. If anyone ever tries it - please let me know if you encounter problems. God willing, it should be ok.

Also, some 'classic' JONNY CRUCIFIX has been added from the archives...

And in other news, members of the congregation should be aware work has started on some real sick Flash animation. If all goes to plan - I may even go to prison for them... Will be a week or two before they are uploaded.

Will start to upload some SECONDHAND MISERY stuff soon. I am looking for somebody to illustrate a short tale of MISERY featuring Bix and Floodie. It's only about four pages so if you are interested please send me a mail.

18th JUNE

Website still under construction...

Not sure how well the site works, so I need people to report errors.

When I get paid next I will try and sort out a real URL. Still to be added to the site:
History of GERMS Publishing (15 Nuns/LUPUS)
Additional 'classic' Jonny Crucifix comic strips
Submission guidelines for Jonny Crucifix
Secondhand Misery comic strips etc...
New work from the House of Tommodomotron*
* He is gay and slow though, may take a while yet...
When I have added all the above I will start looking into printing out some collected comic books - if I have enough readers.
I did manage to get a nice review on TRS2.
9th JUNE
The idea behind this web site is to:
Waste web space (thanks Brother Glover)
So I can show my small press comic strips
So other people can contribute comic strips
Check out the comics link for submission guidelines. Also divine comics you can download.
8th JUNE
For is it not written; 'A great crowd, pure and dressed in white, took the branches of palm trees and went out to meet him. And they began to shout: 'We pray for you!' Blessed is he that comes in the name of 15 Nuns and all that Germs does stand for...' Once upon a time 15 Nuns was a small press comic. I am no going to re-do all my old jokes...
The site is still under construction, so please let me know if you find anything that doesn't work.