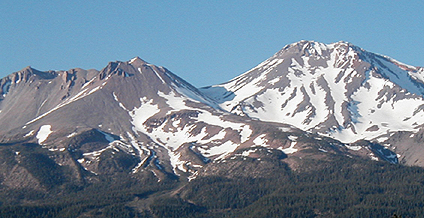 The most northern peak in California is 14,162 foot Mt. Shasta. This large volcanic peak has a smaller sister cone named Shastina that juts from her northern slopes. Shasta has seen a turbulent history of volcanism, and her dramatic features are testimony to the forces at work in her construction.
The trad route starts from 7000 foot Bunny Flat on the south side. Climbing about a thousand feet the trail arrives at the Sierra Club maintained cabin and small camp area. From there you pass above timber line and onto Olberman's Causeway, a natural stone path way created over the course of ten years by the first care taker of the Sierra Club cabin.
The slopes steepen and you are soon climbing up snow fields heading to the level camping area at 10,000 foot Helen's Lake. From this area Avalanche Gulch towers another 2,500 feet above camp. Far below the lights from the City of Mount Shasta twinkle in the night air.
An early predawn bid for the summit will normally start at about 4:00 a.m.. The steep bowl of Avalanche Gulch takes you to the Red Banks, a band of high cliffs composed of welded red pumice that mark a turning point in the route. Crossing over the crest to the right side of the Banks, proceed cautiously watching for crevases formed by a bergschrund as you turn left heading up the ridge that climbs toward the summit.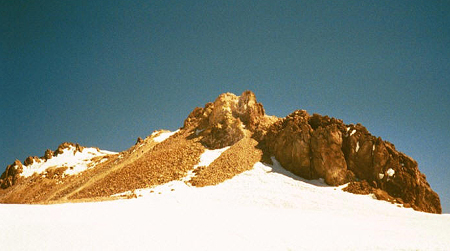 This ridge of almost 1000 feet elevation leads to a more featureless slope leading to the summit plateau. This so called Misery Hill is just that. At its crest you find an undulating ridge that leads to the summit pinnacle. The 14,000 foot elevation won't stop many climbers who have made it this far. The simplest route up the pinnacle winds around and up from the left side, eventually ending in a point that can host a dozen or so climbers. Be sure to enjoy the 360 degree view and sign the summit register! Glissading from the Red Banks down to Helen Lake can be one of the funnest aspects of your climb.