WEGA RADIO Jubilar
---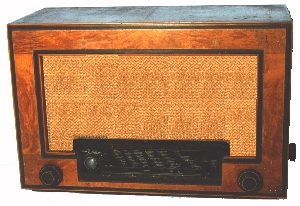 Produced: 1949 in Stuttgart/Germany

Case: beautiful art deco root wood case

Size: (w/h/d) 55 x 36 x 25 cm

Loudspeakers: 1 with el. magn. field coil

Antennas: no

Frequencies/Bands: LW/MW/SW

Power: 220 V AC

Tubes/Semicond.: 5 tubes: EM ?? magic eye, ECH 11, EBF 11, ECL 11, AZ12 as rectifier

Originally priced:

Condition: good

Comments: Bandswitch on the right side. Produced in the year of 25th anniversary of WEGA.
---
Telefunken Capriccios 50



Grundig 2006W Phono
---
This page hosted by
Get your own Free Home Page