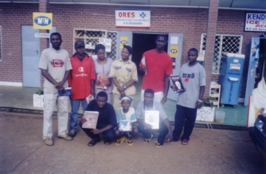 Making books available is one of ORES' topmost priority.
OUR VISION
We envisage a world in which everyone has access to quality education, a world where all development endeavours would be centred on the child who is the custodian of the future. This may be the key to complete eradication of poverty as this would lead to the people being able to make informed decisions for democracy, good governance and sustainable development.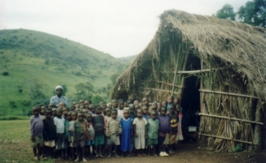 Government School Ntim. Provision of basic education
is not the exclussive responsibility of the State.
ORES must be ready to partner up in this task.



TARGET GROUPS

people in remote and disadvantaged rural communities
education policy makers
semi urban areas
prisoners.
OUR ACTIVITIES
ORES promotes basic education and child centred development in the following ways:

a) The Promotion of Reading and the Fight Against Illiteracy

we help set up school libraries
we create educational resource centres in rural areas (community libraries)
we donate books through our rural book donation scheme.
"If education is the road out of poverty, books are the wheels needed for the journey" (Richard Crabbe, Chairman, African Publishers Network 1997 - 2002)
We run short-term adult literacy classes. Here is our definition of illiteracy - If you cannot read your Bible then you are illiterate!
b) The Promotion of Education

We award scholarships to outstanding students especially those of parents with inadequate financial resources.


We offer short-term training to rural teachers by way of workshops especially for specific purposes like use of local material in constructing didactic materials etc.


We assist rural communities in erecting structures like classrooms.


We lobby at the level of state institutions concerned with education, policy makers and other international bodies.
c) Child Centred Development

We sensitise the people on the need for fundamental rights of the child to be respected as specified on the United Nations Convention on the rights of the child. We organise workshops to counter vices like


child labour


child trafficking


economic exploitation


sexual abuse


street children

Pre-school age children (less than six years old) should participate in quality early childhood care and development programs that promote their social, emotional, cognitive and physical development.

Out of school youth should acquire retainable basic learning and life skills, through quality non-formal education