The Society meeting venue is at the
Johnsonville Uniting Church,
18 Dr. Taylor Terrace
Johnsonville
on the the third Monday each monthat 8 pm
only a short distance from the centre of Wellington.

An Early Forum covering basic growing subjects is usually run from 7.15


The Capital City Orchid Society was established by a group of enthusiasts to serve the North-western suburbs of Wellington City, The capital of New Zealand. The Society was established in 1981. It is run as an Incorporated Society.
Always known as a friendly and enthusiastic group, it has a range of members from novice growers to those with many years of experience.


THE SOCIETY WAS ESTABLISHED WITH THE FOLLOWING OBJECTIVES
To promote interest in the culture of orchids in all its aspects
To hold regular meetings to promote the discussion and advancement of knowledge of orchid culture
To publish and distribute newsletters relevant to the objects of the Society
To hold displays, shows or exhibitions of orchids
To sell orchids which have been purchased or received as gifts, or to sell orchids on commission
To encourage research in the growing and conservation of orchids.
To affiliate with any other Society or organisation having objects wholly or in part similar to those of the Society
To establish and maintain a library of books, magazines or other publications relevant to the objects of the Society
To do all such lawful things as are incidental and conducive to the attainment of the above objectives or any of them

.
Meetings proceed with an outside speaker several times during the year, otherwise the more experienced growers within the Society discuss culture or other matters of general orchidaceous interest.
Members are encouraged to bring their flowering plants for display at meetings, and generally a wide range of genera are presented.
During supper the opportunity is available to meet fellow growers and to seek assistance with any growing problems you may be experiencing.
The Society also runs before the main meeting an "Early Forum" where basic culture is discussed. Novice growers in particular find these sessions of considerable assistance and are encouraged to attend.
The Society maintains a good library with the main orchid books available for borrowing by members, together with a number of the main orchid periodicals.
A sales table is also run at the meetings, enabling members to sell and purchase plants at meetings. A small commission is charged which goes towards the Society funds
The Society runs at least one public orchid display during the year, where members are able to exhibit their growing success to the public. Commercial orchid nurseries are invited to this event with plants and orchid supplies for sale, giving members and the public the opportunity to make a variety of purchasers. The shows are the main way the hobby is promoted to the wider community.
Trips to other local Societies are often organised, to both meetings and their own shows.
The Society has been involved in all the major international orchid shows run in this country. At its first such show, the 2nd New Zealand International Expo in 1985, it gained the premier award with its display. (Photo below)

The award winning Society display Wellington 1985
The annual subscription to the Society is
Single $20
Family $25
Student $14

The subscription runs from 1 April to 31 March
The subscription includes the Orchid Council of NZ Year Book and the bi-annual Orchid News.
The Society publishes its own .newsletter which is posted to all members the week before the next monthly meeting.

The Society is run by an executive, who hold regular committee during the year. and who are charged with its administration.
---
The office holders for the 2003/2004 year year
President Roy Walker
Vice President
Secretary Lenaire Witham
Treasurer Margery Smith

Committee -

Chrissy Goodfellow
Elaine and Tony Ferrige
---
Membership enquiries etc. can be made to
The Secretary
Capital City Orchid Society
P.O. Box 3839
Wellington
NEW ZEALAND
Capital City Orchid Society Home Page
Details of meetings

---

REFERENCE PAGES
ARTICLES ON ORCHID RELATED SUBJECTS
This section will be added to as suitable material becomes available
REFER INDEX PAGE FOR TOTAL LIST
click on graphic below for Index Page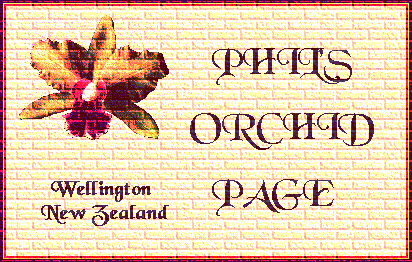 ---

E-mail communications can be made to:-


[email protected]


Phil Tomlinson - site author and orchid grower can be contacted as above for further information about the Society or for comments on this new web site.

This page is part of a larger site -
Site established 9 May 1998



20 March 2000
Click on following graphic to find local societies in your area