The Society meeting venue is at the
Johnsonville Uniting Church,
18 Dr. Taylor Terrace
Johnsonville
on the the third Monday each monthat 8 pm
only a short distance from the centre of Wellington.
An Early Forum covering basic growing subjects is usually run from 7.15



---
The following list shows the content of past meetings for the 1998 year.
For details of the next meeting for the current year, times and other relevant details please contact web master by E-mail who will forward full details. (Contact below)

[email protected]
---
SEE YOU ALL THERE
PREVIOUS MEETING DETAILS
The following lists details of recent meetings to indicate the types of subjects discussed each month. Details of the forthcoming events are communicated to members by way of a monthly newsletter.
Details of forthcoming events can be obtained from the society by letter or E-mail


Kevin Currie, from the Environmental Risk Management Authority
advising on the Hazardous Substances and New Organisms Act and importing new plants
Early forum in the library at 7.17
Paul Cable on repotting cattleyas and odontoglossums


Marion Austin will talk and demonstrate floral arranging with orchids
Early Forum at 7.15
features Jeff Baldain "What is a good orchid flower??


Lois Dougherty to demonstrate orchid deflasking
At the Early Forum Merle Stevenson is to discuss phalaenopsis culture
at 7.15 in the adjoining school library


Lorraine Fagg, well known Australian grower of Sacrochilus will talk on her favorite plants.
The Early Forum at 7.15 will feature Roy Walker, who will speak on
Sex and Orchids - so be warned!!


Annual General Meeting of the Society
There will be no early forum this month because of the AGM The Sales Table and Raffles will run as usual
For our little social after the business of the evening,
please bring along some goodies and/or drink for supper
.

Norm Porter 'Cymbidium Orchid Specialist' to discuss the latest cymbidiums.
Photographs of the latest cymbidium hybrids he has produced
This is sure to be a great meeting, as Norm is a very interesting speaker.
There will be an Early Forum at 7.15 as usual
Merv Dougherty discussion different potting mixes and pots for the different genera.


A discussion evening chaired by Phil Tomlinson but with questions (and answers) from those present. A good opportunity to get answers to those growing problems from fellow growers.
There will be an Early Forum at 7.15 as usual. This session will be run by Mike Davidson who will give pointers on getting ready for winter.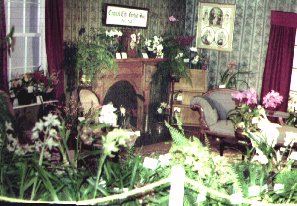 Society Champion Display at the 2nd New Zealand International Orchid Display

SITE LINKS
CAPITAL CITY ORCHID SOCIETY
Capital City Orchid Society Home Page
Society details

---

REFERENCE PAGES
ARTICLES ON ORCHID RELATED SUBJECTS
This section will be added to as suitable material becomes available
Refer to INDEX PAGE
For full list of articles on this site
covering a wide range of orchid matters ,
including seasonal cultural guidelines for a nubmer of popular orchids.
There is much useful material inlcluded in these pages,
including members contributions.
Click on graphic below for Index Page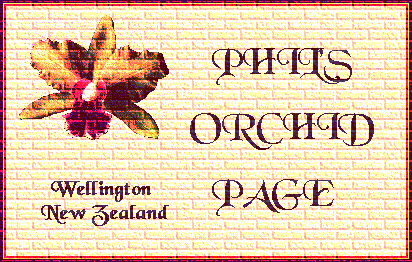 ---

I hope that you find the information in this site useful
If you wish you may forward comments etc. to me


[email protected]




This page is part of a larger site -
Site established 9th May 1998



20 March 2000
Click on following graphic to find local societies in your area