|| History of Establishment | Indroduction || Objectives | Programmes | Research and monitoring of Natural condition |
||Blackbuck-The most endangered wildlife||Photo gallary||

Medini Bhandari, APEC-Nepal.
G.P.O.Box Number 12822, Kathmandu, Nepal.

Black buck, (Antelope cervicapra) (Krishna Saar) is looking for help in its last position to extinct in situ condition at Gularia Municipality, Bardia, Nepal.

Introduction:

The Black Buck is an endangered and fully protected species in Nepal. The adult male Black Buck has striking Black and white pelage (fur) and long spiral horns. Horns seldom exceed 50 cm and may reach 65 cm in Nepal. Yong males, called bucks are light brown in color and after 3 years their pelage turns quite black. Females called does are beige in color and hornless. A well-grown buck stands about 32 inch (80 cm) at the shoulder and on the average weigh 40 kg. Black bucks are territorial, although they take occasional trips to surrounding terrain. The territoriality exhibited by the species is the result of the dominance shown by the adult males. Females do not make any territory of their own. Their habitat is open grass land with thorney and dry decidious forest. They prefer ectonal region between the forest and grass land. They prefer to be in group ranging 15 - 20 individuals.
Biological importance:
As other animal it is also a part of Nature and we need to conserve it for future generation. Black buck is one of 26 species of mammals, which have been declared endangered and protected by low in Nepal.
Genetic importance: Cross breeding and development of high breed for domestic use.
Economic importance: Each species has value and meaning. In present context Biodiversity richness is greater than monetary value.
Local importance: Tourist, researcher, animal lover may come to see this important animal and it will help the diffusion of local culture or production to the external national or international visitor.
National importance: tourism development and decentralization of tourist flow.
Ecological importance- system within a system.
Recreational importance. Tourism and Eco-tourism.
Cultural important in Hinduism and Buddhism:
Black buck is a vehicle of Chandrama (soma or chandra) (moon). This is a symbol of purity prosperity and peace. Its skin use in the time of taking secret thread (bratabanda) as well as at the time of worshipping. In Buddhism, a pair of buck symbolizes Buddha when he turned to the Sarnath India. The horns and skin are also regarded as sacred object in Hinduism.
Range:
Black Buck are truly representative of Nepal and India. They evolve here and extinct in the wild except for limited part of India and Nepal's Bardia district Gularia Municipality under Royal Bardia National Park in western Nepal.
Habitat:
They like to live in open grassland and dry thorn and scrubland. They like to be in herds about 20 to 30 individuals. A herd generally inhabits around 200 to 300 acres of land. A dominant male marks the territory by shifting and pawing the ground and urinating and defecating at established piles.
Food Habit:
Black buck are herbivore animals. They graze the soft grass and eat leaves, herbs and shrubs. The like to graze to vast area from the down to dust and take rest on shadow of the tree.
Reproduction:
Mating season is August to October and March to April. Male buck performs proud heads-up displays (nose up and horns parallel to the back) to attract the attention of female does. Male engages in rutting behavior throughout the whole year. The rut consists of fighting and sparring between males with their horns. The spiral shape of horns automatically locks the horns together so rarely do the animals get hurt. The bucks do this as a form of play as well as to assert dominance and breeding privileges.
Features:
The keen eye sight and fast speed of Black Buck are its main protection against predators. When alarmed, the herd moves off in a series of high leaps and bounds, then breaks off into a quick gallop. It is one of the fastest animals in the world. The record shows that they can run 80 kilometer per hour if necessary.
Problems:
Black Buck is only found in situ condition in Gularia Municipality of Bardiya District in Nepal. Population distribution is as follows:
Black Buck population fluctuation in situ condition at Gularia
| | | | | | | | | | | | |
| --- | --- | --- | --- | --- | --- | --- | --- | --- | --- | --- | --- |
| Year | 2023 | 2027 | 2032 | 2037 | 2042 | 2047 | 2052 | 2053 | 2054 | 2055 | 2056 |
| Population | 10 | 18 | 34 | 80 | 150 | 170 | 250 | 150 | 100 | 80 | 40 |
Data based on field visit on October 1998 and July 1999. Conducting interview with local people collected yearly information. During the earlier visit we did not saw a single small animal in any group. However in second visit we noted 3 small population in the group. In the answer of the reason of lacking calf in the group local people told that dogs or wolf has finished all small population of Black Buck. According to local people the population was also distributed to the near by area of Indian boarder, but now there are no black buck. Above information covers that area also.
The above data shows that population is decresing rapidly. This information shows that recent years animals population is rapidly decreasing. If protective measure did not came in short time this population will not be in this situation.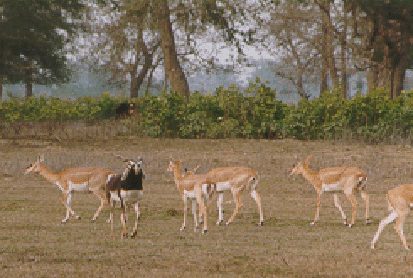 Blackbuck in their own habitat
The main reasion of population loss are:
Predation
Habitat destruction
Overgrazing
Diseases
Inbreeding and
Visitors

Within Black Buck habitat people are leaving and domestic animals are free to graze this area as well. In one hand there is very limited land for Black Buck and there is high pressure of domestic animal as well as the people.
What could be the solution?
First off all people should be aware about the importance of this animal. There is no grass at all. Therefore animals go to the farm of the local people and local people for the protection of their crop move domestic dogs to runaway the Buck. These domestic dogs are habituated to kill the Buck.
To solve these problems APEC is trying to lunch a project for the protection of this animal with the collaboration of Gularia Municipality. So far APEC has contributed to throw the poisonous buss from its habitat. APEC has also initiated for the awareness boards in various places including gularia Municipality as well as to the Black buck habitat area (Khairapur). Mobile exhibition, conservation education and other awareness programs are initiated by APEC for its conservation. And APEC also working to make campaign for the conservation of this species and looking for making a film and keeping the information on Internet (temporary site is www.safgames99.org/apec) To protect this species we need to prepare retention wire, to plough some area to grow the crop which Black buck like most, to make shade for rain and heat.
Local NGO's who are working since long time for protection of this area are district forest office, Bardia National Park and local administrative authority including District administrate office, Police office and Local ward's members and people, schools etc.
Local people have their own problems of the area and legal procedure is also in process. However, we do not have time to wait. So we request all Nature lover to contribute for conservation of this most beautiful animal in its own habitat.
References:
1. Introduction of Black Buck, (A brochure 1998) of Central Zoo, Lalitpur, Nepal.
2. Short term programs for conservation of Black Buck, 1998, Gulariya Municipality, Gularia.
3. Black Buck is looking for survival, Kantipur Saturday 1st week issue, October 1998, by B.K. Pokharel (Secretary of CCEW).
4. Study of Black buck in Khairapur, Bardiya, Institute of forestry, Pokhara-1998 by Kirtiman Tmang and Suresh K. Shrestha.

|| History of Establishment | Indroduction || Objectives | Programmes | Research and monitoring of Natural condition |
||Blackbuck-The most endangered wildlife||Photo gallary||
Central Office:

Go to home
40, Dharma Bhakta Marga, Hatkhola Road
Biratnagar-10, Morang, Nepal. Back
Phone 977-21-30803, Fax 977-21-24099.
Postal Address:

GPO Box 12822, Kathmandu,

Nepal
For further information email to APEC. Go to Next page