Igbo Culture: Will

Things Fall Apart

?

A WebQuest for 10th Grade (Advanced English II)

Designed by

Noel Gnadinger

South Oldham High School
[email protected]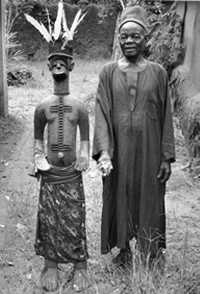 Alusi priest Ezekwem with figure of deity Eke.
Adazi Ani, Nigeria. Photograph by Herbert M. Cole, 1966.

Introduction | Task | Process | Evaluation | Conclusion | Credits | Teacher Page
The year is 1891. Colonialism is in full swing, and countries throughout Europe are invading Africa. Several churches have sent missionaries into Africa, and the British government wants to exploit natural resources in its African colonies. But people fear venturing into "darkest Africa," and some are arguing against any infringement on existing societies. The British Commission on Colonization has gathered experts in history, cultural studies, and literature to study the existing Igbo culture in Britain's newest colony. The result will be a series of reports that will help the British government assess the level of civilization of these savages as well as the possible effects of colonization.

(In our study of Lord of Flies, we discussed human nature and the consequences when social constraints and "civilization" are taken away. In Things Fall Apart by Chinua Achebe, we will explore the clash of two cultures, one "civilized" and one savage. To understand the complexity of the novel, we must first understand Igbo culture.)

You have been asked by the British government to join the team of experts assessing Igbo culture. You must ask yourself: Can the Igbo people be considered "civilized" by Western standards? What will happen to their culture if Europeans colonize their lands?
The Task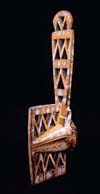 Using research you gather from the Internet,
Investigate one aspect of Igbo culture.


Create a multimedia presentation to teach us about that aspect. Your presentation can be a video, a PowerPoint, or an Inspiration presentation.


Include some activity for us to do as a class (crossword puzzle, note sheet, role playing scenario, quiz, or whatever you decide).
The Commission on Colonization has divided the Igbo culture into 12 key areas for investigation.

1. You will choose your topic from those listed below and follow the guidelines to create your presentation. Your team should be determined by your interests.

2. Within your group, work together to find all necessary information for the tasks. Use the KWL chart to take notes. Find out more about Informational Reading.

Necessary Information:

definitions and/or explanations of all elements listed in the topic
any additional information you deem relevant
how the element of culture you investigate compares with Western (i.e., American or British) culture -- be sure to include similarities and differences.
Correct citations for all print sources used in the presentation.
Correct citations for all multimedia used in the presentation.

3. Synthesize the information into a coherent and interesting

multimedia presentation

.
Presentations should include EITHER a PowerPoint, an Inspiration presentation, or a video.
All presentations must include an

additional visual

element that will be displayed in the room.
4. Presentations must include an

activity

for the class. Suggestions include: quiz, note sheet, matching game, role playing, crossword puzzle, hands-on activity, manipulative, food tasting, demonstration, or other creative ideas.

---
Areas of Culture for Exploration

Igbo and African Art and Music

, including the importance and role of masks; other functional art; clothing; drums and their use in ceremonies
Igbo Art


Igbo clothing


Igbo drums and music


2.

Igbo Economics

, including cowrie shells, major crops, trade between villages, the markets

Economics

"Nigerian Country Study" by the Federal Research Division of the LIbrary of Congress. Look at the "Early History," "Nineteenth Century," and "Colonial Nigeria" sections
Cowry shells and other currencies


Trade




3. Igbo Marriage

Customs, including bride price, betrothal, and wedding ceremonies

Role of women in Igbo culture

"Women in Pre-Colonial Nigeria" by Maria Rojas, posted on African Post Colonial Literature in English on the Post Colonial Web, a project funded by the National University of Singapore
Marriage customs


4.

Igbo proverbs

(tell what they are, significance, and explain a few)


5.

Igbo religious beliefs

, including chi, oracles, ancestor worship, egwugwu, afterlife, osu and Igbo fears and superstitions (ogbanje, iyi-uwa, Evil Forest, and twins)



Igbo afterlife beliefs




Indigenous Religious Beliefs




Fears and superstitions


6.

Igbo festivals and celebrations and Igbo foods

, including the Feast of the New Yam and foods including fufu, locusts, palm wine, and yams



New Yam Festival




Other Festivals


Foods


7. Government and Other Customs

for settling disputes, burial of the dead, roles of men and women, and regulation of family life (i.e., politics)

Funeral Ceremonies

"Funeral Ceremonies of the Ibo" by Karen Hauser, posted on African Post Colonial Literature in English on the Post Colonial Web, a project funded by the National University of Singapore
Role of Women in Igbo culture




Role of men


Government
8.

Igbo folk tales

(read several folk tales, discuss their significance in the society. You may also want to tell us a folktale.)
9.

African/British Colonialism

, including who colonized Nigeria, when, where, why, results. Also, this group should create

a map of Africa

, showing Nigeria and

a map of Nigeria

including the capital and major cities, the rivers, and where the major ethnic groups live. Also, indicate approximately where the novel takes place.

Colonialism Time line


Current Day Nigeria




Nigeria Maps


10.

Igbo village life

: hospitality, wrestling and games, tapping a palm tree; an ancestor in full regalia; a village meeting; the Kola nut ceremony



Family Living Quarters Arrangements




Kola Nut Ceremony


Hospitality
Wrestling
Climbing the Palm Tree


11. Igbo language and naming customs

, including how children are named, elements of the Igbo language, writing/reading/literacy in Igbo culture

Naming customs
Language

Print resources for all groups
Koslow, Philip.

Lords of the savanna : the Bambara, Fulani, Igbo, Mossi, and Nup

e. Philadelphia : Chelsea House, c1997.
Ogbaa, Kalu.

Igbo.

New York: Rosen Pub. Group, 1995.
Ogbaa, Kalu.

Gods, oracles and divination : folkways in Chinua Achebe's novels.

Trenton, NJ: Africa World Press, c1992.
Okpewho, Isidore.

Once upon a kingdom : myth, hegemony, and identity.

Bloomington: Indiana University Press, c1998.
Umeasiegbu, Rems Nna.

The way we lived: Ibo customs and stories.

London: Heinemann Educational, 1969.
Describe to the learners how their performance will be evaluated. Specify whether there will be a common grade for group work vs. individual grades.



Beginning

1

Developing

2

Accomplished

3

Exemplary

4

Score

Quality of the Information


Information has little or nothing to do with the main topic. (5 pts)


Information clearly relates to the main topic. No details and/or examples are given. (10 pts)


Information clearly relates to the main topic. It provides 1-2 supporting details and/or examples. (12 pts)


Information clearly relates to the main topic. It includes several supporting details and/or examples. (15 pts)





Information Accuracy


Content is typically confusing or contains more than one factual error. (5 pts)


The content is generally accurate, but one piece of information is clearly flawed or inaccurate. (10 pts)


Most of the content is accurate but there is one piece of information that might be inaccurate. (12 pts)


All content throughout the presentation is accurate. There are no factual errors.
(15 pts)





Effectiveness of Presentation


Project is lacking several key elements and has inaccuracies that make it a poor study guide. (5 pts)


Project is missing more than two key elements. It would make an incomplete study guide. (10 pts)


Project includes most material needed to gain a comfortable understanding of the material but is lacking one or two key elements. It is an adequate study guide. (12 pts)


Project includes all material needed to gain a comfortable understanding of the topic. It is a highly effective study guide. (15 pts)





Originality

Presentation is vague or incomplete and/or graphics and shows very little attempt at original thought. (3 pts)


Presentation shows an attempt at originality and inventiveness on part of the presentation. (5 pts)


Presentation shows some originality and inventiveness. The content and ideas are presented in an interesting way. (7 pts)


Presentation shows considerable originality and inventiveness. The content and ideas are presented in a unique and interesting way. (10 pts)





Group Behavior and Cooperation


Group often is not effective in delegating tasks and/or sharing responsibility. (3 pts)


Group delegates tasks and shares responsibility effectively some of the time. (5 pts)


Group delegates tasks and shares responsibility effectively most of the time. (7 pts)


Group delegates tasks and shares responsibility effectively all of the time. (10 pts)





Graphics and Appearance

Presentation uses font, color, graphics, effects etc. but these often distract from the presentation content. (3 pts)

Presentation makes use of font, color, graphics, effects, etc. but occasionally these detract from the presentation content. (5 pts)

Presentation makes good use of font, color, graphics, effects, etc. to enhance to presentation. (7 pts)
Presentation makes excellent use of font, color, graphics, effects, etc. to enhance the presentation. (10 pts)


Documentation of Information and Image Sources

Some sources are not accurately documented. (5 pts)

All sources (information and graphics) are accurately documented, but many are not in the desired format. (10 pts)

All sources (information and graphics) are accurately documented, but a few are not in the desired format. (12 pts)

All sources (information and graphics) are accurately documented in the desired format. (15 pts)




Mechanics


Presentation has more than 2 grammatical and/or spelling errors. (3 pts)

Presentation has 1-2 grammatical errors but no misspellings. (5 pts)

Presentation has 1-2 misspellings, but no grammatical errors. (7 pts)

Presentation has no misspellings or grammatical errors. (10 pts)




Enthusiasm and Other Visual Aides


The activity chosen detracts from the presentation. (7 pts)

Students use an activity that may keep our interest, but does not enhance the content of the presentation. (10 pts)

Students use an activity that shows work/creativity, but may not capture the class's imagination or keep our interest. (12 pts)

Students uses an activity for the class (food, game, or other activity) that show considerable work/creativity and which make the presentation better. (15 pts)



---

Conclusion

Now that we at the Commission on Colonization know about Igbo culture, we must consider how it compares to Western (European or American) culture. Is it more or less complex? Does it have the elements of culture that we think of as "civilization"? What do you think will happen when this culture comes into contact with Western culture? How will colonization affect this culture?


These are questions that we will explore as we read Things Fall Apart by Chinua Achebe.


Please take a moment now to reflect on this project and the research process using the following document.
Reflection!


Picture:
Alusi priest Ezekwem with figure of deity Eke. Adazi Ani, Nigeria. Photograph by Herbert M. Cole, 1966. http://www.nmafa.si.edu/exhibits/two_sculp/index.htm


Face mask Igbo peoples, Afikpo, Nigeria Wood and fibers. H. 68.6 cm. Maureen and Harold Zarember, Tambaran Gallery (Cat. 5) Available at: http://www.africanart.org/facingthemask/intro_kinds.html


Rubric:
Rubistar, Rubric Creator developed by High Plains Regional Technology in Education Consortium
http://rubistar.4teachers.org/index.php


PowerPoint tips:
Tutorial Created by Mark L. Merickel of Oregon State University
http://oregonstate.edu/instruction/ed596/ppoint/pphome.htm


Inspiration tips:
Inspiration Quick Tips developed by Candace Standberry for the Louisiana Department of Education
http://www.doe.state.la.us/conn/getFile.php?lesson_id
=140&dlfilename=Insptips.doc&PHPSESSID=3a11af45698546bfbd9abfb07289f0c9

Citation tips:
See references on those pages


KWL:
See references on that page


Research process ideas:
"Student Inquiry in the Research Process" developed by Leslie Preddy, based on the elements of Information Inquiry designed by Dr. Daniel Callison, Indiana University and LMS Associates. http://pmms.msdpt.k12.in.us/imc/Inquiry/

---
Created by Noel Gnadinger
Last updated on June 2004.
Based on a template from The WebQuest Page