The Newfoundland Contingent


In October 1914 the First Contingent of the Newfoundland Regiment arrived in England without caps and rifles. Because khaki cloth had not been available to equip them in standard British uniform, instead wearing blue, they became known as the "Blue Puttees".

The authorized march of the Royal Newfoundland Regiment is The Banks of Newfoundland.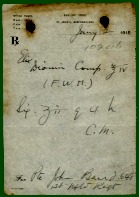 Dr. Cluney McPherson, a well known Newfoundlander invented the gas mask in WW1.

The Royal Newfoundland Regiment is comprised of the following subunits: 1st Battalion HQ, A Company, (St. John's); 2nd Battalion HQ, B Company, (Grand Falls); A Company, (Corner Brook); and C Company (Stephenville).

Newfoundland suffered its greatest loss at Beaumont Hamel on July 1st 1916. Of the 801men who went into battle only 68 could answer the roll call when it was taken the next day. The final count: 255 killed or dead of wounds, 386 wounded, and 91 missing.

The Newfoundland Regiment was granted the title "Royal" in November of 1916 by His Majesty King George V. The distinction was one that no other regiment of the British Army was to have conferred on it during the First World War while fighting was still in progress.

Private Thomas Ricketts, a member of the Lewis Gun detachment, who was only 17 at the time, became the youngest winner of the Victoria Cross in the British Army.

Britain's "oldest colony" sent 8,500 soldiers and sailors abroad in the First World War, out of a population of less than 250,000, over 1,500 gave their lives in the end.

The Memorial University College (St. John's) was opened in 1925 and named in memory of the colony's servicemen who had lost their lives.

Newfoundland has established five memorials overseas to commemorate the bravery shown by her men during the First World War. They are: Beaumont Hamel, Gueudecourt,
Monchy, Masnières, and Courtrai memorials. The Courtrai Memorial is located in Belgium while all others are located in France. These all consist of bronze caribou statues and were the work of Basil Gotto, who also sculpted the statue of the "The Fighting Newfoundlander", a tribute to the men of the Regiment which was established in Bowring Park.

Newfoundland also has its own national memorial which is located near St. John's Main Street with the famous old harbour as its backdrop. It commemorates all of Newfoundland's wartime achievements on land and sea. The Royal Newfoundland Regiment, the Royal Naval Reserve, the Mercantile Marine and the Forestry Corps are each represented by lifelike bronze figures. Above, on a granite pedestal, a female figure representing freedom holds aloft a torch.

On July 1st of each year - the anniversary of the Battle of Beaumont Hamel, we honor these brave Newfoundland men, we remember the great sacrifice they made and the loved ones they left behind.

The Royal Newfoundland Regiment still exists to this day. You may contact them at:

Regimental Headquarters:
Box 2028
St John's, Newfoundland
Canada A1C 6B5


| Escape From Germany | Battle Honors |

| Trail of the Caribou Postage Stamps | Poetry Series | Links |





View My Guestbook
Sign My Guestbook







Page created by Martha Collier