---
What is NetStudio?
If you're like me, you appreciate nice looking web graphics, but you don't want to spend the money or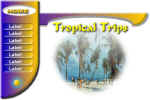 time required to learn some of the complicated graphics programs out there. Maybe you only want to create one web site and you're not sure if this web-building stuff is really for you. Still, you need to create some backgrounds, buttons, banners, or fancy text without stealing them from someone else's site or making your page look amateurish. Maybe you'd like to create something like the image on the right, but creating web graphics just seems too complicated for you.
When I set out to create my second website over a year ago, I stumbled upon a really easy-to-use web graphics program called NetStudio. I downloaded a trial version of it for free and was able to quickly create the images I needed without spending hours reading manuals or tutorials or trying to figure out how to make it do what I wanted. It was the most intuitive program I'd ever used. The trial version eventually expired, but by then I had my site done.
Recently, I bought NetStudio 2000, which is even better than the version I tried back in '98. Incidentally, I also have PhotoShop, PaintShop Pro 6, Adobe ImageReady, and Dreamweaver/Fireworks, but I just haven't mastered the steep learning curve they require in order to be proficient at using them. So, I find myself going back to using NetStudio, since it's powerful enough to do almost anything I need, and I don't get frustrated trying to figure out how to make it work!
Why a tutorial site, if it's so easy to learn?
There are a lot of tutorial sites out there for programs like PhotoShop and Paint Shop Pro, for good reason; they're hard to learn! I haven't run across a lot of people who have used NetStudio or even know what it is, so I wanted to help spread the word to novice web-builders who are looking for an easy way to get a nice looking web site. Although the CD and the manual that come with the program do a good job of showing you what the program can do, I've done some experimenting and have found that it's capable of even more than I initially thought, and I want to pass along some of what I've learned. A lot of people are going to take the cheap way out and just download the trial version, missing out on the documentation and the multimedia tutorial on the CD that comes with the program if you purchase it. For those folks, they can learn the basics of the program from NetStudio's web site, and from the Help files contained within the demo. Then they can come here to learn a bit more.
Although I'll assume you have minimal knowledge of using NetStudio, I'm not going to take you through the whole process of learning to use the program from scratch. You can do that on your own. I just want to show you some neat things you can do with it, once you've spent an hour or so learning the basics. Hopefully, by working through these tutorials, you'll be inspired to create something really original.
Most of the pages on this site are very graphics-heavy, so if you have a slow connection, it may take a while for some of them to load, but I'd rather have a lot of images, rather than just words, to aid in the learning process.
How do I get NetStudio?
Go to NetStudio's web site to learn more about it and download a demo version or spend a few bucks for postage and have them mail you a demo CD. Play with it awhile, then come back here and check out the links at the top of the page to learn more.
By the way, I don't get paid by the NetStudio people for doing this. Like all those folks who do those other tutorial sites, it's just a hobby. I think web-building should be fun and easy, not frustrating. Hopefully you feel the same way.



Navigation Bars Buttons Backgrounds Cool Tricks