Needle Artists by the Sea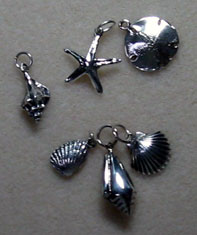 These awards are given to encourage participation in projects presented by Needle Artists by the Sea Chapter of the American Needlepoint Guild and to encourage excellence in stitching by learning.
You must be a member of the NAS Chapter at the time the project is presented. In the case of a workshop, you must have participated. The charm awards are to be given upon completion of a project with stitching completed, but not necessarily finished; i.e., framed, made into a pillow, etc. If multiple pieces of the same design are stitched, only one charm will be awarded. The awards for the pieces presented to the membership for needlework accomplished shall be:
Sand Dollar or Starfish for each:

NAS sponsored workshop including the November Annual Luncheon meeting.
NAS group correspondence or individual correspondence course.
Any 1, 2, or 4-day class taken at a National ANG Seminar.
ANG on-line group correspondence course or cyber workshop.
Board approved ANG project book design.
Project for a monthly program that is deemed worthy of inclusion by the Board because it involves greater time and skill.

Special award of a Scallop or Ark Shell is given for the 10th project completed from those listed above. (This is in place of a sand dollar or starfish.)
Special award of a Triton Shell for each yearlong NAS study project.
The Board shall determine the qualification for each award. The program administrator must be informed of completion of the project no later than Tuesday before the monthly meeting. Awards shall be presented monthly at the regular meeting and the project must be presented to the membership at the meeting. Out of town members may submit a photograph of completed piece to fulfill this requirement.
Download a complete list of projects that qualify for a Charm Award.