played by Bob Uecker
---
GEORGE OWENS is the head of the Owens family who at first didn't see eye to eye with Mr. Belvedere but soon the two became the best of friends. George is portrayed to be a frustrated jock who turned his interest in sports to journalism, as he soon became employed as a sportscaster for a Pittsburgh television station. Formerly the king of his castle, he feels somehow dethroned by Belvedere, the hired help.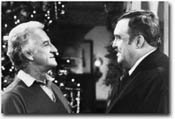 It started out rather innocently enough when stern sportswriter George Owens and his wife and aspiring lawyer Marsha decide to hire a housekeeper to take care of their kids Kevin, Heather and Wesley while they work. Typically, George expected an old fat woman who would meekly do what he asks. Instead, he got Mr. Belvedere who was proud, opinionated, intelligent and loves to get himself in between everyone else's problems. George and Mr. Belvedere didn't see eye to eye, specially in the rearing of Wesley and Mr. Belvedere almost got fired several times. As the series wore on however, everybody came to love and need Mr. Belvedere, George included.
George's favorite line: "Belvedere! It's YOUR fault!"

---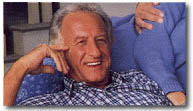 Bob Uecker, "Mr. Baseball", who enjoyed six seasons in the Twentieth Television Corporation series Mr. Belvedere, is one of the most visible personalities in America today--all because of a series of beer commercials. A native of Milwaukee, Wisc., where he still makes his home and broadcasts the Milwaukee Brewer's major league baseball games, Uecker dreamed of becoming--and became--a major league ballplayer.

But while he can't walk down any street in America today without being instantly recognized as the average ballplayer relegated to a "freebie" seat in the far upper reaches of the right field bleachers, his fame did not come on the playing fields. Oh, sure, he hit .309 for the Louisville minor league farm club of the then Milwaukee Braves, and he did move up to the big league Braves for a year and half before being traded to the St. Louis Cardinals where he played on the 1964 World's Championshop team. It was then to the Phillies and back to the Braves, this time in Atlanta.

But what he did ON the field would never earn him nearly the recognition, fame and financial rewards he has netted since he left the diamond for the broadcast booth, and subsequently a flourishing career in show business. He has made more than 90 appearances with Johnny Carson on "The Tonight Show" and has traded quips with such other renown TV spielers as Mike Douglas, David Frost, Merv Griffin, David Letterman, and others.

It was inevitable that the big screen would beckon and in late 1988 "Uke" made his theatrical motion picture debut in Paramount Picture's "Major League", starring Charlie Sheen and Tom Berrenger. Naturally, Uke played a play-by-play announcer--but this time for the rival Cleveland Indians rather than his beloved Milwaukie Brewers.

AFTER MR. BELVEDERE
Bob went on to star as Harry Doyle in 2 more sequels of Major League.

Bob Uecker is only one of 3 celebrities who has been invited to appear twice in Wrestlemania events in it's 17 year history, the other two being Mr. T and baseball great Pete Rose. Uecker took part in Wrestlemania 3 on March 29th 1987 from Pontiac, Michigan where he served as the Special Guest Ring Announcer for the main event match with Hulk Hogan & Andre The Giant for the WWF title and at the same time, joined in to assist in giving commentary for the matches taking place earlier in the event. The next year, he was once again invited to be Special Guest Ring Announcer for the main event match between Randy Macho Man Savage & Ted DiBiase for the WWF title & to do wrestler interviews along with once again helping to give on-air match commentary at Wrestlemania 4 on March 27th 1988 from Trump Plaza Hotel & Casino in Atlantic City NJ. (Thanks Sameer for the info!)

---