Activities
The Monastery
At the north of the beach is the monastery of the Virgin of Myrtiotissa, from which the place took its name. Built by a monk somewhere in the 16th century, after a vision he saw telling him to go to the exact location, in a cave where he found an icon of Virgin Mary and a cross. Father Daniel, a young monk is serving now at the monastery, trying to erase the marks of time.
This place is worth the visit as there are a lot of relics to see and the whole scenery which takes the visitor deep back in the past. The monastery celebrates at the 15th of August (biggest day of Virgin Mary all over Greece) and at the 23rd of September which is the celebration of Virgin Mary of Myrtidion. These dates is open to the public all day long.
---
Sports
Mirtiotissa is known for its lazy and relaxing character. However, there is a potential for some sport activities. The crystal clear water with rocks of all sizes and shapes planted everywhere are ideal for snorkeling (watch out for the sea ​​urchins). The natural and wild environment make this place suitable for walking, mountaineering, mountain running and exploring in general. Beyond the monastery, on the narrow path you will meet the remainings of "Trialos" - a ghost village which has been abandoned for 4 to 5 decades.
Mirtiotissa is also famous amongst paragliders. Above the beach is the mountain of Agios Georgios ("Ai Giorgis" for the locals) where is the take-off. Often (when the wind is W-SW), pilots go there and have a good time with their gliders, doing cross country, tandem or even acro-flying. They land at Glyfada beach.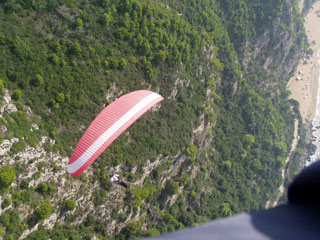 ---
Night life
Mirtiotissa has witnessed large beach parties from the youngsters staying in Vatos camping enjoying themselves until the morning. Also places like disco Pam Pam, Panorama and Eros bar in the 80's and 90's respectively, which contributed in the night life of the area. Unfortunately those days are now memories of the past.
The only place close to Myrtiotissa is Elia restaurant/bar with friendly and relaxed atmosphere. Going up from the beach, stop there for something to eat or drink and stay until late. Since 2005 they started organizing various events throughout the season. Some live concerts have been very succesful, as well as the reggae and gay parties.
In Vatos there are still some places where young people come together, such as Dizi bar, Labis bar and Spiros Taverna 97. If someone is mainly interested in the intense night life of Corfu, places like Corfu town, Gouvia and Ipsos are the ones to be visited at night.