February Fourteenth

Limited airbrushed version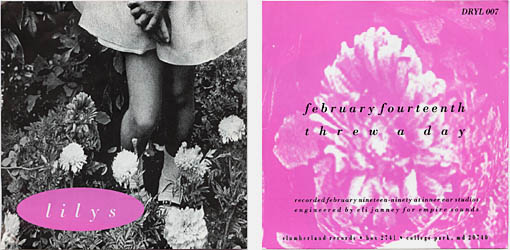 Regular release version
TRACKLIST
February Fourteenth
Threw A Day
RELEASE NOTES - Slumberland....dryl007
NOTES - The limited edition release is on aqua-marble vinyl and the sleeve is airbrushed w/ all text done by hand with a marker! (only 50 pressed ?) There appear to have been two pressings of the regular release version. The first pressing (sleeve pictured above) is on black vinyl while the second pressing is on blue vinyl with a blue in place of the pink on the first sleeve.

| HOME | NEWS | DISCOGRAPHY | PRESS | FAQ | LYRICS |
| IMAGES | GUITAR TAB | SOUND | MISC | LINKS |

Please email your comments, suggestions and submissions. Thanks!

| Copyright © 1999 | [email protected] | Brian Rodriguez |

This page hosted by
Get your own Free Home Page