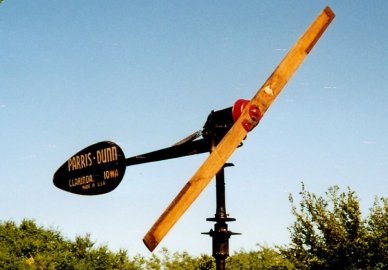 This site is dedicated to the restoration of Parris-Dunn wind machines. Considering the many thousands of these fine machines sold all over the world, the author saw a need for a web site to help restorers get the information necessary for their restorations. You are invited to contribute photos and any other data pertaining to Parris-Dunn wind generators.
Read the history of the Parris-Dunn corp.(1917-1949)
View photos of various models.
Download a free operation manual.
View technical data and drawings.
Search patent information. (Tails page)
Links to related websites.
Visit the museum.
Although late in coming to the market, the Parris-Dunn wind generators had a unique feature that made them very successful. Dunn's "slip-the-wind" idea provided a simple, inexpensive and effective way of governing propeller speeds in variable and dangerous wind conditions. The propeller moves back on its axis and allows wind to bypass the blades while still keeping the generator at a relatively constant speed.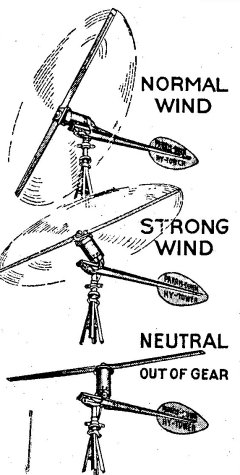 *********
Many thanks go out to the helpful staff in the museum at Clarinda Iowa for their kind co-operation in obtaining these documents. Without their help this site would not have been possible. A special thanks to Dave from Iowa for scanning the documents and doing the leg-work.
Nodaway Valley Historical Museum
1600 S. 16th street P.O. Box 393
Clarinda, Iowa 51632 U.S.A.
ph. 712-542-3073
***