Feel free to download any of the drawings. You are welcome to contribute any info or technical details of any Parris-Dunn machine. Add your photos to the photos page.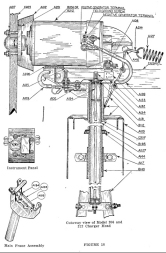 ************************
Maintenance Sticker Information
(sticker located under distributor cover)
In all correspondence regarding this charger always give model number 3885. Also give serial number of generator which will be found on plate on side of generator.
TO OIL - when installed, and every thirty days thereafter, use a good grade of automobile oil, on all moving parts such as Trunion pin bearings No. 108 (see oil holes), both ends of throwout bale No. 111 and both ends of generator spring No. 127.
Raise the distributor box cover No 135 and thoroughly oil the masthead No. 118 where it extends up through main frame pipe No. 103B into distributor box so that the oil will run down in to the main frame pipe and lubricate bear ing No. 144.
Grease the throwout collar No. 112 with cup grease and also pipe No. 207 on which it slides. In Case Of Trouble Of Any Kind Consult Instruction Manual.
Registered under one or more of the following patents:2,026,828; 2,048,732; 2,052,816; 2,094,917; 2,102,309; 2,140,152. MADE IN USA