&nbsp&nbsp&nbsp&nbsp&nbsp&nbsp&nbsp&nbsp

Jacks
&nbsp&nbsp&nbsp&nbsp&nbsp&nbsp&nbsp&nbsp&nbsp&nbsp&nbsp&nbsp&nbsp&nbsp&nbsp&nbsp&nbsp&nbsp and
&nbsp&nbsp&nbsp&nbsp&nbsp&nbsp&nbsp&nbsp&nbsp&nbsp&nbsp&nbsp&nbsp&nbsp&nbsp&nbsp&nbsp&nbsp&nbsp&nbsp&nbsp&nbsp&nbsp&nbsp Jennys

Square Dance Club
Spokane, Washington

About Us

Our Officers for 2005-2006:

President: &nbsp &nbsp &nbsp &nbsp &nbsp &nbsp Chuck Monson

Vice President: &nbsp &nbsp Jerry Hawkins

Secratary: &nbsp &nbsp &nbsp &nbsp Ron Hoffman&nbsp &nbsp &nbsp &nbsp

Treasurer: &nbsp &nbsp &nbsp &nbspPatty Combs
The Jacks & Jennys Square Dance Club has a 38 year history rich in development, growth and tradition. We began as a small club, 12 members, as a spin-off of the Hicks & Chicks, and in those days we were a club without a home but not without a caller. Richard Lee was the first caller with his wife Evelyn. They drove to Spokane from Chattaroy, WA to call dances and provide lessons.

Our present caller Jack and Jeanette Blood began dancing with the Jacks & Jennys in 1980. Jack began as a guest caller in 1982 and became club president in 1983, and our permanent caller in the fall of 1983. Lessons were held in the garage of a members home.

It was difficult to find a place to dance as the Western Dance Center was already full and the dance dates were few and far between, but that did not stop or slow down the club. Eventually the club began dancing at a church, then moved to a near-by grange.

As time progressed the club made an alliance with 3 other homeless clubs and the dream of the North Spokane Dance Association was born. It wasn't long before plans were being made to raise money, purchase land and build a dance hall.

In 2004 that 12 year dream became a reality when the building was opened for it's very first dance.

Many club members from all 4 clubs worked very hard to clear the land, and build the building which is a show case for Square Dancing, and a tribute to the dancers who so loved the art of dancing that they were willing to put their blood, sweat, tears and money into it's completion.

Today we dance at the NSDA hall at 7424 North Freya in North Spokane. We are also very proud that the Washington State Federation Heritage Center has also found a permanent home in our beautiful new building.

During the years we were without a permanent home the club grew in membership until today we have over 100 members. Many of the 12 original members are still dancing with the club.

As the club grew our traditions began to take form. As with everything, nothing was actually set-up to be a tradition, they just became tradition. And today we enjoy the traditions that have become annual events.

Of course our first and most important tradition is that Square Dancing provide a fun, happy, experience for everyone who participates. Jacks & Jennys goal is to provide that experience for dancers every third Saturday of the month throughout the year. Every Dance offers an opportunity to make new friends, see old friends, have fun, fellowship and of course enjoy the good food. Our dances are all alcohol and tobacco free and promote good clean family oriented fun.

Our annual board meeting is held each year in July in conjunction with the annual picnic/camp-out. The annual picnic/camp-out began at a members summer cabin and it wasn't long before the membership out grew the available area, and it became time to move it to Little Diamond Lake Resort. At the annual meeting we install our new officers, enjoy a week-end filled with friends, crafts, food

and of course our famous Wash Shoe tournament.

August brings us to the annual Pool Party and BBQ. A club member graciously hosts this event each year in their back yard. Swimming, Wash Shoe games, great food and dance fun round out the evening.

August is also the month of the annual Salmon BBQ at the Western Dance Center in the Spokane Valley. The club host the Beanery booth to help the Western Dance Center to raise money for their up-coming year. It is a huge public event. People come from miles around for the delicious Northwest Salmon open fire BBQ. It is quite a site to see.

Every October we celebrate fall with a Hay Ride. The Hay-Ride began at a members home and continued to Mr. Kitcarson Harvey Hall for a Barn Stompers Dance. The yearly outing now takes place at the country home of a member who not only treats us to a Hay Ride and a barn dance but put they also put on a Chili, Stew and Pie feed that is second to none.

October is also the time for our Halloween costume dance. It is our regular October dance with "panache". Prizes are won for the best costume and the finger food is all from the fall harvest and of course candy. A wide variety of delicious pies grace the buffet table at this dance.

Our Christmas Dinner Dance boasts a complete Turkey dinner with all the trimmings. Our Christmas tree is decked out in it's finest decorations and the gift exchange takes place after the dance and is followed by a White Elephant gift Auction that is a scream.

One of our most enjoyable visitations occurs as a Mystery Bus Trip in April. A 46 seater bus is chartered to take us to a "Mysterious" location to dance. Everyone brings snacks for the ride and a dinner stop is made along the way. Our destination is always a secret, but is usually with-in a 4 hour drive from home.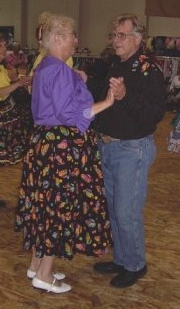 Enjoy, Have fun, Smile
The "Golden Garter" tradition is our longest standing tradition beginning with the birth of the Club. At each dance during the year a "Golden Garter" is given to a female member of the club who does not have one or to a visitor. Pictures are taken as our vice-president places the newly garnered Garter on the woman's leg in a festive ovation of fun. If you are wearing your "Golden Garter" at our Anniversary Dance in April you gain free admission.

Our Anniversary Dance is also the time for the annual club picture. All the members come to the dance decked out in our club outfit which is a bright, colorful black and yellow. It is quite a sea of color with over 100 dancers in their club outfits.

Like most Square Dance clubs fall is the time of the year for lessons to begin. We kick-off our lesson schedule with an Ice Cream Social to introduce those who are interested in learning to dance to the art of Square Dancing. New comers learn a few basic maneuvers and are assisted by our Angel couples. The date is always the last Thursday night in September from 7:00PM to 9:00PM. It is a wonderful opportunity to practice Square Dance Etiquette and greet the new dancers, make new friends, and enjoy the Ice Cream!

Lessons begin the first Thursday night of October and continue through April when the new class graduates and officially become mainstream dancers!

If you have any questions regarding our club, lessons and class schedule, and dances please call Jack & Jeanette Blood, caller/cuer, at 509-487-7446

DON'T FORGET, A SMILE ON YOUR FACE HELPS YOUR FEET WORK BETTER.

Copyright © 2005
Jacks And Jennys Square Dance Club
All rights reserved.
... this site created and maintained by

~Cassie~