Menu
More News
Olympic News
Contributions To The Craft
Competition & Show Schedules
TV Schedule
Frozen In Time (Photos)
Gallery Of Spills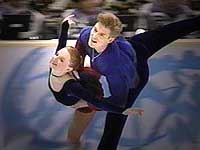 1998 Olympic Scrapbook
1994 Olympic Scrapbook
Tape Trading
Contact Icewriter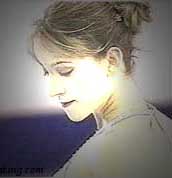 Champion Profiles
Jamie Sale & David Pelletier
Ekaterina Gordeeva
Scott Hamilton
Oksana Baiul
Kristi Yamaguchi
Tara Lipinski
Michelle Kwan
Nancy Kerrigan
Brian Boitano
Elena Berehznaya & Anton Sikharulidze
Sarah Hughes

THE SKATE STOCKING
Click on the image for more information or go to www.skatestocking.com
*The information in my Champion Profiles is compiled through a number of reference sources including: news articles, biographies, and Olympic statistics.
"It's really hard for me to be all the time with people. I'd rather spend time with my fans. I draw more from them. ... Fans, they love you for whatever you do. It's kind of like unconditional love.'' --Oksana Baiul
Oksana Baiul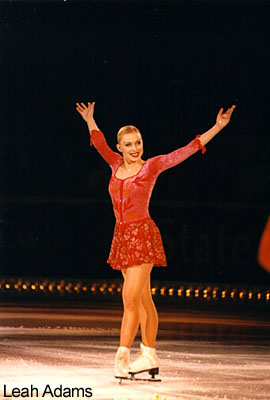 Caressing the ice with graceful skill and artistry, Oksana Baiul has found it difficult to keep the same balance off of the ice. A child prodigy, she skated out of obscurity to win the 1993 World Championships, and captured the 1994 Olympic gold medal in the midst of the Harding - Kerrigan publicity. Suddenly, with fame and money and a new home in the United States, her skating performances began to decline and her partying began to increase. It would take a car accident and arrest for drunk driving to regain her attention and refocus her life. In a case of too much too soon, she found herself struggling with the success that her gold medal had given her.
Baiul's childhood was flooded with losses. Abandoned by her father while just a toddler she lived with her mother and grandparents in the Ukraine. Though her mother had hopes that she would become a ballerina, her grandfather's Christmas present of ice skates sparked the desire in her to become a champion ice skater. Her beloved grandparents, however, would die by the time she was ten years old. Though the loss was hard, her mother soon remarried and once again she had a family. Her mother became a big supporter of her skating, but became very ill. Baiul's mother died of ovarian cancer when she was thirteen and she found herself left with a very strict stepfather.
Her skating was still showing promise and Viktor Petrenko, the 1992 Olympic gold medallist became her mentor. When she was presented with the opportunity to be coached by and move in with his mother-in-law, Galina Zmievskaya, she packed a sparse suitcase and boarded a train leaving her old life behind. The decision paid off when under Zmievskaya's tutelage, she won the 1993 World Championships, surprising the world. Her skating was the perfect mixture of technical prowess and beauty. As she readied for the 1994 Olympics in Lillehammer, Norway, she did not feel the pressure created by the Harding - Kerrigan rival. She did, however, suffer injuries while practicing her long program. In a collision with German skater, Tanya Szewchenko, she received a cut on her leg and had wrenched her back. Not ready to give up, she skated her long program with stitches in her leg and receiving two Olympic approved pain killing injections. So determined to win, after missing a triple jump in the middle of her routine, she added a triple jump at the very end of her program. In the closest of judging decisions, Baiul won the gold medal, placing Kerrigan second. It would be the first gold medal for the post-Soviet Ukraine.
After the Olympics, Baiul moved to the United States and turned professional. Once she began making serious money, she moved out of her Zmievskaya's home and purchased a $450,000 home in Simsbury, Connecticut. On her own, however, shopping sprees and drinking began to take up more of her time than practice and it showed. Her skating friends and associates became worried about the change in their friend. In 1997, after an evening out with fellow skater, Ararat Zakarian, an intoxicated Baiul crashed her car into a ditch breaking Zakarian's finger and giving herself a concussion. Following her arrest, she agreed to attend a program for first time DUI offenders. She later attended an alcohol rehabilitation program and emerged with a renewed resolve. Recommitting herself to her sport, she began a more stringent training program. She petitioned the International Skating Union in 1999 in hopes of regaining her Olympic eligibility to compete at the 2002 Olympic Games. Unfortunately, she was denied. Baiul has written two books, Oksana: My Own Story and Secrets of Skating: Oksana Baiul in 1997. She still tours with Champions On Ice as well as other touring shows and competes in professional events.
Quick Facts...
Date of Birth: 11/16/1977
Place of Birth: Dnepropetrovsk, Ukraine
Photo © Leah Adams