Producing daily strip grueling work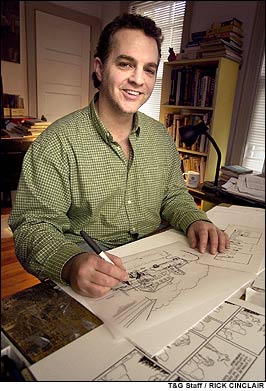 Tuesday, March 5, 2002
By Pamela H. Sacks
Telegram & Gazette Staff
[email protected] BRIGHTON-- Peter Murphey knew exactly where he wanted his career as an artist to take him: straight to the comic pages. Over several years, Mr. Murphey tried a couple of wacky ideas for comic strips, one having to do with a reptile ranch and another about a Martian stranded on Earth. He got enough rejection letters to, as he put it, "to wallpaper a room with."Then Mr. Murphey came up with "Hippy and Pop," two characters of a type far more familiar to a broad swath of Americans.Hippy is a ponytail-sporting baby boomer with '60s sensibilities trying to co-exist with his cranky, divorced father, who has moved in. Hippy also has a congenial wife, a 7-year-old daughter who hates tofu and adores Britney Spears and a mother seeking the perfect second husband.Mr. Murphey, 40, knew the characters would resonate with members of the "sandwich" generation, who cope with the pressures of caring for aging parents while raising children. Nonetheless, he was stunned when he got a call in August from Jay Kennedy, editor in chief of King Features Syndicate Inc., delivering the news: "We want to syndicate you."Mr. Murphey's strip was one of two or three selected from about 6,000 submitted to the syndicate in 2001.

"It's a well-crafted strip with a number of points of entry for many people," Mr. Kennedy explained the other day. "He's a clever writer."Naturally, Mr. Murphey, who was born and raised in Worcester, was thrilled.But he was also horrified, as he soon realized that he had just over two weeks to pull together all of the art for a presentation at a sales meeting at King Features' Manhattan headquarters in early September."I had to work on it almost day and night," Mr. Murphey recalled.That, of course, was just the beginning of what could only be described as a grueling schedule. "Hippy and Pop" first appeared Jan. 7 and is published seven days a week.The strip is witty and spiced with cynicism. Mr. Murphey works on it in his small, cluttered studio half a flight of stairs down from his apartment in a duplex in the Brighton section of Boston. He has to stay six weeks ahead, which keeps him working flat out sometimes seven days a week.Bill Watterson, the creator of "Calvin and Hobbes," has been an inspiration; Mr. Murphey keeps a book collection of the strip, a chronicle of a 6-year-old boy's psyche, on a cabinet near his drawing board. Mr. Watterson produced "Calvin and Hobbes," which was carried in 2,400 newspapers, from 1985 to 1995. At that point, he announced he had run out of steam and would pursue work with "a more thoughtful pace." Mr. Murphey can understand. He remarked in his easygoing way that coming up with clever themes week after week is as difficult as it would seem. He has trays filled with scraps of paper containing ideas and sketches. The most developed ones are on the top of the pile. As he starts to draw, new schemes often come to him. The finished product is sent digitally to New York."You have to be demented in a certain sort of way to do this every day," he said with a laugh.Yet, dedication may not be quite enough. Mr. Murphey noted wryly that his strip is "hanging on by its claws" and may soon be canceled.The timing of its introduction was unfortunate, Mr. Kennedy, the King Features editor, said. The official sales meeting was the week before the events of Sept. 11. The economy tipped into recession, and most newspaper editors, grappling with coverage of terrorism and the war in Afghanistan, were not in a position to consider a new strip."Hippy and Pop" has been picked up by eight newspapers across the country. They range from small publications to the Seattle Post-Intelligencer, a major metro daily. It is not sufficient distribution to make the strip financially worthwhile for King Features or for Mr. Murphey.

"You need to have a critical mass early on in order for it to be seen enough to have other editors take an interest," Mr. Kennedy said.
Mr. Murphey was not naive about the inherent difficulties in selling a new comic strip.Editors think long and hard before pulling one strip to run another. It is a move that tends to set off howls of complaint, because even if a comic strip appears outdated or to have run its course, it invariably has a core group of fans.On top of that, newspapers are running on tighter budgets than they used to."I've had syndicate editors who said, 'If you had done it 10 years ago, we would have snapped it up. There was more leeway then,' " Mr. Murphey said.

Of the tiny number of comic strips accepted for syndication, a third will fail.Mr. Murphey became an artist by default, so to speak. He laughed when he recounted that while attending Doherty Memorial High School on Worcester's West Side, he thought, for no clear reason, that he was destined to be a professional baseball player. He got injured in his junior year and turned to drawing for solace.It was a natural inclination. As a child he enjoyed all sorts of creative activities -- drawing, puppetry, magic -- and his parents were encouraging. His father, John, who lives in Leicester, teaches art and art history at the Leicester campus of Becker College. His mother, Marilyn, a dancer, resides in Worcester.The turning point for Mr. Murphey came when he entered an ink drawing of a tightrope walker in a contest sponsored by The Boston Globe. He came in third, a significant achievement, and it emboldened him to consider art as a vocation.Mr. Murphy went on to study painting at the Massachusetts College of Art in Boston. He loved it, but found that whenever he had free time, he fiddled around with comics and illustration.In need of an income after graduation, he turned to commercial art and got into drawing caricatures, which became a specialty. Two clever examples, one of President Bush as a wrestler and another of political commentator Mark Shields, decorate the walls of his studio.Even with the pressures of producing "Hippy and Pop," Mr. Murphey continues to do free-lance work, from magazine illustrations to animation. He also books caricature artists for special events through his company, Murph Productions.
"I don't sleep too often," he remarked, appearing a little weary. "At the moment, I do way too much stuff."But the real challenge right now is to pull away emotionally from "Hippy and Pop," while continuing to produce quality strips."I was thrilled to get syndicated," Mr. Murphey said. "I love doing it. It suits me well. I'm getting to the point where I know the characters and like them pretty well. But I've gotten used to the idea that it may not fly."If the comic strip is canceled, he will walk away having discovered that he is a talented writer. Without that, a strip is doomed.
"Good writing can carry weak art," Mr. Kennedy said, "but weak writing can't carry good art."And Mr. Murphey, who describes himself as "aggressively persistent," would try another comic strip, but not before he takes a long break. He would start with a leg up, Mr. Kennedy said.

"Creating an idea and presenting strips for consideration is one thing," Mr. Kennedy said. "Delivering day in and day out over an extended period of time is another. Pete has proven himself."

Meanwhile, there are always other interesting artistic outlets worth testing. The other day, Mr. Murphey was on the Web site for The New Yorker perusing the magazine's cartoons.

"I thought, 'I should take a crack at this,' " he said, with a broad smile.