Enraptured
The creek displayed a shining solitude
Against a diamond lit sky,
The delicate rose petals
Closed with dew drops by the side,
Welcoming firefly's floated by.
A whole new feeling came upon me,
Walking through this land
I was enraptured by the way of things,
Even though set upon
A blackened land.
Coral kissed flowers,
Seemed to smile and greet,
Welcoming me were the emerald trees,
And with a watchful eye
Perched high up in the beckoning sky,
Guardians looked down to see.
As I walked further; enraptured,
I learned of love, loss and liberty,
I shall treasure my night spent
In a kingdom with mystery.
Helki S. Weber©
February 1, 2000
~*~*~*~
Since Jan 27 2001, you are Visitor
~*~*~*~*~*~*~*~
Inscribe your Comments in my Guestbook
View My Guestbook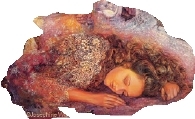 Sign My Guestbook

Poetry

"A poet is someone who is astonished by
everything." -Anonymous
~*~*~*~*~*~*~*~*~*~*~*~*~*~*~*~
"At the touch of love everyone becomes a poet" -Plato
~*~*~*~*~*~*~*~*~*~*~*~*~*~*~*~
"Poetry is a way to express sorrow and joy,
love and hate through an art form" -Helki
~*~*~*~*~*~*~*~*~*~*~*~*~*~*~*~
This Website is dedicated to my wonderful parents, friends and anyone who loves the magical essence of poetry.
~*~*~*~*~*~*~*~*~*~*~*~*~*~*~*~
This Page was last updated: March 26, 2002 08:23 PM
~*~*~*~*~*~*~*~*~*~*~*~*~*~*~*~
UPDATE:
Click here for the dedication to the US Terrorist Attack
---
Click the round button to go to the Main poetry page or use the Navigation Bar to journey to my other pages.


Navigation Bar

---
Webrings