Books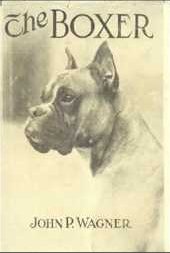 The Boxer by John P. Wagner
Complete Information on the History-Development-Characteristics-Breeding-Feeding-Care and Management by John P. Wagner, illustrated, Orange Judd Publishing 1947. The author is a man who breathes optimism in every breath,who loves dogs above personal preferment, and has made a study of the problems of successful breeding and management of Boxers for many years.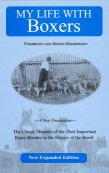 My Life With Boxers by Friederun von Miram-Stockmann
For over sixty years, Friederun von Miram-Stockmann bred Boxers. No other breeder has had such a great influence on the making of the Boxer breed as she did in her long life. Her Boxers are the foundation of the gene pool in every country of the world. In this newly-translated American edition, there are over seventy pages of essays about Boxers written by Frau Stockmann that have never appeared in English before.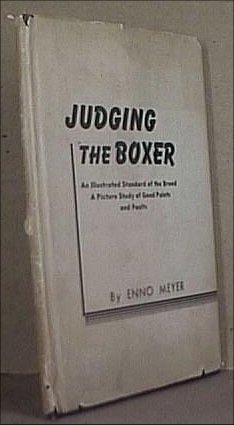 Judging The Boxer by Enno Meyer
39 page, Orange Judd Publishing Company, New York, 1945. An Illustrated Standard of the Breed, A Picture Study of Good Points and Faults. Pencil drawings illustrating the visual interpretations of the boxer standard, comparing side by side the correct and incorrect aspect of the boxer.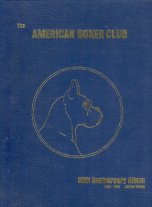 American Boxer Club: 50th Anniversary Album
(limited edition) Reissued 1996 1,500 copies were printed in 1985.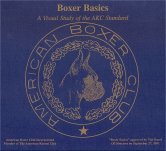 The Illustrated Guide To The Boxer by Eleanor Linderholm-Wood
21 pages. Illustrations and format by author. A visual study of the AKC Standard. Approved by the American Boxer Club Board of Directors on 9/27/01 as the New Illustrated Standard.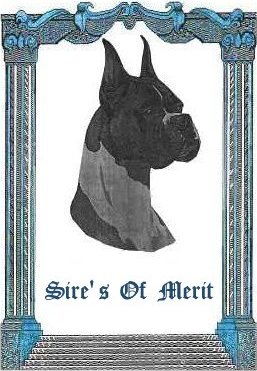 AKC and CKC Sires and Dams of Merit Books by Sturlene Arnold
These scrapbooks are a dream come true for the author! Now her dream is a reality....and she is able to share it with anyone interested in the Boxer and its many, many champions. Loose leaf binding for updating.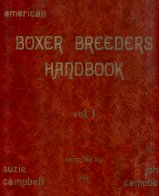 Boxer Breeders Handbook compiled by Suzie Campbell and John Campbell
Loose leaf binding for updating.



The Boxer: An Owner's Guide To A Happy Healthy Pet by Stephanie Abraham
Covers aspects of ownership such as picking a puppy, breeders, kennels. Stephanie Abraham has been breeding boxers since 1970 under the kennel name Trefoil.


The Boxer: Family Favorite by Stephanie Abraham
224 pages. (170 color photographs) The Boxer is the ideal book for the pet owner, novice fancier, and veteran enthusiast alike. The reasons for the Boxer's solid reputation can be recognized throughout this bright, new book. Those seeking information on the breed for any reason will find all their questions answered by one of the Boxer World's foremost authorities.

Boxers: Everything About Housing, Care, Nutrition, Breeding, and Health Care
by Johanna Thiel 95 pages. This companionable, quick-to-learn breed has long been a favorite among dog owners. Books in the Complete Pet Owner's Manuals series present basic information for new or soon-to-be owners. Advice and instruction covers feeding, housing, health care, training, grooming, and much more. Texts emphasize pet care basics and are easy for all readers to understand.



Dr. Ackerman's Book of The Boxer by Lowell Ackerman
96 pages. An informative guide on the Boxer breed, both for owners and prospective buyers.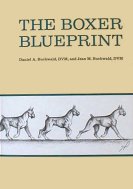 Boxer Blueprint by Daniel A. & Jean M. Buchwald
Great line drawings give detailed breakdown of AKC standard. With a forward by Phoebe Harris (Sirrah Crest Boxers) and a special Appendix on evaluating Puppies and young dogs.


Your Boxer's Life: Your Complete Guide To Raising Your Pet From Puppy To Companion by Kim D.R. Dearth
336 pages Your Boxer's Life presents the crucial information owners need to establish a healthy, happy, and successful relationship with their Boxer--for life! From selecting the perfect puppy and socializing him properly to making sure he has the correct food and care, this book examines the critical issues owners need to consider in making a Boxer part of their family.



Training Your Boxer by Joan Hustace Walker
176 pages. When correctly trained, the handsome Boxer is renowned for unswerving loyalty to its master and its fearlessness as a guard dog. Training Your Dog books teach ordinary non-expert dog owners how to train their own pets. Virtually every aspect of training is covered, with special focus on the distinctive traits of individual breeds.

The Boxer Handbook
by Joan Hustace Walker
144 pages. The author: "Do you want to own a rump-wiggling, kidney-bean dancing, muscle of a dog called the Boxer? Or, would you just like to know more about the breed that you love? "The Boxer Handbook" is a 150-page guide to the history, care, and basic training of the Boxer. For this book, I worked with many noted Boxer authorities in both Germany and the United States to develop a comprehensive, Boxer-specific guide to this wonderful breed."



How To Train Your Boxer by Liz Palika
96 pages. Liz Palika is a well-known expert on dogs and especially on dog training.


The Complete Boxer by Tim Hutchings
176 pages. A must for any Boxer lover, this all-inclusive book examines every aspect of owning a Boxer, giving practical advice on feeding, training and exercise. The book also guides the reader with tips on showing his or her dogs, with the breed standard analyzed in-depth. Breeding is covered, too, with advice on mating, whelping, and rearing a litter. Other topics include origins and development, raising a puppy, training, managing adults, and health care.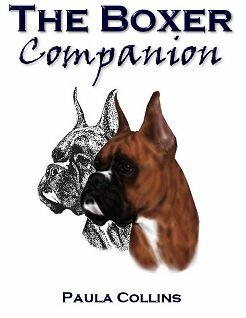 The Boxer Companion by Paula Collins. Fully illustrated, 87 pages. eBook containing information beneficial for new & experienced owners or those seeking a boxer. Covers everything from choosing a breeder, puppy evaluation & training.


Boxers for Dummies by Richard G. Beauchamp
220 pages. Boxers For Dummies® is the essential reference for Boxer care and training. Find out about Boxer history, where to find a breeder or other options, and how to show your Boxer. Get expert advice on puppy behavior and training, correcting behavior problems, socializing, nutrition and exercise, plus fun activities. Also included is information on health issues such as common illnesses and chronic problems found in the breed.


The World of The Boxer by Richard Tomita
592 pages. 1500 photos, contributions from over 60 guest authors. Boxers from all around the world, history of the breed, selecting a puppy, obedience training, showing and handling, completely illustrated chapter on breeding & whelping, photos of every American Boxer Club National Speciality winner since 1936, the illustrated Standard, and a complete roster of sires and dams of merit.



A New Owner's Guide To Boxers by Richard Tomita
160 pages. A wonderful Boxer book written by a well known Boxer breeder!



The Boxer by Anna Katherine Nicholas
288 pages. A very concise and complete guide recording the history of the breed, and showing your Boxer. Good information about the top kennels in England, Canada, the U.S., Australia, and Brazil.


The Essential Boxer: Total Care, Training, Companionship, Feeding and Grooming Your Dog, Keeping Your Pet Healthy by Ian Dunbar
96 pages. Raise your pet like a pro with the Essential Guides. Packed with interesting sidebars, the books discuss the special characteristics of the pet; bringing your new pet home; the optimal way to feed your pet; how to properly groom your pet; and how to care for your pet's health. The dog books feature expert training advice.



Guide To Owning A Boxer by Patti Rutledge
64 pages. A basic guide on Boxer dogs, informative for prospective Boxer owners and new Boxer-owner.



Pet Owner's Guide To The Boxer by Andrew Brace
The author is an international Championship judge and examines the Boxer in all its aspects from choosing a puppy, training, and breeding and showing. Great photos.



Boxers by Julie Mars
80 pages; color photos by Isabelle Français.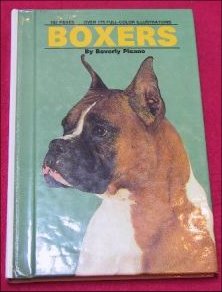 Boxers by Beverley Pisano
This book is filled with hundreds of Full Color & Black-and-White Photographs and illustrations on every page! It presents a sensible, easy-to-follow series of recommendations about selecting and caring for Boxers. It concentrates on giving readers the information they need and want – all given in an interesting and easy-to-read style.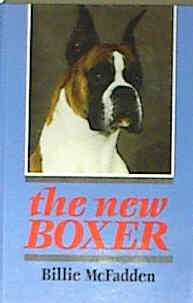 The New Boxer by Billie McFadden
256 pages. Black and white photos. Examines the origin, history, and development of the boxer with sections on showing, training and breeding. Good history on top kennels.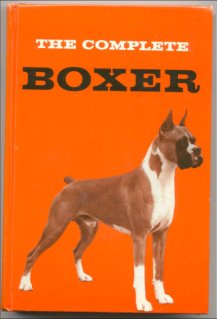 The Complete Boxer by Milo G. Denlinger
Detailed history of early boxers, a chapter on German grammar and abbreviations used on German pedigrees. Later editions include the Boxer in 15 countries and a chapter on West Coast Boxers.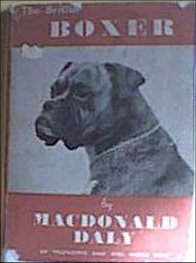 The British Boxer by Macdonald Daly
Detailed history of the British boxer and the influences of German, Dutch and American boxers. Discusses the boxer head, dark masks, shoulders, feet and cropped vs. uncropped ears.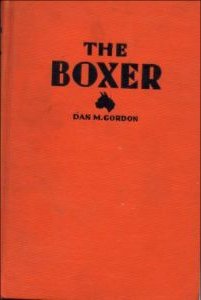 The Boxer by Dan M Gordon
160 pages. Detailed reference for the breeder, Illustrated.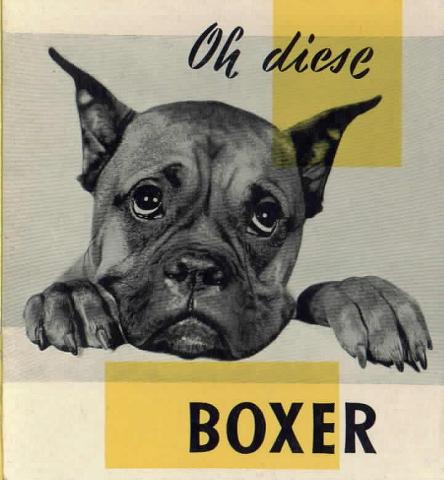 Oh Diese Boxer Published in Germany in 1958. 62 Pages, Illustrated with 36 large B/W Photographs of Boxer Dogs. This Book is written in German and shows the Portrait of the Boxer Dog Breed.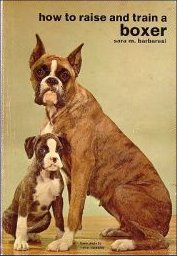 How To Raise And Train A Boxer by Sara Barbaresi
Covers the standard, buying and caring for the Boxer, showing, training and breeding.



The Boxer Handbook by Joan Dunkels
118 pages. Covers origin and history, early show dogs, the standard, breeding, feeding and exhibiting. Illustrated.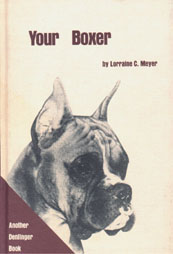 Your Boxer by Lorraine C. Meyer
128 pages. B&W photos. Covers: selecting a puppy, personality of the boxer, history of influential kennels, genetics and breeding.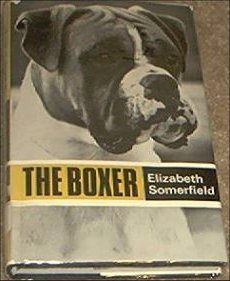 The (Popular) Boxer by Elizabeth Somerfield
Black and white photos. Includes the Panfield line (author's boxers) , the Dutch influence, standards, early boxers, and appendix of pedigrees. Earlier editions (c1955-1963) were published under the title "The Popular Boxer".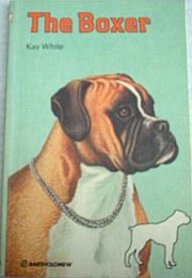 The Boxer by Kay White
This book covers the history, standard, health, and caring for your Boxer from puppyhood to old age. Great illustrations.


Boxers by Constance and Wilson Wiley
By the owners of Wardrobes Kennels. Includes the author's brief account of how they started in Boxers, also covers the modern Boxer, character, breeding, showing and choosing a puppy.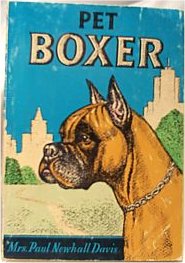 Pet Boxer by Mrs. Paul Newhall David (1958)
80 pages. Black and white photos and drawings. This book covers the character, history, exercise and enviroment, The new puppy in the home, grooming, training, boxers health (by Dr. Frank Lichlyter), showing your boxer, novice breeder, care of bitch with litter, the spaying question, care of the aging pet, tribute to a wonderful pal, clubs and the boxer standard.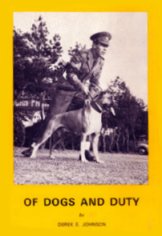 Of Dogs and Duty by Derek E. Johnson (1970)
95 Pages. Covers the humorous aspects of being owned by dogs. Written in a light-hearted manner by a former Royal Military Police War Dog Handler. Life in the British Army, the Royal Corps of Military Police and a bit about the British Dog Show world. Emphasis on Boxers.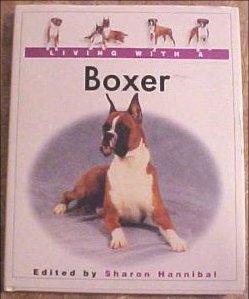 Living With A Boxer Edited by Sharon Hannibal (2002)
128 pages.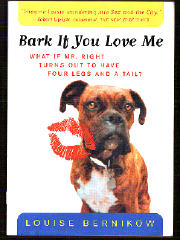 Bark If You Love Me by Louise Bernikow Harvest
206 pages Louise, while running along Manhattan's Hudson River she found an abandoned Boxer and did exactly what her mother always told her not to do - she brought a strange male home. In this off-beat and comical story of their first year her new escort Libro, introduces her to the world of dogs, dog runs and a local dive where the bartender pulls pints from the tap and dog biscuits from the drawer. She gets to know her eccentric dog loving neighbors and the wonders of life with a Boxer.


Sieg The Magnificent by Ann Gilbert
103 pages. Sieg's love for his young master helps the boy recover from a terrible tragedy. Experience the struggle Scott and his parents endure as he fights his way back to the world of the living, and thrill with Scott and his boxer as they discover and conquer the world of dog shows.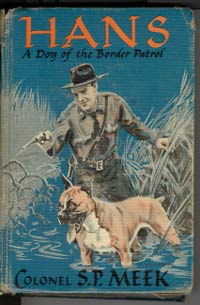 Hans A Dog of the Border Patrol by Colonel S. P. Meek.
Hardback, 253 pages. Cover illustrated by Morgan Dennis. This is the story of a courageous Boxer dog who serves with his master in the U.S. Border Patrol. It is their job to prevent aliens from illegally entering into the country. Stationed in Florida, Chet Hillyard and his dog Hans are assigned to the treacherous swamps where smugglers of aliens are suspected of operating. But the smugglers are not their only enemies. The swamp, with snakes, alligators, and quicksand hamper their work.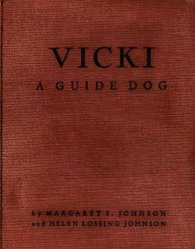 Vicki A Guide Dog by Helen Lossing Johnson & Margaret S. Johnson
The story of Vicki the boxer and how she became a guide dog.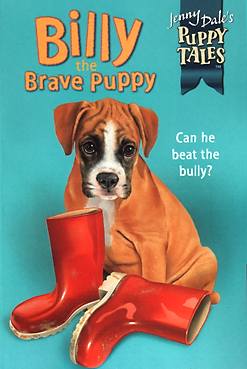 Billy the Brave Puppy A Working Partners Book, MacMillan Children's Books, London, UK. Printed and bound in Great Britain by MacKays, 1999.
Paperback, 61 pages. Inside illustrations (black and white) by Frank Rodgers, cover illustration by Jacques Fabre. The book is in excellent condition. In the story, it doesn't say which breed Billy is. But from the pictures, at the cover as well as inside, it seems clear that Billy is a Boxer pup!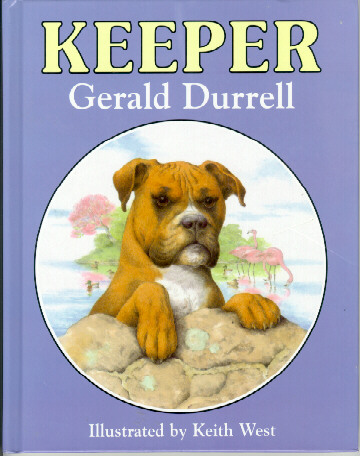 Keeper by Gerald Durrell
Every day, Keeper, the Boxer says Good Morning to all the animals in the zoo. One day, while on his rounds, the Boxer chased away a bird who had attacked a baby Tamarin but the Tamarin was dropped into the lake. Keeper swims out and rescues the Tamarin which cannot swim. Keeper shows how well he deserves his name in the dramatic rescue which is all the more exciting because this is a true story!


Boxers In Boots by Marc Raycroft, Ralph Reinhold and many other photographers.
With an obsessional verve not seen since Buñuel's Mexican period, "Boxers in Boots" unflinchingly depicts a gang of very tough boxers standing tall in a collection of very fancy cowboy boots. "'Boxers in Boots' draws a bead on the heart of the West and scores a knockout punch!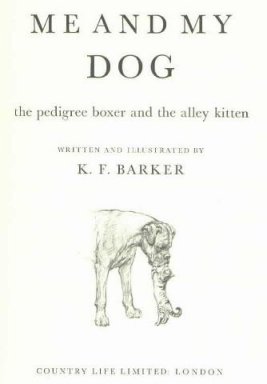 Me and My Dog, The Pedigree Boxer and the Alley Kitten by K.F. Barker
Illustrated by the author. Published 1961 in Great Britain, has 96 Pages. This book is lavishly illustrated with drawings of the Boxer and the Kitten on every other Page and tells the story of the authors boxer dog "Galliard". The Boxer was leading a boring life until one day he adopted an Alley Kitten named "Miss Muffet" and they developed a curious and fascinating friendship.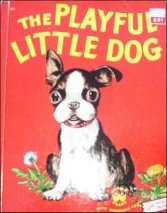 The Playful Little Dog by Jean Berg
Story of a Boston Terrier that befriends a supposedly vicious Boxer.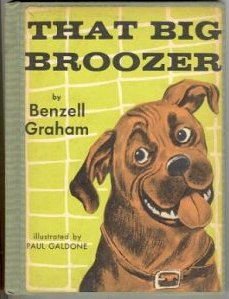 That Big Broozer by Benzell Graham and illustrated by Paul Galdone in 1959.
In this amusing and touching story, a Boxer mix named Broozer gets picked up by the pound after escaping from his owner's backyard one too many times. After Broozer's owner's retrieve him, they decide to give him to a young boy who befriended him while he was at the pound.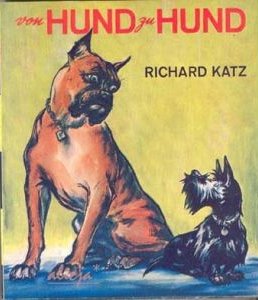 "Von Hund zu Hund" = "From Dog to Dog" by by Richard Katz, illustrated by Helmar Becker-Berke and published 1956 by Albert Müller Verlag.
It is an amusing and tender Story of a Scottish Terrier named Seppli (abbr. from Josef) and a German Boxer Nick. The Author, Richard Katz is a traveling Writer, who is emigrated out of Europe and lives in Brazil now. He wrote in behalf of his grand German Boxer a letter to Seppli from the Zurichberg in Switzerland. Seppli is a brave Scottie and a does well as mice catcher. He writes Nick that he calls his Masters – "He-Human" and "She-Human", he supposes that he will not be taken on Holidays, he doesn't want to be a lap dog any more, he wants to play in snow, but his owners mean it can be deleterious for his health. Nick is an excellent soccer goalkeeper, he proves to be bold and brave and rescues children from a disaster situation. Since then he is the Honour Dog of Rio. Nick's Master is tired from the hot climate and returns with his Boxer to Zurich. Seppli is anxiously waiting for his Friend with a great bone as greeting gift. The Book is lavishly illustrated with black-white drawings.


The Magnetic Dog by Bruce Whatley
Imported from Australia, this book is a family story with a humorous twist featuring Skitty, the white boxer dog. Skitty is magnetic - she attracts food and people. Everyone knows a boxer like Skitty and will delight in this story and in Whatley's soft, realistic illustrations.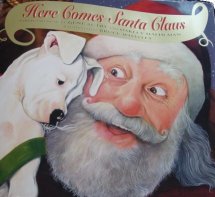 "Here Comes Santa Claus" with the most adorable North Pole white boxer puppy dog illustrated throughout the book! The printed music to Here Comes Santa Claus is provided. This was the first holiday recording and big hit by the legendary singing cowboy Gene Autry! Illustrated by Australian, Bruce Whatley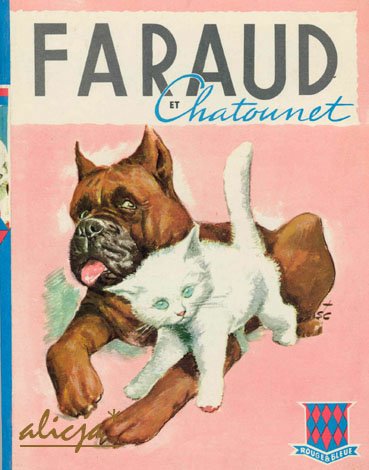 "Faraud et Chatounet" = "Faraud and Chatounet" written by Paulette Blony and published 1959 in France. The Book tells a charming Story of a Boxer Dog named Faraud and it's best Friend the Cat named Chatounet.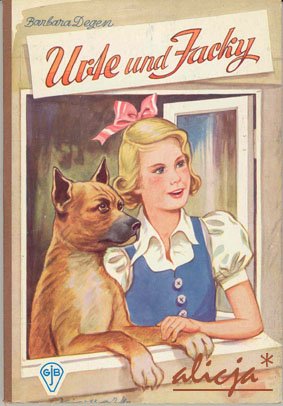 "Urte und Jacky" = "Urte and Jacky" written by Barbara Degen and published sometime in the late 1950's. Urte is a young Girl and her fondest wish is to own a Dog. Her Aunt brings an Album with many Dog Breeds and Urte has to choose the nicest one. The Girl opts for a BOXER and her Parents order and buy the Puppy from the Breeder. Urte names it Jacky. Both of them are inseparable Friends.
Brutus The Wonder Poodle by Linda Gondosch
Ryan is sure that his friend Tony's boxer will win the neighborhood pet contest. After all, Rex is big and fierce...
Call Me Chestaloozy by Lord Chesterfield-Radcliff in collaboration with my master, Alan Radcliff
Guard Dogs: Boxers, Alsations and Bullmastiffs by MacInnes
I Wish I Had A Champion by Mary Hambleton
The story of Mary and John Hambleton's life together dedicated to the developement of the Boxer breed, and the story of Marbleton Kennels.
Know Your Boxer by Earl Schneider
Covers Boxer beginnings, the Boxer "look", training and health.
Lord Buff and The Silver Star by George A. Chamberlain
Barnes Unique tale of a boy, a horse, a girl, and a boxer dog.
My Eyes Have A Cold Nose by Hector Chevigny
Mr. Chevigny recounts the sudden onset of his blindness and his subsequent training at Seeing Eye and his adventures with Wizard, the Boxer who shared his steps and his story.
Our Friend The Boxer by Rowland Johns
96 pages. Covers the qualities of the Boxer, history, training and description of the standard. and much more. Great little book, no photos.
Story of Jasper The TV Pup by Macdonald Daly
Macdonald Daly (author of British boxers) owns Jasper the boxer puppy and introduces him on the British TV show "About the Home". This chronicles Jasper's first nine months of life and gives good advice about raising puppies and caring for them throughout their lives.
The Book of The Boxer by Joan Brearley & Anna Katherine Nicholas
Oversized book packed with photos. Covers early Boxer bloodlines, Boxers in England, a special chapter on Mazelaine Boxers, Boxers in the US, Canada, and Germany. Lots of information.
The Dog Next Door by Keith Robertson
Story of a next door neighbors Boxer.
This Is The Boxer by Stanley U. Volpe
255 pages. Illustrated boards Many black & white photos. Gives detailed origin and history of the Boxer, genetics, breeding, nutrition, caring for the stud and brood bitch, and of course the standard.
Ugliest Dog In The World by Bruce Whatley
Skitty the lovable boxer is the foil for outrageous comedy when the old joke about people looking like their dogs is taken to extremes.
Who's Who In Boxers by Marion Mangrum