Contents
Each issue of the journal has about 100 pages of articles and reviews, and about 50-70 pages of missiological abstracts. The abstracts are taken from a wide range of mission journals and periodicals from various parts of the world, and form a valuable tool for mission researchers.
Subscriptions
Subscriptions may be sent to:

The Editor
Missionalia
PO Box 35704
Menlo Park
0102 South Africa

Subscription enquiries: [email protected]

[ Back to top of page | Home | Index ]
Current issue
MISSIONALIA
Vol. 30 No. 2 August 2002
CONTENTS
Editorial 179-182
ARTICLES
Mijoga, Hilary B.P.: African Instituted Churches as vanguards of
African culture: A reassessment183-205
Katongole, Emmanuel: "A different world right here, a world being gestated in the deeds of the everyday:" The church within
African theological imagination 206-234
Kalu, Ogbu U.: Jesus Christ, where are you? Themes in West
African church historiography at the edge of the 21st century 235-264
Gaie, Joseph B.R.: Moral issues and responsibilities
regarding HIV/AIDS265-287
Maurer, Andreas: In search of a new life: Conversion motives
of Christians and Muslims288-303
Ernst Conradie: Review essay: Inus Daneel's contribution to
earthkeeping in an African context 304-312
BOOK REVIEWS 313-328
BOOKS RECEIVED (An annotated list) 329-334
ABSTRACTS
A. The world1*
Bibliography 1*
History and theology of mission1*
Mission in the Bible (1*); History of missions (3*); African Independent Churches (4*); African theology (4*); Asian Theologies (5*); Biographies (5*); Black Theology (6*); Christian social responsibility (6*); Church and mission (6*); Church and state: church and nationalism (8*); The congregation in mission (9*); Contextualisation (9*); Conversion (9*); Ecumenical conferences (10*); Ecumenism and mission (11*); Evangelicalism (11*); Feminist theology (11*); Future of mission (12*); Hermeneutics/context (13*); Inculturation (14*); Liberation theology (16*); Pentecostal movement (16*); Secularisation, secularism (16*); Third World Theologies (17*)
Religion, religions, and dialogue17*
Religion in general (17*); Christianity and other faiths (18*); Dialogue (21*); African Traditional Religion (21*); Buddhism (22*); Confucianism (22*); Folk religion/popular religiosity (22*); Islam (22*); Judaism (23*); Marxism (23*); New religious movements (23*); Western post- Christian religions and ideologies (24*)
Environment, society and development24*
Structures of society, revolution, peace (24*); Colonialism and mission (25*); Development (25*); Economic issues (25*); Environment, ecology and human life (26*); Globalisation (26*); Industry, urbanisation, technology (26*); Marriage, the family, children (27*); Migrants (27*); The poor (27*); Race (27*); Refugees (27*); Women in church and society (27*)
Forms of ministry and witness32*
Catechesis (32*); Church planting and development (32*); Church structures (32*); Communication and culture (32*); Diakonia (32*); Evangelism and church growth (33*); Finances (33*); Health, medicine, healing ministry (34*); Homiletics/preaching (35*); Interchurch relationships (35*); Laity (37*); Leadership (37*); Linguistics, translation, use of Scripture (37*); Ministry (38*); The missionary (39*); Missionary agencies (40*); Pastoralia (40*); Spirituality (41*); Theological education (41*); Third World missions (42*); Urban ministry (42*); Worship, liturgy, prayer, the sacraments (42*); Youth work (44*)
B. Africa44*
Africa in general (44*); Southern Africa (44*); Botswana (44*); Egypt (44*); Ghana (44*); Mozambique (44*); Nigeria (44*); Rwanda (44*); Senegal (44*); South Africa (44*); Democratic Republic of Congo (44*)
C. The Americas44*
The Americas (44*); Latin America (44*); North America (44*); Canada (44*); The Caribbean (44*); USA (44*)
D. Asia45*
Asia in general (45*); China (45*); India (45*); Indonesia (45*); Iran (45*); The Philippines (45*)
E. Europe 45*
Europe in general (45*); Germany (45*); The Netherlands (45*); Russia (45*); United Kingdom (45*)
F. Oceania 45*
Australia (45*)
[ Back to top of page | Home | Index ]
Volume 30:1 (April 2002)A Festschrift for Willem Saayman
Willem Saayman taught missiology at the University of South Africa for 20 years, and from the death of David Bosch in 1992 until his retirement in 1998 was head of the Missiology Department at Unisa. His colleagues, friends and family prepared this Festschrift for him on his 60th birthday. Willem chaired the committee that prepared for the conference of the International Association of Mission Studies (IAMS) in January 2000. In this volume his collegues reflect not only on Willem's own contribution to missiology, but also on the missiological significance of the times and thus give important insights into Christian mission in Southern Africa in the second part of the 20th century.
This Festschrift issue is also published separately in book form.
Enquiries to [email protected]

Section One – Personal Stories

WILLEM SAAYMAN, MY HUSBAND:
A true son of Africa
Cecilia

FROM MISSIO DEI TO MISSIO HOMINUM: Christian mission and missiology en route
Nico Smith

Section Two – Dialogues with Willem Saayman's Missiology

A DISCOURSE BETWEEN SAAYMAN'S CONTEXTUAL MISSIOLOGY AND SOME TENETS OF REFORMED THEOLOGY
Nico Botha

TAT'OMKHULU
Nelson Hayashida

CONVERSION AS THE PRIMARY AIM OF MISSION? A discussion with Willem Saayman on Reformed missiology
Pieter Verster

WILLEM SAAYMAN – A TRUE AFRICAN AFRIKANER MISSIOLOGIST
Selaelo Kgatla

Section Three – Issues in Contextual Missiology

UNSHACKLING THE GHOSTS OF THE PAST: Reflecting on the truth and reconciliation process in South Africa
Piet Meiring

ON STIGMATA, RACISM AND RECONCILIATION IN A POST-TRC SOUTH AFRICA
Annalet van Schalkwyk

FIGHTING CORRUPTION: A challenge to mission
Daryl Balia

GOOD NEWS FOR AIDS MYTHS
Stuart Bate

Section Four – Willem Saayman and Missiological Education

SOUTHERN AFRICAN MISSIOLOGY: A missiological dialogue with Willem Saayman
Stephen Hayes

TRAINING FOR MISSION: Some thoughts on theological and missionary training in South Africa
JJ (Dons) Kritzinger

TEACHING TO CHANGE THE WORLD: Missiology at Unisa
Madge Karecki

Section Five – Mission and Missiology in the 21stCentury

A QUESTION OF MISSION – A MISSION OF QUESTIONS
JNJ (Klippies) Kritzinger

PUBLICATIONS BY WILLEM SAAYMAN

[ Back to top of page | Home | Index ]

Many subscribers to Missionalia regard the abstracts as the most valuable part of the journal. The abstracts are arranged under various headings, with cross-references, which makes it easy for researchers to discover recently published material in their field of interest.

For some years the abstracting has been funded as a research project by the Research Institute for Theology and Religion at the University of South Africa. A team of part-time abstracters, many of them graduate students in theology, has read the journals and written the abstracts, which are then edited by the editorial staff of Missionalia.

Unfortunately funding cuts have reduced the number of paid abstracters, and this is making it difficult to publish the same number of abstracts as we have in the past. Unpaid abstracters, including members of the Missiological Society, have contributed material, but this is not enough.

Abstracters team - 2001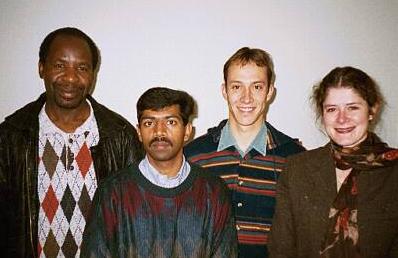 Zuze Banda (team leader), Dilip Chetty, Naude Kritzinger, Yolande Kruger

We are therefore looking for funds to develop the abstracting project, and perhaps extend it to other parts of Africa. One of the benefits of the project in the past has been to develop the theological knowledge of the abstracters themselves. As theological students, reading the journals and writing the abstracts has helped them to keep abreast of current developments in the field, and so the project has helped to produce theologians and teachers of mission studies.

It you would be interested in helping us to develop a network of abstracters in Africa, or if you can contribute in any other way to the publication of abstracts in Missionalia, please contact Klippies Kritzinger

[ Back to top of page | Home | Index ]
---
Each issue of Missionalia has a number of scholarly articles on missiological topics. These are peer-reviewed articles, and are eligible for academic subsidies in South Africa. There are also reviews of missiological books.

You may read some articles that have appeared in previous issues on the Web, and we hope to keep adding to these articles to make this resource more widely available.

[ Back to top of page | Home | Index ]