Robert Arthur Laing of Colington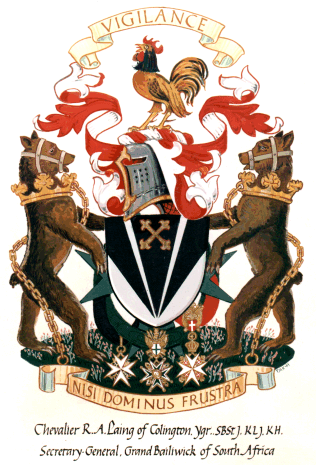 The ancient arms of the Chief of Clan Laing were argent, three piles in point, sable. Robert A Laing of Colington, SBStJ, KCLJ, is the current Chief of Clan Laing (although he has not yet petitioned the Lord Lyon King of Arms for recognition as Chief).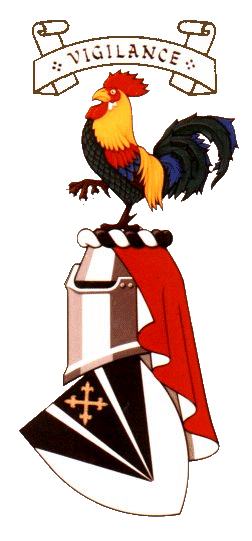 Before succeeding to the chiefship he was known as Robert A Laing of Colington Ygr (Younger), indicating the heir.
A member of the Heraldry Council of South Africa from 1984 to '96, he became both chairman of the HSSA and editor of Arma in 1995, following the death the previous year of Dr Cor Pama.<![if !supportFootnotes]>[1]<![endif]> Laing served as chairman of the HSSA until 2002, when Major F G Brownell was elected chairman following his retirement as State Herald.
These arms were matriculated at Lyon Court on 11 June 1978, and confirmed by the Bureau of Heraldry (including supporters and compartment) on 12 January 1979.
There is also a bookplate, the work of Chevalier T A Keith-Hill, GCLJ. This shows the arms as being those of an heir, with a label of three points. The arms were drawn with batons (indicating the armiger as a Member of the Heraldry Council) by Gavin Schlemmer of the Bureau of Heraldry. The simpler drawing showing just the shield, helmet and crest is taken from the Clan Laing website.
The arms may be blazoned:
Arms: Argent, three piles in point sable; the centre pile charged with a saltorel flory or.
Crest: A cock armed, crested and jelloped proper.
Torse: Argent and sable.
Mantling: Gules doubled argent.
Supporters: Two bears proper, muzzled argent and ducally gorged and chained or.
Compartment: A mount proper, embellished of pink heather.
Slogan: Vigilance.
Motto: Nisi Dominus frustra.
In the Scottish tradition, the scroll for the slogan appears above the crest and that for the Latin motto below the shield. See also the Clan Laing website for more about the arms.