Case Studies>
CASE STUDIES
Current Projects
Zephyr Business Service - Project Research & Development Database
(New Database)
InforTag - Record handling and packaging for fishing data
(Upgrade and Enhancement of current Database)
Completed Projects
HBH Manufacturing - Enhancement of Quote and Order Functions
(Existing Database)
Scope
Update the current client and ordering access database to include full quote to order process and on the factory job tracking system, including reports and user interface screen for easy use, which is currently done via a slow and outdated Lotus spreadsheet system.
Work Undertaken
Developed a new quoting calculation engine and a quote to product to order process, with simple on step operations and automation. Included and fully Job tracking section including screens and quick search buttons.
The database was also upgraded to ensure data integrity and quote to product consistency.
Outcome
The client job handling and quote to order admin processes have been made a lot faster, and with the tracking system the client is now able to search and control the factory jobs quickly.
This project is now onto its next phase on more smaller add ins, to complement the new database process.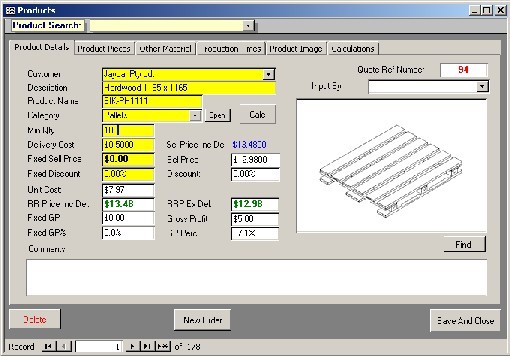 User Interface for Product Screen
Telmac Pty Ltd - Price List Look-up Application
Scope
Create a means of taking data from one spreadsheet and populating fields of a template spreadsheet. Include a capacity to calculate totals and ensure data integrity. The destination (template) spreadsheet may not be altered from the specifications set out by Telmac's client.
Work Undertaken
Developed a small stand-alone application using Visual Basic coding to mediate between the two spreadsheets. This allowed data to be transferred between spreadsheets with one button option and ensured the integrity of both the data and the template.
Outcome
The office personnel were able to undertake a task in a few minutes which had previously required the bulk of a day to enter manually.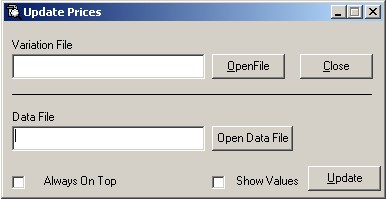 User Interface for Price List Look-up Application
Zephyr Business Service - APPLICATION User Set-up
Scope
Create a simple database to be used in conjunction with a major software application. The database needs to be able to keep a small number records, be simple to navigate and record user details. It should be capable of producing reports on request. The database must be kept small in size to allow for ease of sending details to clients via the internet
Work Undertaken
Created new MS Access database with a simple menu function to allow for ease of navigation between forms. This included generic Search and Edit screens to simplify navigation.
Outcome
The completed database was small enough to allow it to be sent electronically between Zephyr and it's clients.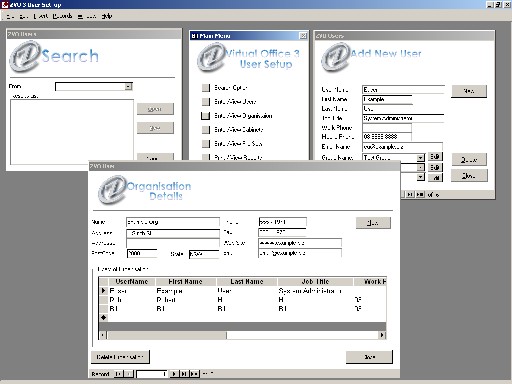 Screen shot of some of the screens produced
Telmac Pty/Ltd - Job controller
Scope
Create a user friendly interface for an existing MS Access database with a job search screen and an automatic email option. Provide for off-site modifications and back-up. Provide documentation for the database processes and structure and a training manual.
Work undertaken
Created a search screen and mail extract options. Separated the user interface from the data tables.
Outcome
Time savings in the form of ease of checking the current status of jobs and being able to quickly and easily send this information out to clients.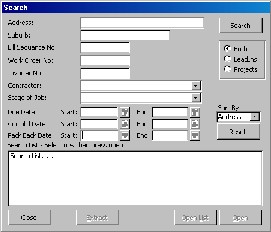 Screen shot of the search screen
Project Archive
(Under Construction)