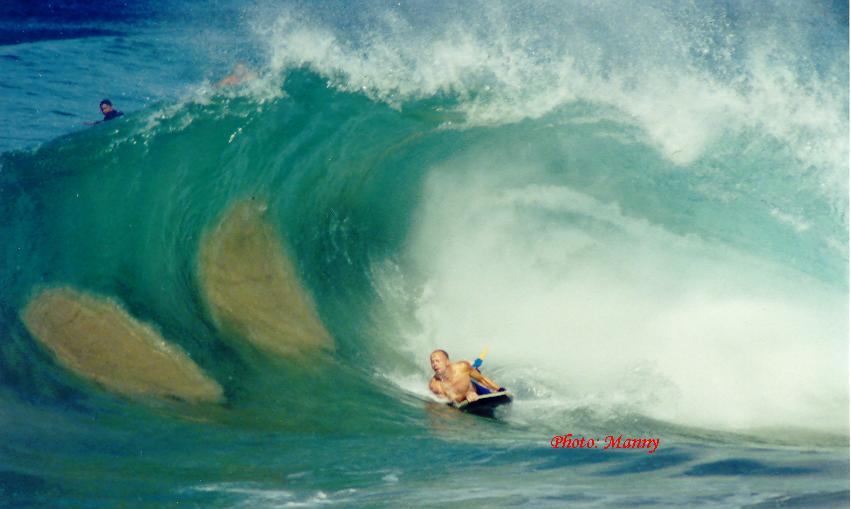 Surf spot description
Here's some info, on type of break, location, and other things. Some of them also include pics of the spots. This are not the only breaks, their are over 60 breaks in Puerto Rico, but I won't add all of them to preserve the secrecy of some spots. Anyway I'll keep adding some other spots in the future so keep in touch.
---
North Coast
---
Aguadilla
Gas Chambers: Definitely the most famous wave on the island, maybe even in the entire caribbean. Hollowest right around. Requires a very big swell. Breaks, perhaps 4 times a year. Usually crowded when it breaks though. Very shallow at the peak. The backwash is a menace sometimes.

Wilderness: One of the longest waves in the island. There is a paddling channel on the left of the parking lot. Good around 3-15ft faces. Can be much bigger than it looks from shoreline. Also watch for some really nasty clean up sets starting a few feet overhead.

Surfers Beach: One of the most consistent spots in west coast. Blows out easily. Next to this spot is Tabletops, with good fast rights but beware of rocks.

Pressure Point: Good reef break. Nice barrelling wave, similar to wishing well.

Wishing Well: Fast tube. Good maybe at least over 4 foot face. Under 4 feet it's just to shallow with corals,rocks and sea urchins awaiting on the bottom.
Area Metro
Chatarra: Great tubes mostly lefts. Breaks properly around 6 or 7 times a year.

Aviones: Probably the most consistent spot in the island. Good all year round.Best to have an early before crowd shows, but it's basically always crowded.
Isabela
Jobos: Long right with some ocassional lefts. Sand bottom inside. Beware of localism.

Middles: Right reef break. Can get VERY hollow and good but it only occurs a few times a year with many factors necessary to occur. Most of the time it will be sloppy Jobos being a better choice then.

Shore Island: One of the best shore breaks around, good for bodyboarding, mostly sand bottom, watchout for the nasty, ocassional backwash. Can get REALLY hollow sometimes.(I found the picture in the netbb website).
Arecibo
Arecibo is a town located in the north coast of the island. The town has several breaks such as: La marginal, Arenales, Cueva Indio, Cueva Vaca, Caza y Pezca, and more. The good news is that most of the time their is no crowd (a friend of mine and I had arenales once on a 6 foot day all for ourselves). Also Hollows is like 3 minutes on car from cueva indio.The bad news is that a lot of spots like Penones are high theft areas.
---

West Coast
---
Rincon
Tres Palmas: Biggest wave on the island with posible 20+ waves maybe three times a year.It's an offsore, fast and dangerous right (left is also an option but with no channel). Fire corals and rocks inside. Requires a long paddle out and a strong will to withstand scary cleaner sets. This break should only be tried by experienced surfers. Sets out here can sometimes consist of 10+ waves when wave height is 15ft. Two wave hold downs are possible.

Marias: Good right, needs pretty big swell. Don't overestimate the spot, some rocks around.Good around 3-10 feet faces.

Domes: Mostly rights, with ocasional lefts. Good from 2-7' faces. Sometimes strong undercurrent. Most consistent spot in the Rincon area. Most of the time crowded.

Sandy Beach: Good beginners beach. When the swell is appropiate good lefts from the rock area.

Corcega: Although most of the time there are no waves in this spot, checkout what happened on an 2/27/98 solar eclipse.

Indicators: Good right, with good power. Pipe and coral bottom. Rocks can stick out on low tide.

WARNING:Riptide currents can be dangerous in Puerto Rico, specially if your a beginner or teaching your kid how to surf. Practice extreme caution in all beaches. Some of the most dangerous breaks (rip wise)are Jobos, Wilderness, Marias, and Surfers beach.
---
---
This page hosted by
Get your own Free Home Page

You are visitor number
since July, 9,1998
The information on this site is strictly the opinion of the webmaster. If you want more precise information please contact your local surfshop or tourism agency.