---

MAIL CALL: Apr 00 thru Sep 03
---
29Sep03: It is good to see your site. I was with C Company 3-506 Airborne 101st as a medic,1968 1969. You are the people that made my job possible to get the wounded and the kias out of the field. Many times I rode on your choppers, dropped off with fresh soldiers and picked up with wounded. Many times I was an unofficial door gunner trying to help take out the enemy. I am trying to find any crew member of your aircraft that remembers picking up medics in the Phan Thiet LZ Betty area in 68 and 69. Please email me at

[email protected]

//George Bolt
Thanks and Welcome Home Brothers
---
20May03: To All Tiger Sharks, Polecats & Support Unit Members
I want to invite all of you to come and join us, Currahees of the "Stand Alone Battalion" for our 7th Annual 3-506th Reunion to be held at the Sands Regency Hotel and Casino, August 12-16, 2003. Our website: www.currahee.org is your home away from home, because you were as much part of our unit as one can get. Our reunions often have artillery, medical, naval, FAC, and other former Task Force 3-506th vets. Please come join us. Details can be found on our website, just click on the "RENO REUNION 2003" button below the home page picture. Just think of the party we can have to get the old gang back together again. You won't ever regret attending. Rates are $29/Night and the company is second to none.
If you have not gotten your copy of the "Stand Alone Battalion" chronology book, do so, because there lots of pictures and details of our playgrounds.
CURRAHEE! AIRBORNE! Stand Tall - Jerry Berry in Montana

[email protected]
---
21Feb03: Thank you for posting my email to Mail Call. I have received some responses already! My uncle, Gary Harrod, left from Ft. Riley, KS, in '67. I'm not sure how long he was in Phan Thiet, but Dan Hertlein and Gary Miller both responded and said they have pictures of him. Again, I thank you for posting my query!! As for myself, I will do everything I can to keep 'em flying. My unit is being deployed and all of us will have to do our parts!
SPC Melissa Neal, 45th Med Co (AA)

[email protected]
---
17Feb03: I believe my dad was the 1SG of the 192nd in the '67-'68 timeframe.... Farmer Stubbs. I went on to crew hueys for 20 years in the reserves also. Wanted to know if anyone remembered him being at Phan Thiet during that time. He died in '93 from prostate cancer surgery complications.
"Spike Stubbs"

[email protected]
---
26Jan03: I was wondering if anyone remembers Gary Harrod. I'm his niece and have been doing a lot of looking for anyone who may remember him during his time at Phan Thiet. Please respond to

[email protected]

Thanks. //SPC Melissa Neal, 45th Med CO (AA)
---
17Jan03: My name is Gary L Hennessy (PFC) I arrived at the 192nd on the 13th of Oct 1971 replacing PFC Richard Moore. I loged 188 flying hours as a gunner on A/C 625 before the unit stood down. Idon,t remember what platoon i belonged to or even who i flew with . Maybe someone can help me with that. After the stand down i drove a 1/4 ton to shuttle our guys to finance and personel in Camh Ranh once a day, And i also rode with a guy named Burrows to refill the potable water truck. I was then later transfered to the 60th AHC at Ninh Hoa. 22 Jan 72 - 03 Oct 72 I was thinking of an incident that happened at the EM club one evening when three of our guys were shot and i believe all killed by one of our own. I know of the circumstances because i was there. I was wondering if there is anyone else that remembers it and do you know who the guys were? Are they listed on the wall? I would really appreciate any corrispondance back. Great Web Site! I'll be clear. //Gary

[email protected]
---
12Nov02: Have friend who was crew chief/gunner in '68. Friend does not have computer access. Told him I would check to see what I could find. Friends name is Hal Chaplin

[email protected]

. Would anyone know Hal and like to contact him? //
Rick Brown/USAF/Udorn RTAFB '72-'73
---
19Oct02: I'm SP 5 Hickman, door gunner with the TigerSharks from the start until 1969. I flew on most of the ships, so I got to fly with different crewchiefs and I liked them all. I've been lost since I left VietNam, I just can't get it all out of my head. I miss everything about it. It's been hard back here in the states and I hope to go back some day, maybe that will help. I can't remember names of pilots or crewchiefs but don't think I forgot everything, because you were my family while I was in the Nam. So I hope to hear from someone soon, that would sure make things better. And hope to hear of any Reuions coming up, if there is one, I'll be there. // Kenneth Hickman

[email protected]
---
10Sep02: Hi folks. Don't know if this would be appropriate or not, and you guys may have already addressed and rejected the idea, but ...have you considered adding former members of the 192nd who were lost in RVN with a subsequent unit? I went to RVN on the Walker with the 192nd, including my buddies Dave Timm and Floyd Strange. Dave, as you know, is on your Honor Roll but Floyd is not. Floyd and several others of us were infused to the 48th Bluestars where he was MIA on Dec 2, 1967. (They've found remains just in the past couple years) Floyd is included with the 48th Honor Roll, but I personally feel it would be entirely appropriate to also include him with the 192nd. (I'll bet Floyd and Dave would feel the same). After all, the 192nd took him there, and sent him to the 48th ... he even made his last take-off from the 192nd ramp at Phu-Hiep. I watched the aircraft disappear around the mountain East of Vung-Ro Bay. I was in the 192nd, 48th and 134th - holding them all dear to me. Had I not returned, I'll guarantee ya I'd expect to be on everybody's "Honor Roll" and would be scowling down on folks were I not. ( In my case, maybe I'd be scowling up) At any rate guys, what ya think? Shouldn't the memory of one of our own be so honored and remembered? I believe so. Thanks, // Ronald M. Goff 192nd AHC, 48th AHC, 134th AHC, CW5 (Ret) USA

[email protected]
---
26Feb02: I want to thank the flight crews for my very life. I was with the 3/506 E Co. LRRPs. I was extracted and saved many times from the VC due to great pilots and their crews. Our LRRP teams would not have made it out without you guys. Does anyone recall Blackhawk rescuing a LRRP team whose last match was sighted and Blackhawk picked us up on a very dark night on May 17th 1968. My team was over run by VC and most were wounded. Tittie Mt, Whiskey Relay did the commo with LZ Betty. Thanks // Jim Wyatt

[email protected]

UPDATE:thanks the date was in error it was may 17th 1969 and "Blackhawk" - Col.Alves - who rescued us. // Jim
---
16Nov01: Gentleman, I hope this email finds you all well. My name is Frank H. Sellers and I am writing on behalf of my father, WO Donald B. Sellers. He was Tigershark 36, his call sign was BUD, and his gunship was the VC Widowmaker. My dad (and mom) are doing very well and living in Southport, North Carolina. They don't have a computer to surf the web and I happened to find the 192nd AHC websites just recently. He asked me to see if I could research and find any guys that he might have been friends with or flew with while in Vietnam and so I am at a starting point here. Tom Dunno, another Tigershark and good friend of Dad's is the only guy I am aware of that Dad has been in any contact with after the war. If any of you would not mind, I know my dad would love to get back in touch with some of you by way of a phone call. He doesn't have email either (and you'd think it was the 21st century) so the telephone (and myself doing the emailing) is all he's got for now. I'm a firefighter for Greensboro, NC and Dad is currently flying for US Airways (and I still can't believe he doesn't have email). If you can, please email me back with a name and a phone number. My old man would definitely appreciate it. Return email to:

[email protected]

OR reply to this email.

[email protected]

If you have a story for him to recollect, send it too. Also, if you would like dad's phone number, I'll email it back to you-just remind me. God bless you guys, // Frank Sellers, Greensboro, NC
---
13 Apr 00: In the distance is the mushroom from an Airforce bomb being dropped near Phan Thiet during Tet, 1968. In the foreground is the MARS station antenna. // Photo by Dan Hertlein

[email protected]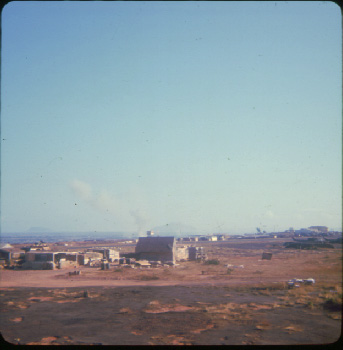 ---
12 Apr 00: New E-Mail Address. TF 3/506th Friends, please delete my old E-mail address: [email protected] and replace with: [email protected] We are hours (hopefully) away from having a WWW.currahee.org website address. I will let you know when it is official. In the meantime, please change my E-mail address to [email protected] // Jerry Berry

[email protected]
---
10 Apr 00: Subject: "Not too good..." // Hoss

[email protected]

While giving a check-ride, Hoss let some newbe Lt 'plant one' in the hover lane at Phan Thiet... early 1970. Result: Scratch one H-model !!! Fail one check ride !!!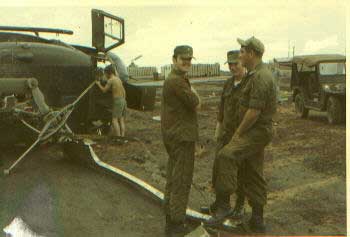 Toons poses for a picture, Hoss looks a little weak and Boozer is just cool. Are Hydrolics off landings supposed to look like this?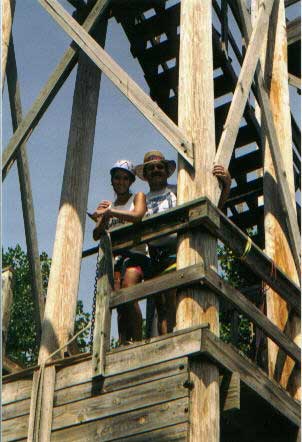 Happy Dude... oops!
---
MORE OF HOSS' PHOTOS HERE

---

---
MAIL CALL: Jan ~ Mar 2000
---
---
---