I have enjoyed bringing the memory of our ancestors alive for others to share. I am an Infantry officer in the United States Army, currently in the rank of Lieutenant Colonel. I am a proud member of both :
The Military Order of the Loyal Legion of the United States

MOLLUS

of Sons of Union Veterans of the Civil War

SUVCW
Dedication Page
---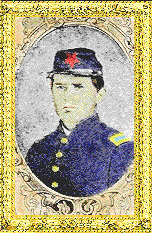 This page is dedicated to my great great great grandfather, First Lieutenant Samuel Duncan Porter.
| | |
| --- | --- |
| | |
| Sam's Bible carried during the war | Sam's Corps Hat Badge pinned to the Bible |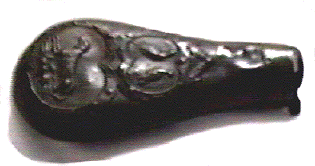 Sam's Remington Pistol Flask
Sam Porter was born at Jamestown, Indiana on 18 August 1839. When the war broke out, he was farming at North Salem, Indiana and enlisted as a private in Abisha Morrison's Company A on 7 August 1861. He signed up "for the duration." During the regiment's federal mustering in September he was made a corporal. My research shows it was probably seventh corporal. By November he was promoted to 5th corporal and moved to the center of the company in the ranks. Good drill and performance of duty made him a 3rd corporal in February and on March 19th, he was promoted the 1st corporal on the right of the company. The next month, he was promoted to 5th sergeant, keeping the place in line on the right of the company. He held this position at Winchester and when William Allen was killed at Cedar Mountain, Sam became the 1st Sergeant.
At Antietam, Sam was shot through the hip in the cornfield not far from the East Woods and did not return to the regiment until November. He recovered well at Camp Curtain Hospital, no major damage being done to the bone. Upon his return, he took up his duties as 2d Lieutenant, which he was promoted to when Lieutenant William Van Arsdall was killed. Antietam took a terrible toll on the leadership of Company A. John Wilcoxen was wounded, William Van Arsdall killed and Sam Porter wounded - all three of their company grade leaders.
After his return, he remained 2d Lieutenant until Chancellorsville, when Simpson Hamrick died in a freak way by a cannon ball. He took up duties of 1st Lieutenant in the field during the battle. From there he commanded the company at Gettysburg, went to the draft riots and then went south with the regiment to join Sherman's Army. As he was single at the time, he did not go on furlough to Indiana, but did have time to get his picture made with his good friends James Jamison, James Sharp and David Hansell at Nashville, Tennessee. They went to the photographer T.M. Schleier. Many soldiers had their pictures made here and most can be recognized by the fancy gold-colored scrollwork around the oval image.
Sam performed his duties along the rail line in the vicinity of Tullahoma, leading daily forages and guard details as necessary. Surviving the terror of five major battles along the Valley and Potomac, nothing would prepare Sam for what he would encounter on the evening of 23 December 1863. The Colonel sent Sam with a forage train out in the vicinity of Mulberry Village, Tennessee. He had about 70 soldiers and teamsters in the detachment.
Sam sent the train out to different plantations in the general area and rode back and forth to check the progress. He was hoping to get the entire train in by nightfall. By seven in the evening, all the elements but one were headed back. Sam finished the paperwork necessary for government compensation to the farmers that they had gathered from. He rode up to the wagons of this last detachment who informed him that another wagon had gone up ahead. He rode on a few hundred yards, found the wagon in the road, and was suddenly was surrounded by four armed men. They told him to surrender or die.
Fortunately for me he chose the former! He and the teamster along with three soldiers were immediately mounted and rode all night with their captors. They were bound. Late at night they stopped to make camp. Sam was tied to a tree. He was robbed along with the others. They were lined up in the vicinity. Sam heard one discuss the fact that they would have to kill him. No sooner had this been done than the four thugs opened fire at close range on the four men standing near the tree with Sam, killing three and leaving the other for dead.
Having been working on getting loose before this, he sprang free and made a run for it. The men gave immediate chase and fired several times, but miraculously, his running prevented them from hitting him. Having nowhere else to go because of a cliff overlooking the river, Sam jumped into the night. When he hit the water, he shattered his right foot and leg. He swam as they tried to kill him. By the time he made the other side, the bushwhackers rode their mounts down to the river and began a search. Sam hid under another cliff, keeping silent. He stayed there for quite some time in the freezing weather. When he felt it safe, he crawled out of the river.
As he could not walk, he decided to swim away. Seeing no place to go, he came back and then decided to hide in the woods. Noticing a farmhouse in the distance, he decided he would crawl to it at night. He made it there and, not knowing if they were friend or foe, called out for help. The family there took him in and the next day, notified the authorities. For many years, he corresponded with these loyal Americans. Unfortunately, my great grandmother did not know their names.
Sam was taken to Nashville. He received visits and photos from his friends, which we still have in an album belonging to my grandfather, Edwin M. Porter. Many of the photos expressed wishes for his recovery or sadness of the event. He lingered for a couple of weeks due to exposure and shock but finally recovered enough to be sent home on sick leave on January 11, 1864. He hoped to return to the regiment by Spring for the new campaign. It was not to be. His leg and foot were never the same. He would walk with a cane the rest of his life.
By April, he was honorably discharged on account of physical disability. He did do some farming after the war and in 1870 moved to Crawford County, Illinois. There he married Emma Wilson and had two sons. He was one of the first to qualify for a pension and land rights. They moved to Kaufman County, Texas to start a new life.
When the 1892 run opened up the Arapaho lands of the Indian Territory, Sam and his family went to strike a claim. His oldest son John Mark was recently married and brought his expectant wife along to join them. During the trip across the Western Indian Territory, Minnie Baber gave birth to Samuel Baber Porter and then died under the stress. John was so bereaved to lose his wife, he went into depression and left the child. He was raised as a son by Sam and Emma. My great grandfather therefore thought of his grandfather as his own dad. They scratched out a farm in Custer County, Indian Territory. By the time of statehood, he had settled down to a good life. He was a pioneer of Custer City, Oklahoma, a member of the Custer City GAR Post 108, and Masonic Lodge Post 258. In November 1913, he began to ail and on November 12, he died at Enid University Hospital. He is buried in the Masonic Cemetery of Custer City, Oklahoma.
| | |
| --- | --- |
| Custer City, OK Bank | Masonic Lodge |
| | |
| --- | --- |
| Sam's Grave | Site of GAR Post 108 before it was destroyed by fire |
Sam died in Christ. His traumatic experiences during the war brought him to faith in Jesus Christ. My prayer for you is that you will come to know Jesus Christ as your Lord and Savior before it is too late. The faith of our ancestors should still be our faith today. If you need the answers to life, believe that God is still God. Believe that His Son died on the cross to pay for our wrong. Believe that Christ rose from the grave to conquer our sin. Admit to God that you need Him and tell Him that you are a sinner and have done wrong. He promises to come into your life and will make you complete. The Bible, like the one that Sam carried, still contains life's answers. If you need help with what the Bible has to do with us today, feel free to share your opinions by contacting Steve Russell.
---
Thank You for visiting this site. It is dedicated to the memory of the soldiers of the 27th Indiana in their faithful and loyal service to the Union.

Do you have a photo or information to add? Please contact Steve Russell

[ Main Page | Lee's Lost Order | Brief_History | Regimental Photo Album | Uniforms & Weapons ]

[ Flags | Graves | Battles & Engagements | Facts & Resources | Dedication | Ancestral Links & e-mail ]