This Castle is situated in Glen Lag, about seven miles from Dumfries, amidst a dreary wild, steep mountains on all sides, with deep morasses for several miles. frequently covered with water.
It was the ancient baronial Castle of the very powerful family of the Griersons of Lagg.
No tradition remains of the time of it's being built; but from the style, which is similar to most of the border towers, it was with others erected at a very early period, to check the inroads of the English, and secure a safe retreat to our roving chiefs.
The first View is from the S.W. with the gate of entrance. There are the vestiges of a number of ancient buildings adjoining, but no ditch, or other outworks of defence; it's sequestered situation was sufficient.

L A G G.

Plate II.

The last inhabitant of this pile was Sir Robert Grierson, Bart. grand-father to the present Sir Robert.

The Griersons are descended of the Laird of M'Gregor, and have been long settled in this country, where they were allied with the best families, viz the Lords Maxwell, Charteries of Amisfield, kirkpatricks of Closeburn, Fergusons of Craigdarroch, and with the Queensberry family by the marriage of the above Sir Robert with Lady Henrietta Douglas, daughter of James Earl of Queensberry.

This View is from the N.E. where the garden has been. Near the garden is two or three oblong hollows, dug out of the ground, evidently intended for fish-ponds.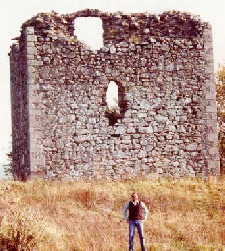 This photo includes William N. Greer in the foreground and was taken from the northwest by his wife, Julianna Greer, in October of 1990.

The Grierson World Project started out as a simple web page (1997) designed to bring awareness to persons interested in researching there Grierson, Greer heritage. I soon got the idea to add the Grierson World Project & Information Exchange so people would understand that awareness was not my only goal--I wanted to exchange information as well. Especially since I wasn't asking for any payment. I have recently attached a Surname Query Form to The Grierson World Project & Information Exchange page to give researchers another option. Option one: to Exchange information. Option two: to pay for queries, thus keeping their research for themselves. This is all explained on the surname query form itself.  

As you "surf" through this site, you will find yourself at times on The Grierson World Project & Information Exchange page. You will be able to get back here easily by following the links, or using your back button.
Want to know What The Grierson World Project & Information Exchange is?

Are you wondering what a One Name Study is?
A one-name study is a project researching all occurrences of a surname, as opposed to a particular pedigree (ancestors of one person) or descendancy (descendants of one person or couple). Some "one-namers" may restrict their research geographically, perhaps to one country, but true one-namers collect all occurrences world-wide. The Guild only accepts true one-name studies for registration, although anyone with an interest in one-name studies is welcome to become a member.
A one-name study may concentrate on aspects such as geographical distribution of the name and the changes in that distribution over the centuries, or may attempt to reconstruct the genealogy of as many lines as possible bearing the name. A frequent aim is to identify a single original location of the name, especially if the name appears to derive from a placename. But for many names, for example those indicating an occupation like Butcher, or a patronymic-type surname such as Peterson, there will not be a single origin.
One-Namers often make some attempt to quantify the rarity of their name, and I am attempting to develop a useable yardstick for this at present. There is much scope for co-operation between one-namers and other genealogists and family historians - they are not a breed apart, and many are also engaged in more conventional pedigree hunting of their other ancestors. Many drift into a one-name study as a way of eliminating alternatives when researching a particular ancestral name. There is some use for example in having a complete listing of all occurences of a surname from the IGI or from Civil Registration lists of births, marriages and deaths. A co-operative effort between people studying the same surname bears much fruit and they have a good chance of discovering new relatives, depending of course on how common the name is.
Mike Spathaky
4th April 1995
(Revised 30th Oct 1997)

[Deed of Moses Greer, 1765]
[Vedast Grierson's Charters of Lagg]
[Grierson Examples] [Greer Examples]
[Grierson Family Links] [Grierson Projects] [Grierson Mailing List/Links]
[Surname Query Form] [Information Exchange]


Sign / View My Guest Book
---
---
[email protected]


GRIERSON WORLD PROJECT


c/o David Alan MacGregor Grierson
37799 Apache Road
Charlotte Hall, Maryland 20622-3155 USA

WebMaster

This Web Site © Copyright 1999-2000 LadyBear.com, for Grierson World Project.
All Rights Reserved. No duplication allowed without express written permission.