Godzilla 1989 by Concorde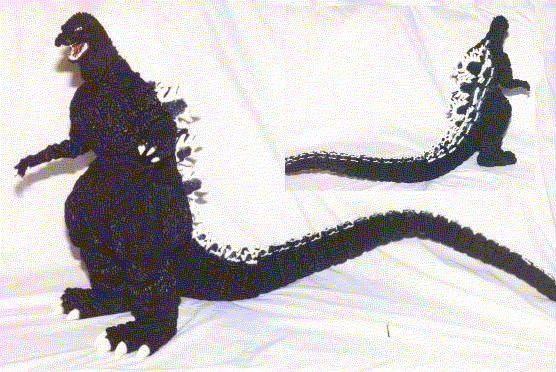 This is a Godzilla figure I found in Edgewater NJ. It measures about 18" tall and 30" long. It's only markings are "TOHO TOHO EIGA" and "CONCORDE" on the bottom of the left foot. I think it is a recast (possibly a bootleg) of the Paradise Bio-Godzilla kit. I spoke with a collector in Seattle who bought the same piece, so it has appeared on both coasts. I also spoke with a collector who saw this figure in Japan on a recent trip. I recieved the following information from Sean at Showcase Collectibles:

"Concord Paradise was a short lived Godzilla specialty store in Tokyo that made their own godzilla merchandise (mainly cutesy type items). I would suspect this then is their version of the 89 godzilla (still think they used Paradise's molds)."

It is a large, nicely detailed figure (although the paint job could have been better). The tail is especially long. I would be interested to hear from other collectors who have seen this piece.
Back to the Godzilla Toy and Figure page

Back to the Kaiju Toys and Figures Page

Back to the Main Page