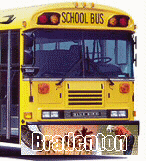 Florida school bus driver saves child's life
Schoolhouse
Terrorism!

Should some teachers be trained to protect their school with lethal force?

Visitor Thoughts

When the school district's top priority is keeping kids safe, they don't skimp on bus driver training. Learning the equipment, pre-triping the bus, first aid and effective student management training helps keep kids safe. To successfully intervene school bus drivers must be properly trained. This story demonstrates how critical first aid training is to help insure the safety of children riding the school buses. -JK (Click school bus picture for Bradenton Mini History.)

By Bernice Guity, The Bradenton Herald Staff Writer,
The original story title, "Driver saves choking child," ran in the Bradenton Herald on 11/14/1998. ©Copyright 1998, The Bradenton Herald, All Rights Reserved.

Bradenton Herald
Myakka City, Florida -- When school bus driver David Brogdon's attempts to dislodge a piece of candy choking 4-year-old Teodora Hernandez failed, the Bradenton Herald reported that Brogdon then reached into the boy's throat and pushed the candy aside so Teodora could breath.

CHECK THAT BUS!

• Find out how to safety check a field trip bus before allowing it to depart with kids on board.
Click Here

• FREE School Bus Safety Video
Click Here

• 2SAFESCHOOLS Transportation Policy Recommendation
Click Here

Brogdon kept his fingers in Teodora's mouth for almost 45 minutes, until the candy melted. "My instincts took over and I just did what I needed to do,'' Brogdon said of the Nov. 6 incident.

It all began when Brogdon was 1 1/2 miles from Myakka City Elementary School. Students on the school bus started yelling that Hernandez was choking.

Brogdon pulled over the bus, located Hernandez at the back of the bus and tried to perform the Heimlich Manueuver on him. When the candy didn't dislodge, Brogdon took Hernandez off the bus and performed several abdominal thrusts. Still the candy didn't dislodge. He then held him across his lap and pushed the candy in the child's throat to one side so he could breath.

When paramedics arrived, they had Brogdon keep his position. "He was doing the right thing," according to school board documents.

"I could hear the child's heart beating, but he was not breathing," Brogdon said.

Teodora, a pre-kindergarten student at Myakka City Elementary School, said he was scared during the entire incident. "I want to thank David Brogdon," said Teodora through the interpretation of his older sister, Ruby. Both of the children speak Spanish.

Ten-year-old Ruby, who attends the same school as her brother, said she feels "good" that Brogdon was able to save her little brother's life. "I was worried for my brother, but he's doing fine," said the fourth-grader.

Linda Bennett, principal at Myakka City Elementary School, said words can not express how she feels about Brogdon's actions. "It was overwhelming and rewarding to see a child's life being saved," Bennett said.

To ensure the safety of other children, Bennett said, she has banned children from bringing hard candy to the school.

Letters were also sent home this week to parents asking them not to give their children hard candy to bring to school, Bennett said. Teachers have also been asked to give students soft candy instead of hard candy.

"You can't do too much when it comes to saving a child's life," Bennett said.

Brogdon said he was taught to perform first aid on adults while he served 22 years in the U.S. Army. But, he said it was the training he received through the school board that helped him save Teodora's life.

All Manatee County bus drivers must complete a district training program that includes first aid and CPR. The program is administered through the American Red Cross. "You don't think you'll remember things you learn, but it all comes back to you when you need it," Brogdon said.

Robbi Crawford, operations manager in the transportation department of the school board, said she thinks it is fantastic that Brogdon was able to remain calm and use the skills he was taught.

School bus drivers are trained so that they can serve the students to the best of their ability, Crawford said. "The students' safety is our No. 1 concern," she said.

Brogdon was presented with a certificate Monday during a school-wide assembly at the school. "It makes me feel so good to be able to help someone," he said.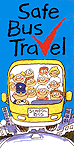 Bus accidents top Australia's school related deaths
Australia
Children are most at risk of being killed by traffic as they cross the road from the school bus. A survey has found that 400 children annually are admitted to hospital each year with injuries while travelling to and from school. In 1994, nine of the twenty children killed were crossing the road after leaving the bus, according to Australia's Federal Office of Road Safety.
Freddo Frog, one of Australia's most famous children's characters with a high recognition rate, has become a safety ambassador on the Internet and is featured on the new Freddo Safety Drink Bottle.
A free animated Freddo Safety Screensaver has also been released to turn every computer into a safety center.
Click on picture to visit Kidsafe's School Bus Safety Booklet.
Your comments about this story, Keywords: Freddo
NEWS FROM AROUND THE WEB: