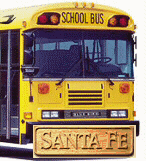 Two die, dozens of schoolchildren injured
Nested in the foothills of the Sangre de Cristo Mountain range, 7,000 feet above sea level, Santa Fe is the oldest capital city in North America and the oldest European community west of the Mississippi. Santa Fe was picked by the readers of Conde Nast Traveler magazine as the best travel destination in the world -- one of only three cities in the United States to make the magazine's worldwide poll. (In winning a coveted position in the travel sweepstakes, Santa Fe outdid Paris and Rome.) What Santa Fe may not have is safe buses, and on March 2nd, 1999 at about 5:02 p.m., the ultimate price was paid, for failing to place the safety of children as the top priority. This story may help make you ask a critical question about the route and trip buses your child rides - Is your child's bus a safe bus? --JK, Safe Schools (Click school bus picture for Santa Fe Mini History.)

by Nancy Plevin
Reporter for The New Mexican, Santa Fe, New Mexico. First published by The New Mexican, "*Two killed in bus crash," Mar. 03, 1999, All Rights Reserved. Posted by permission from The New Mexican. *Edited by James Kraemer to fit available space and format.
The Santa Fe New Mexican
Santa Fe, New Mexico -- Two people - one adult and one child - were killed and dozens injured Tuesday evening (March 2, 1999) when a bus carrying elementary school children home from a day of skiing at the Santa Fe Ski Area hit an embankment on Hyde Park Road and flipped on its side. There was no loose material or ice on the road when the bus drove off the roadway, onto the shoulder up an embankment and struck a bolder, authorities said.
Eric Garcia, 11, who attended Larragoite Elementary School, and Gary Apodaca, 44, an adult chaperone, were dead at the scene after being ejected through the windshield, Santa Fe County Sheriff Ray Sisneros said.
Thirty-three people aboard the crashed bus were treated at St. Vincent Hospital. Late Tuesday night, one person was in critical condition, three were in serious condition and four were stable. Fourteen had been discharged from the hospital by 10:30 p.m.
CHECK THAT BUS!
• Find out how to safety check a field trip bus before allowing it to depart with kids on board.
Click Here
• FREE School Bus Safety Video
Click Here
A 13-year-old unconscious boy was to undergo brain surgery. Doctors planned to bore holes in his skull to relieve swelling while officials tried to reach relatives.
Joy Garcia's granddaughter, Natasha, 11, was one of the badly injured. "She has a fractured skull. They're running a CT scan on her now. They're bringing in a specialist," Joy Garcia said.
Garcia said she talked to her granddaughter's best friend, Jennifer Martinez, who was being treated at the hospital's First Care. "I asked her about Tasha. All she remembers was the driver saying: 'Hold on. We have no brakes.' Then she remembers the bus rolling, and she saw Tasha on the ceiling of the bus," Joy Garcia said.
The children rolled around in the bus "like a box of marbles," said Katherine Eagleson, whose 11-year-old son was among the injured. The bus then flipped onto the driver's side and came to rest, blocking the roadway and stranding the two other buses and all other traffic - about another 60 people - headed down from the ski area.
Whitney Russell, 36, who came upon the wreck moments after the accident, said: "There were a lot of students walking along the roadway. They were bleeding and crying and frantic."
Hundreds of distraught parents - many crying or on cell phones with other family members - gathered into the night at St. Vincent Hospital and Fort Marcy Sports Complex to await word of their children, many of whom were stuck for hours on the mountain in two additional buses that were behind the one that crashed. More than 100 fifth- and sixth-graders and some chaperones were on the day trip.
Confusion reigned and some family members grew angry when officials at Fort Marcy read a list that incorrectly placed some of the children on the crashed bus. People started to run to their cars, then were called back in when the mistake was discovered. "I just don't understand what's taking them so long," Barbara Salazar, mother of a Gonzales Elementary School sixth-grader, said while crying, rocking back and forth and twisting a bottle cap. As late as 10 p.m., some parents at St. Vincent still hadn't located their children and didn't know whether they were injured.
Two Shuttlejack buses that were dispatched early on to retrieve the children were called back after the state Department of Motor Transportation refused to allow them to proceed. Two school buses were then sent. Captain Terry Delgado of Santa Fe County Sheriff's Department, said he didn't know why the department took that action.
The cause of the 5:02 p.m. accident at a curve on N.M. 475 at Mile Marker 5, had not been determined late Tuesday. But Ray Sisneros (Santa Fe County Sheriff) said bus driver Robert Heusner told authorities that "the brakes failed on the bus."
Shuttlejack owner Ray Sena said all his buses received new brakes two weeks ago. He did not believe the brakes were at fault. "If there was a problem with the brakes, that would have shown up on the first part of the trip," Sena said. The bus belongs to Shuttlejack, which has a history of problems with brakes and other mechanical failures. Just two weeks ago, a Shuttlejack bus carrying students back to school from the ski area reportedly had brake problems.
Bus driver Heusner of Pecos was listed in stable condition at St. Vincent Hospital. Sena said Heusner has been driving for the company for about two years and has a clean driving record.
The children on the crashed bus were from three elementary schools: Gonzales, Tesuque and Larragoite. Those on the other buses were from Sweeney, Carlos Gilbert and Capital Christian Academy.
Liz Trujillo, principal at Gonzales Elementary, said crisis response personnel would send teams to the schools whose students were involved in the crash. Trujillo said Gonzales teachers would meet to decide how to handle grief and trauma counseling.
*Reporters Steve Terrell, Mark Hummels, Barbara Ferry, Kristen Davenport, Erika Davila, Daniel Chacón and The Associated Press contributed to this report.

Safe Schools Note: The Santa Fe New Mexican's efforts, concerning the Santa Fe bus crash situation, demonstrates the importance of the free press, in helping to investigate and report on, to keep the public informed.
In brief, The New Mexican's coverage includes disturbing information about the two other Shuttlejack buses at scene of crash; why the two replacement buses sent to the scene were refused; The victims and the grieving; Shuttlejack's failure to maintain a city business registration; why 17 of Shuttlejack's 18 buses were grounded and other shocking discoveries.
The New Mexican also reported that New Mexico's State Public Regulation Commission virtually ignored several alerts concerning Shuttlejack's buses, including one from a former Shuttlejack employee in November (1988). "I ... deeply hope Shuttlejack's practices are corrected before someone gets seriously hurt due to the shoddy work ethic and practices of the owner," the complaint said.
The Santa Fe New Mexican newspaper contributed a serious effort to reporting trust violations to Santa Fe's parents and the safety of their children that may have lead up to the death's of a 10 year old child and that of a dedicated father. Click on The New Mexican to visit their WEB site's news archives. The coverage of the crash begins on 3/03/99 in their news/archives.
NEWS FROM AROUND THE WEB: