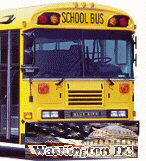 School program sued on behalf of 3,000 parents and children
This story demonstrates school districts should carefully consider value verses cost-cutting. School districts failing to insure contractors properly license and train their drivers, and failing to place the safety of children on their school buses as the top priority, should set aside millions to help cover the hidden cost of providing unsafe transportation. -Safe Schools
Click picture for Washington DC Mini History.

Various - First published by the Washington Post, "D.C. Schools to replace contractor for drivers," Jan. 1999, by Valerie Strauss - All Rights Reserved. WP's story is available from their archives.

Washington DC-- D.C. school officials told the Washington Post they plan to replace Horton and Barber Professional Services Inc., the contractor that provided drivers for the school systemís special-education students.
The decision to replace the contractor comes amid the firings of three dozen drivers, a result of two investigations of the schoolís transportation department & one by the D.C inspector generalís office and one by school system officials.
CHECK THAT BUS!
• Find out how to safety check a field trip bus before allowing it to depart with kids on board.
Click Here
• FREE School Bus Safety Video
Click Here
The drivers were recommended for firing in the past month for various offenses, including lack of bus driver permits and CDLs, testing positive for drugs and drunk driving convictions.
Three clerks were also fired for hiring or destroying records of several of the problem drivers.
Superintendent Arlene Ackerman has asked the FBI to conduct background checks on all of the more than 300 drivers, including 200 which came from Horton and Barber.
The situation with the problem drivers came to the forefront when parents raised questions about drivers after a rash of late pickups. In some cases, the buses didnít show up at all.

The issue was later addressed at a city council meeting during which, Council Member Kevin P. Chavous said the cityís school bus drivers were not properly licensed and were hired without sufficient background checks.

Beth Goodman, a lawyer with Feldesman, Tucker, Leifer, Fidell & Bank, is handling a class-action lawsuit on behalf of the 3,000 parents and children who are serviced by the district.

Goodman said that children often wait for buses that never arrive or spend hours on buses to and from school with drivers who donít know the routes.

"We want properly licensed bus drivers and bus routes that are accurate and driven in a timely manner," Goodman said.

Goodman says the problems in the district stem from a lack of commitment to providing decent service to students and parents.

Several incidents involving drivers highlight the problems that the district is facing.

In October, several children were injured after a driver, who had four convictions in 1993 and 1994 for traffic offenses in Maryland and Virginia, failed to yield the right of way. That driver, Charles Green, was driving again the next month and had another accident. This time, 11 special-ed students were injured. Green is no longer driving.

UPDATE: WP, Jan 23, 1999; A 12 year old mentally retarded D.C. special education student, was left behind when the bus he was about to board drove off. A man, alleged to be Elmer Dewitt Stich of Southeast Washington D.C., offered to help the boy get to school but instead, the youth was taken into the woods and sexually assaulted. Beth Goodman, the lawyer handling a 1995 class-action lawsuit against the city's special education program, said it was "the kind of disaster we have been warning the school system and their counsel about."

Safe Schools Note: Some states require a parent or parent designee assist the very young (or easily disoriented) at bus stops. In these states drivers are instructed to report violations and not depart a young child from the bus when an adult or designee is not present
to receive the child.

NEWS FROM AROUND THE WEB:



---
Top of Page | Directory | Comments | Message Board | Free Postcards | E-Mail Safe Schools

Copyright ©1999 James Kraemer. Click on this Copyright
Notice to view copy without charge limitations.