The Kuma Mitsu Story: AKC Refuses to Acknowledge Gilmore Fraud
To be continued...
In February of 1997 I discovered Mrs. June Gilmore of Hansha Kennels had falsely obtained a transfer of Kuma Mitsu with the Japan Kennel Club and registered the bitch with the American Kennel Club using the falsely obtained papers. The JKC has corrected this fraud, however, to this day the AKC has refused to acknowledge the thorough investigation, determination and decisions of the JKC to reissue and Void several pedigrees that June Gilmore illegally obtained..
The JKC also determined to Void some illegally bred offspring of Kuma Mitsu. One of these males, AKC CH. Hansha's Remote Control of Gulfwind Shibas and Akitas is now actively being promoted in full page advertisements for stud service and puppies by his new owners, Cathe Harvey and Kathleen Brown-Truax although they have been alerted by the JKC their dog's registration was voided.
There was a reciprocal agreement made between the AKC and JKC in 1992.
This agreement allows an interchange between the two agencies stud books and registration records. However, with the AKC refusing to acknowledge these reissued and voided registrations by the JKC the stud books no longer contain the same vital information about these dogs such as their true ownership and registry status. For anyone interested in buying a dog or bitch from this stolen lineage this information should be considered, especially if you are interested in an FCI pedigree.
AND A FINAL WORD OF CAUTION IF YOU OWN THIS BLOODLINE...
| | | |
| --- | --- | --- |
| There are currently hundreds of puppies that have been produced by Kuma Mitsu's son AKC CH. Hansha's Remote Control, whose registration and placement in the stud book has been revoked by the JKC. "RC"s dam, Kuma Mitsu, had a severe malocclusion of the mouth. The bite was irregular and a lower incisor was missing. Mrs. Gilmore had dental work including braces put on this bitch in an attempt to hide the serious genetic defect of this disqualifying trait. | | People breeding this bloodline should know this is a serious breedable genetic defect and should consider this in future decisions of breeding this bloodline. When June Gilmore finished her repeated breedings of this dog she, as most ruthless breeders do, "placed" the dog in another state where the truth would hopefully never be discovered. There were also serious seizures associated with this bloodline. Anyone experiencing genetic problems from this lineage may feel free to contact me further for more details. |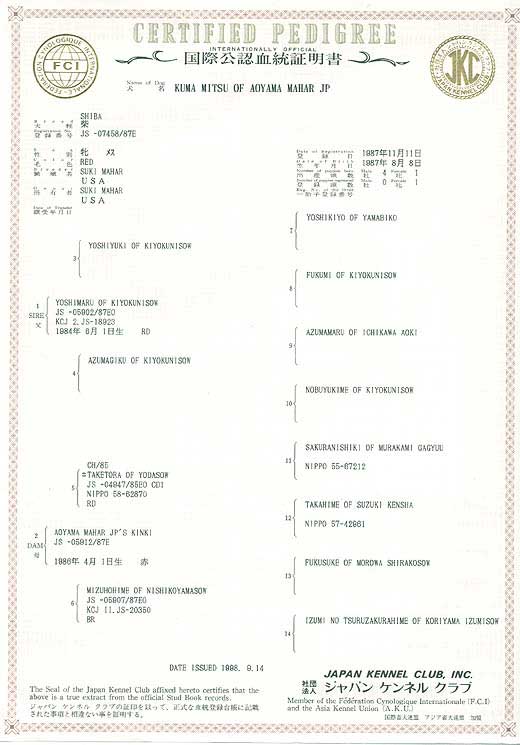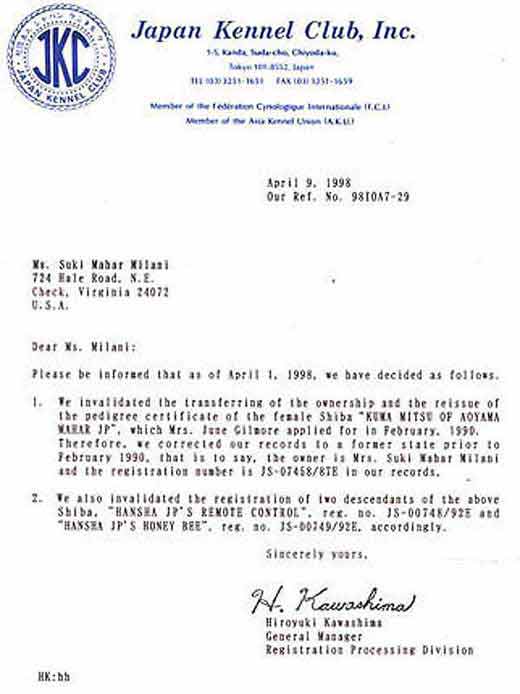 DNA NOW AVAILABLE
| | | |
| --- | --- | --- |
| Just months prior to the passing of Kuma Mitsu's dam in 2002, the owners of Aoyama Mahar JP's Kinki "Uni" graciously allowed the collection of DNA. This sample was analyzed and is presently on record with the AKC. Due to the fact that I witnessed none of the breedings allegedly performed on Kuma Mitsu, now there is concrete evidence to discover whether the Shiba you may own from this lineage is indeed authentic. | | If you desire the results of this DNA testing, please contact me and I will provide you with a copy. Many thanks to Emily Kay and Kurt Garbe and their beloved Shiba for allowing this procedure to be done. Born on April's Fools Day, Uni died from old age at the ripe age of 16 on Independence Day, July 4th, 2002 and is sorely missed by her loving owners. |
Aoyama Mahar JP's Kinki, "Uni"
May She rest in Peace
Home | Llamas | Japanese Akitas | Shiba-Inu