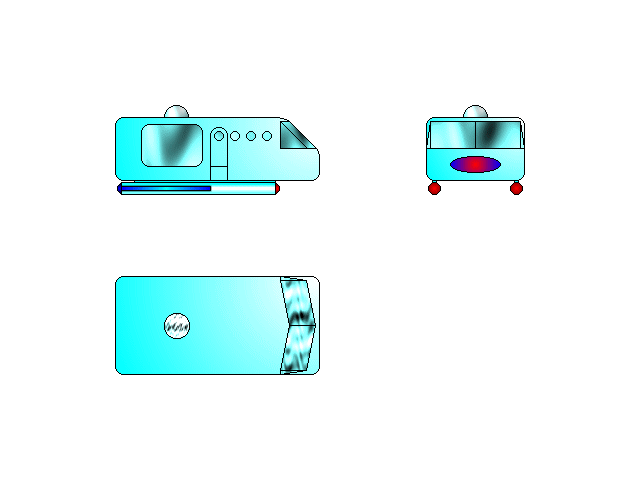 Designer: Robert C. Dunehew E-mail [email protected]
Type XX and type XXa Shuttle
General Specifications:
Length: 7.1m
Width: 3.3m
Height: 3m
Max Warp: 3.2 (Type XX only)
Cruise: 2.8 (Type XX only)
Max. Impulse: 0.5 lightspeed
Crew: 1.
Passengers: up to 17 (34 in an emergency)
Armaments: None.
Type: Long Endurance General Purpose Shuttle
Status: Thirty in service, more under construction at the rate of eighty per week.
About Ship: The type XX and XXa shuttles are simple, low-cost versions of standard shuttles already in service at this time. The only difference between the XX and XXa is the type XXa has dummy nacelles instead of warp nacelles.
The type XXa has access panels in its nacelle housings so they may be used as additional cargo space. It is designed to be easily converted to a type XX by the simple expedient of replacing the dummy housings with functioning warp nacelles. The nacelle housings are reinforced for use as skids, eliminating the need for bulky retraction gear for landing pads.
Both shuttles are powered by a Micro-M/ARA coupled to a quantum flywheel. The flywheel stores enough energy to operate life support systems for up to 1 year should the M/ARA fail. The M/ARA itself provides power for up to two years of sublight operation or 2 months of operation at warp 2.8. All engineering systems are sandwiched between the deck and the lower bulkhead, allowing full use of the available deck space. Accomodations for long-duration missions include bunk space for eight personnel, full sanitation facilities and a replicator with a library of 10,000 items.
The observation dome at the rear of the hull is designed to retract for storage, and may be replaced by a transparent or opaque flush cover. Alternatively, the observation dome may be replaced with a specialized sensor package. The Technical Instructions for the type XX and XXa include plans for several types, so these items need not be stored aboard a starship, but custom-fabricated on an as-needed basis.
Return to "Ships Starfleet Never Built."

Return to the Starship Catalogue.

---