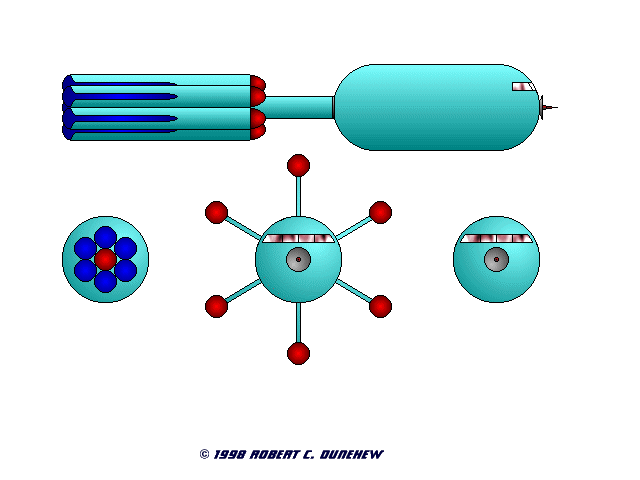 Designer: Robert C. Dunehew E-mail [email protected]
Royal Nonesuch
Inscription on Commissioning Plaque:
 "Lord Ronald said nothing; he flung himself from the room, flung himself upon his horse and rode madly off in all directions."
-- Stephen Leacock
General Specifications:
Length: 67.5m
Width: 11.7m; 25.2m with nacelles deployed
Height: 11.7m; 28.5m with nacelles deployed
Max Warp: 9.9999+ (proposed)
Cruise: 9.999
Max. Impulse: 0.25 lightspeed
Crew: 3

Armaments: None.

Type: Civil Experimental Starship

Status: One undergoing trials.

About Ship: This vessel was not designed and built for Starfleet. Instead, a consortium of private individuals decided to build a vessel which could travel as fast or faster than subspace radio signals. Starfleet has provided technical assistance to ensure the safety of this project, and to ensure this speed record attempt causes no damage to the subspace continuum.

The impulse drive is not a fusion-based unit, but uses plasma generated by the M/ARA for reaction mass. This is not very efficient, but was done to keep the design simple and light.

The central spire extending back from the main hull contains the plasma conduit for the impulse drive and the warp engines, as well as the variable geometry mechanism. The main hull contains an oversized M/ARA unit for a vessel of this size. approximately one third of the interior volume is occupied by the computer responsible for calculating and controlling the variable geometry system upon which this attempt rests.

The Royal Nonesuch is not a long-range vehicle. It carries fuel for approximately 15 minutes' operation, with a quantum flywheel providing power to life support systems. The quantum flywheel will be charged by a support vessel before the attempt, and will have power for 150 day's operation. The mission profile calls for it to be towed to the starting point of the attempt, make the run, then be recovered by a vessel waiting at the "finish line". A suitable location for this attempt has not been selected, yet, but is expected to be between the spiral arms of the galaxy, somewhere within Federation territory. The route will be chosen to ensure that should the attempt fail, the vessel will only have to wait a week, at most, for a rescue vessel.

Return to "Ships Starfleet Never Built."

Return to the Starship Catalogue.

---