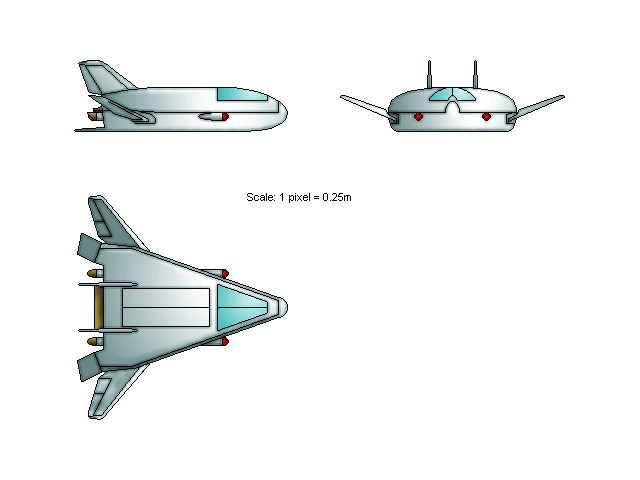 Designer: Robert C. Dunehew E-mail [email protected]
Cochrane Interstellar Express model 7 (CIE-07)
General Specifications:
Length: 53.5m
Width: 56.25m
Height: 18m
Max Warp: 3.25
Cruise: 2.8
Max. Impulse: 0.1
Crew: 20
Armaments: None. In an emergency, the exhaust plume of the linear aerospike engine might be brought to bear as a short-ranged weapon. In 2105, an armed patrol/escort version was introduced and used by UESPA's Space Defense Force for 30 years.
Type: Civilian transport
Status: Production began in 2074 and continued for three years. The design was sold to UESPA and continued in production by them until 2143.
About Ship: The CIE-07 was one of the last complete starships produced by Cochrane industries before they abandoned commercial starship design in favor of supplying starship components to ship construction yards. It was based on a fairly standard lifting-body design, and was able to take off and land on conventional airstips, much like conventional aerodynamic transports of its day. It also had VTOL capability, enabling it to land on (and take off from) planets without commercial spaceports.
The CIE-07 was constructed of high-strength composites bonded to aluminum or magnesium subframes (depending on availability) with an outer layer of ceramic-polymer heat shield material. Its impulse engine was a linear aerospike that used laser ignition of a working fluid such as liquid H2O, liquid nitrogen, or liquid hydrogen to provide thrust. Power for the impulse drive, auxiliary VTOL engines, and warp engines comes from a high-efficiency fusion powerplant. The Bussard collectors retract for atmospheric operation, reducing drag and improving aerodynamic efficiency.
The CIE-07 was designed to be inexpensive to purchase, cheap to operate, easy to repair, and durable. While it met or exceeded all design goals, it wasn't a financial success. The cost to produce it very nearly equalled the amount it could be sold for. Demand was not as high as originally projected, and thus cost savings expected from mass production never materialized. Although more than 50 CIE-07s were sold to civilian concerns, profits were extremely low. After producing the CIE-07 for three years, Cochrane Technological Industries sold the design to UESPA for an undisclosed sum.
UESPA produced a variety of CIE-07 variants, including patrol vessels (armed with a single laser), transports and liners, until 2143, when production was halted. Several CIE-07s and its variants are still in service with private owners, and a number are preserved in museums throughout the Federation.
Return to "Ships Starfleet Never Built."

Return to the Starship Catalogue.

---