Trade with an Edge
PRZ - Potential Reversal Zone
The PRZ, the Potential Reversal Area, is an area where 3 or more Fibonacci numbers converge, and where the harmonic pattern completes. It's the D point on a harmonic pattern and where price has a high probability of reversing.
In the example below, the yellow rectangle is the PRZ where the Fibonacci projections (yellow and blue horizontal lines) for this pattern converge.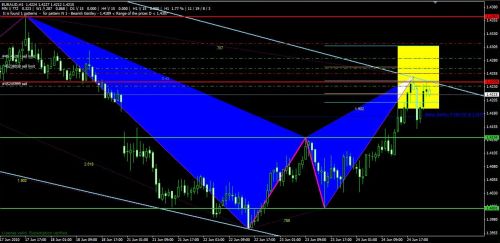 In the case of the Gartley pattern the key Fibonacci projections to converge in the PRZ are the 0.786 XA, 1.27 BC, 1.618 BC and the level where AB=CD.
Other pages in this series on Harmonics Basics are: