Getting started in radio | Links | Online calculators. | Projects | Software | My QSL Card
Back to the main amateur radio page
Alternate Tubes.
The 4-125 tetrode and its derivatives such as the RS1007, QY3-125 and QB3/300 are very suitable for this design. They are physically smaller than the 813, and have a 5V filament drawing 6.5A. All have an ICAS plate dissipation rating of 125W. You will require a paralleled pair plus sockets. The plate connectors, which are the same as for an 811A tube are available from the Electronic Valve and Tube Company. Telephone (03)95711160.
The correct ceramic socket to use is a Johnson type 275. This series of socket also fits the 4-250, 4-400 and 3-500Z transmitting tubes. The QB3/300 tubes and sockets are available from Malcolm McIntosh, 26 Branch Creek Rd, Clear Mountain, QLD 4500. Telephone (07)32985454.
Because the QB3/300 has a much lower plate to filament capacitance of only 3.5pF, I have recalculated the pi-network values. The plate tuning capacitor will still need to be modified as explained previously, but it will connect to the to the start, not the centre of the 10m coil. I suggest the following coil winding data for the nine MF/HF bands.
COIL WINDING DATA for QB3/300 TUBES
Band

Turns

Diameter (mm)

Length (mm)

Wire Gauge

160m
80m
40m
30m

26turns
tap at 14 turns
tap at 7 turns
tap at 4 turns

60

40

1.6mm

20m
17m
15m
12m

8 turns
tap at 5 turns
tap at 4 turns
tap at 2 turns

40

55

3.6mm capilary tubing

10m

6 turns

40

45

3.6mm capillary tubing
There will of course be a modification to the filament supply and connections. I recommend the existing 10V filament transformer be retained, but the centre-tap obviously will not be included. The tubes will have their filaments connected in series as per Figure 5. The total current drawn will be 6.5A.

As the input capacitance is lower than that of the 813, it may be possible to achieve a low SWR on the 20m band without having to switch in an inductor as previously done.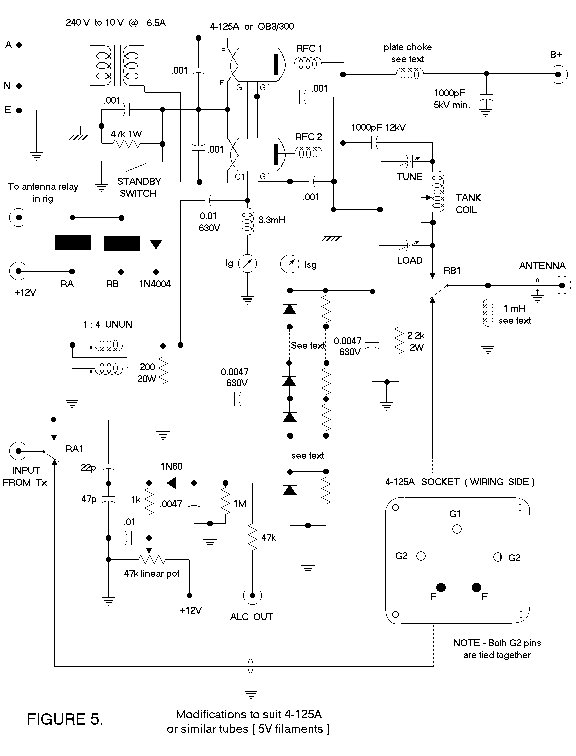 Two tone testing. | Components and suppliers.
Back to the projects main page.