URL [email protected] V1.2.3.3
An update list can be found: here
Future update preview can be found here (work in progress): here
Question asked by email and answer can be found: here
(Total question in FAQ so far: 1)

URL [email protected] is a windows portable desktop application written in Delphi (Pascal Language)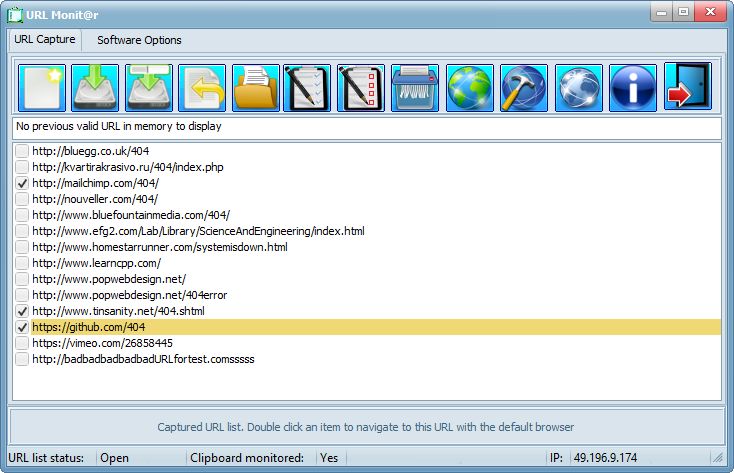 URL [email protected] in action - screenshot of the main screen, URL capture tab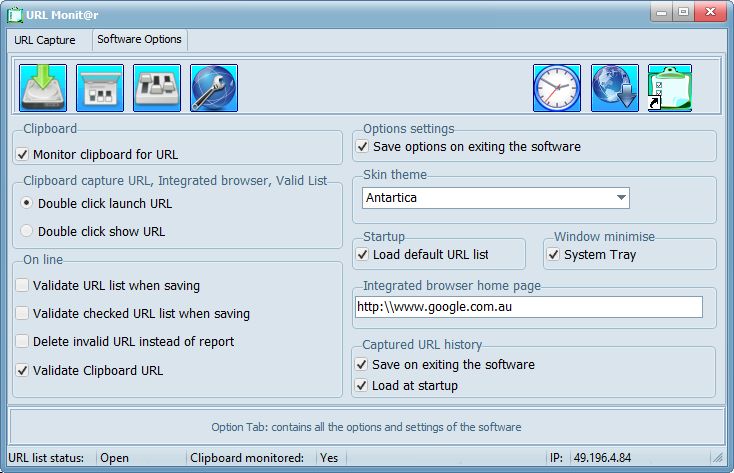 URL [email protected] in action - screenshot of the main screen, Option tab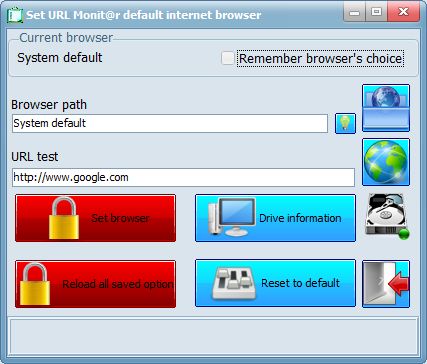 URL [email protected] Set browser Sub-Option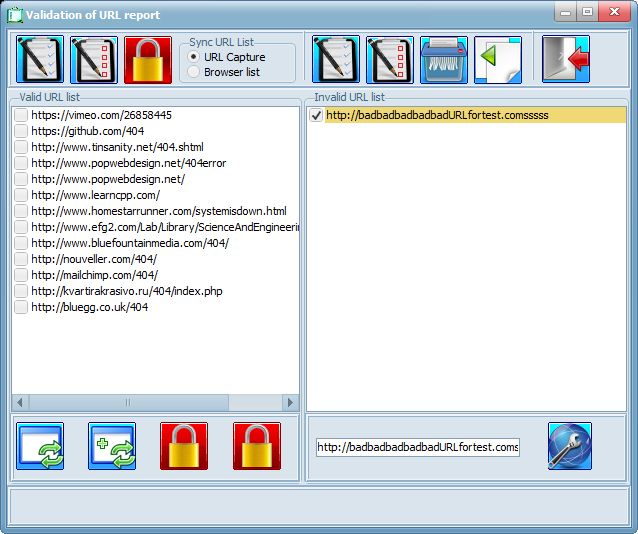 URL [email protected] in action, Validation of URL in action. Please note the lock indicating a temporary disable icon/button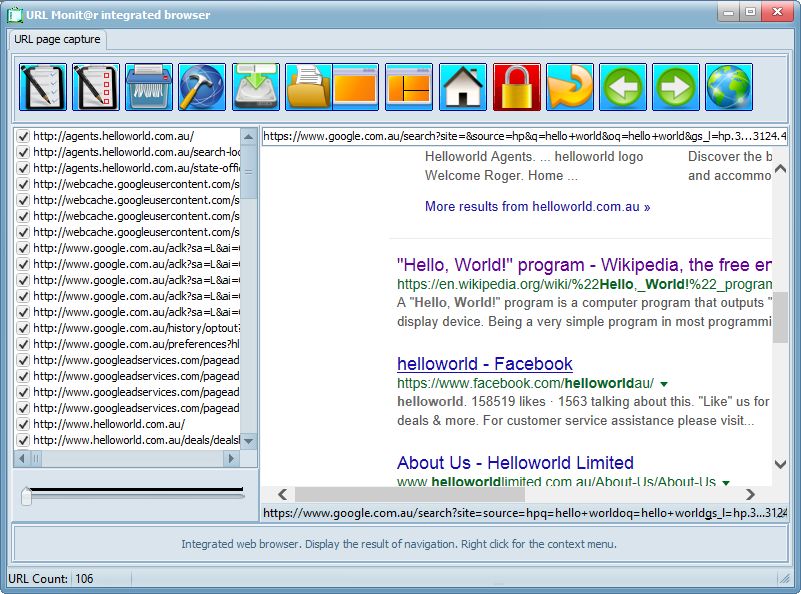 URL [email protected] integrated browser in action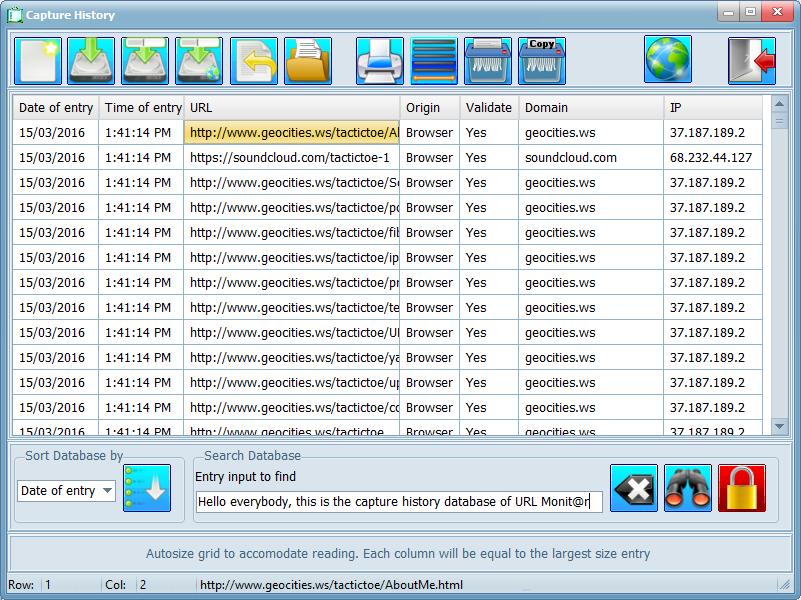 The new Capture History of URL [email protected]

License:
It is freeware License. It is free yes but you use this software at your OWN risk.
Please read the license in the about box contains BEFORE using the software.
Or download the license here: UMLicense.txt (update 04-03-2016)

Please note UMLicense.txt is always the current license and superseed any found in the about box. However the license of the software will be adapted into the about box when a change of license occurs.

What is URL [email protected]?
Have you ever wanted to be able to keep URL found on the net or a document out of your bookmark/favourite folder? You could use a notepad, and paste URL gathered all around. Then later on the track, open this note and copy and paste backward to your browser with the risk the link is broken. Have you ever wanted to verify a huge list of URL but opening them on all tab of your browser or one by one is a long process.
This is where URL [email protected] come to the rescue. It is a software [email protected] the clipboard for URL. Each time it detects a URL, it is paste automatically inside a URL list. This list can via options be reloaded at next startup of the software.
More, URL [email protected] permits you to:
Verify URL from the URL list in bulk or just one or selected, so if a URL link is broken you could easily remove it from the list with the validation tool provided inside URL [email protected]
Manage the list from inside the software, launch a URL with the default browser...

Export the URL list to HTML, List (default format of URL [email protected]), text file or any particular type of file desired. HTML export is useful for Mozilla Firefox for example; to import all this list in the bookmark folder.

Import List, HTML and HTM file (no parsing), Text file or anyfile that is a list of URL. And this can be achieved via the OPEN button or drag and drop of file into the URL list. For control purpose of the link for example.

You can also search a whole page for to capture all link contained on that page via the integrated browser, even better each time a link is supposed to reopen in a new window, a new integrated browser appears.

You can capture URL from the integrated browser, search a page with/without frame to capture a list of URL.

And so much more...

Indeed URL [email protected] is a bookmark manager OUTSIDE any browser. That what is making this application useful. It is Icon/button driven but a hint panel is there to assist you all the way.
Why I created URL [email protected]?
Oh no, another clipboard manager. Some will say that and so did I when I was pondering if I really need to create such software. They are hundreds of clipboard manager in the wild space of Internet; it is probably one type of software that will never stop growing. Some are good, some are all rounder, some looks good. Truth is, I never found a clipboard manager dedicated to url that manipulates url in such way URL [email protected] does. Clipboard url capture no matter what the format (Http://, https://, www., etc) and it validates it on the spot or later, choice made by options. It accept drag and drop of text file or list; if a valid URL is inside this text/list file, validation will find it, automatic parsing. Import from various source for validation. They are enough options to permits you to validate or not url the way you like it; no matter if it's a capture, a list imported... Export to HTML: create a date stamped web page you can use wherever you like. Of course the list in use can act as a bookmark folder for each urlpresent in its list, url can be visited with the default browser or a specific to your need defined via options. And so much more. As I was desperate to find such software and did not find one, I created it. Very simple, lightweight and portable.
Today I use it to verify list of link from my website, I also create various list for various purpose, I load them when needed. I grab a url for later reference without saturating my browser bookmark list. Send via email any list of interest to friend: some use URL [email protected] and just import, other prefer the HTML list so they click the link in a more classic way. None of the clipboard manager in this huge ocean of software is good enough to handle the task I wanted. Here it is for all of us. I am not paid for it and neither want to be paid. I passed hundreds of hour in my private time to achieve a personal need and release it to the community for free. So, use it or not is your choice.
URL [email protected] is a unique tool. It's a bookmark manager of its own with url capture and validation capabilities.
Future Update of URL [email protected]:
I have a fiew idea in mind that migh be included or not. Here they are in no specific order:
Navigate to multiple url from a checked list in different tab

Clipboard capture of multiple url at once


Browser integration with various signature, so I will not need to bother for another browser.

Bookmark import from major Internet browser: mainly Internet Explorer, Mozilla Firefox, Google Chrome... and may be Microsoft Edge but I really doubt here.


Credit Name List with content of idea fper members of the community; if any is proposed and implementation done. You read Name, I will not put any Nickname, scrolling like a movie credit at the end of a movie.

Portability of the software to UNIX system, MAC system, IPad and Android.

You might have also an idea for new functionality or a bug to report. Please, feel free to do it. Inside the software, via the about box is a link where to email me. Do not hesitate. After all the tool is there for the community and the community can participate a little bit to the life adventure of this software.
Operating System Requirement:
Windows system only and from all version of windows vista to windows 10. The software has been tested under Windows 7 Home, Windows 8.1 64Bits version only. The software should work under Windows XP but I can certify it. If you test this software under another version of windows, please let me know if it works. Thank you.
Windows is a registration trademark of Microsoft.
There is a 32 bits version and 64 bits version available for download.

Other Requirement:
An Internet connection for full potential.


Installation:
There is no installer provided, it is a portable application.
The download is a zip file and all you need to do is to unzip the contents of it into the folder of your choice.
The files into this archive are:
URLMonitar.exe which is the software itself.

Download link:
IMPORTANT : EVEN I AM SURE THE FILES I UPLOADED DID NOT CONTAIN ANY VIRUS OR MALICIOUS CODE AT TIME OF UPLOAD, YOU SHOULD SCAN THE DOWNLOAD WITH YOUR FAVOURITE UPDATED ANTIVIRUS BEFORE UNZIPING THE FILE.
Download this version for 32bits OS (See Operating System Requirement): URLMonitar_32bits.zip
Download this version for 64bits OS (See Operating System Requirement): URLMonitar_64bits.zip
Alternative download link by language and sorted a to z.
With review in english:
Nonags a huge library of various software.

Softpedia is a huge library for various software.
The portable freeware collection , a unique site with portable software only and a great forum.
With review in polish:

Program URL [email protected] został zrecenzowany na polskim portalu technologicznym INSTALKI.pl
INSTALKI.pl is one of the most popular technology websites in Poland.
If you find URL [email protected] somewhere else, please let me know via email
All rights reserved. Copyright ©2015 Benoit Standaert