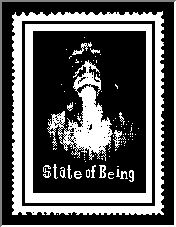 UNALTERED STATE OF BEING, 1990
by Reid Wood
Single black on white gummed, perforated artistamp: 2.2 x 1.7" ea.
Full sheet (11 x 8.5") of 16 in 4 rows of 4.
Computer laser print, signed and dated.

Reid Wood, aka State of Being, is Associate Professor of Art at
Lorain County Community College in Oberlin, Ohio.
Permanent Collection
Gift of the Artist
---
Copyright © 1995 Jas W Felter, all rights reserved.