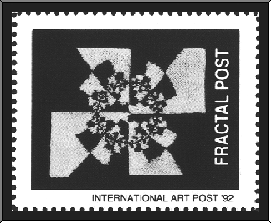 BINARY DECOMPOSITION
by Eleanor Kent, 1992
One of a set of six Fractal Post Artistamps, 3.3 x 4.1cm.
International Art Post Edition, signed and numbered 20/100.

Eleanor Kent likes connecting, linking, netting, knitting, bonding, looping,
and otherwise vibrantly interacting in time and space.
She has her studio in San Francisco.

Permanent Collection
Gift of the Artist
---
Copyright © 1997 Jas W Felter, all rights reserved.