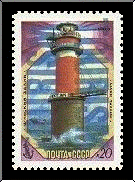 H.R.FRICKER VISITS REA NIKONOVA & SERGE SEGAY, 1990
by Hans Ruedi Fricker
Single gummed, perforated artistamp; 4 x 2.8cm.
(from a full sheet (27.3 x 9.6cm) of 36; signed, numbered 1/3)

This artistamp is one of H.R. Fricker's
Tourism-Occupation-Issues.
The artist, in creating this series, overprints a sheet of official
postage stamps with his own rubberstamp print related to Tourism.
As a result, each artistamp is slightly different.
The series commemorates Fricker's personal visits with Mail Artists.
Permanent Collection
Gift of the Artist
---
Copyright © 1998 Jas W Felter, all rights reserved.